But is one form of career guidance more impactful than the other?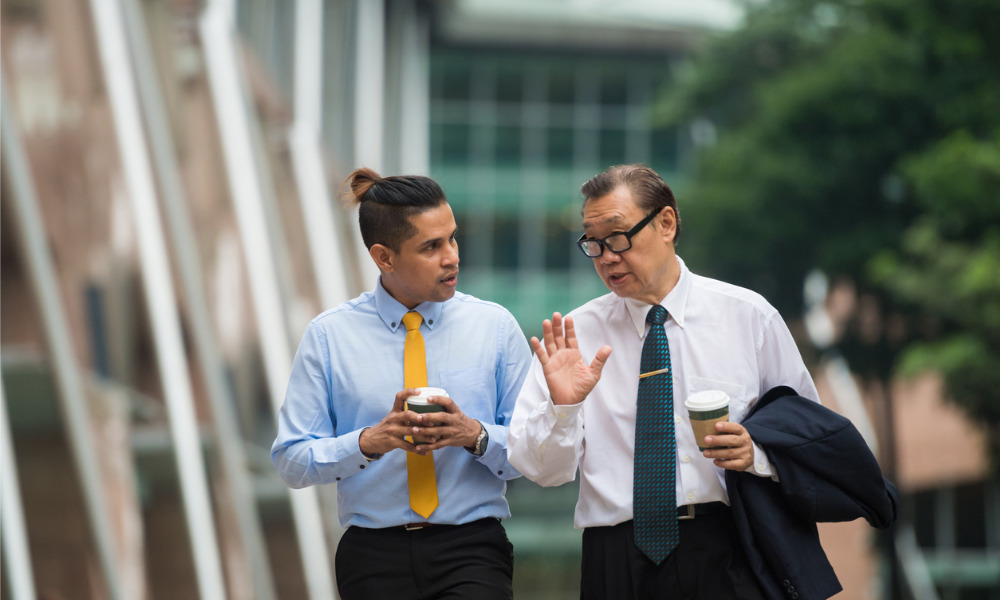 When bank executive Jane Fraser was asked to map her trajectory early on in her career, she had already prepared an outline of her goals and the skills she needed to develop to earn a promotion.
But Vikram Pandit, then the CEO of Citigroup, wasn't convinced. He "tore up" the sheet of paper, telling Fraser: "You're thinking about this all wrong."
"Think about how you collect and gather the experiences that will make you successful in the role, not the experiences that will get you to the role," she recalled Pandit's feedback.
"That was a game-changing piece of advice for me," said Fraser who, this month, will succeed Citi CEO Michael Corbat to the top job and become the first woman to lead a major US bank.
In that encounter with Pandit, Fraser found a mentor and an advocate who had the wisdom and authority to help drive her career forward.
Mentorship matters
Career guidance – and, more broadly, talent development – can have a direct impact on employee and organisational performance: 55% of workers believe having a mentor can help them succeed more than if they had no one guiding them in their career. Meanwhile, businesses that hold mentoring sessions (67%) report an increase in employee productivity because of the initiative.
The results suggest the value of career guidance in the workplace. For Julia Farrant, chief people officer at Australian marketing firm Ovato, mentorship is mutually beneficial.
"There's a reason that 71% of Fortune 500 companies have mentor programs – they provide benefits for performance, productivity and innovation," Farrant shared with HRD.
"Ideally, the process will pair an experienced staff member with a younger or less experienced mentee, in a way that allows them to communicate regularly and share ideas. It doesn't have to be a formal process: it could be something as simple as a regular catch-up and chat where staff learn to better manage workplace challenges and gain a new perspective. Or it could be a more structured process designed to help them meet specific KPIs," Farrant said.
Read more: How mentorship contributes to a healthy business culture
Regardless of the approach, she said, mentorship provides "stability and guidance" especially in a period of disruption such as when a firm undergoes a leadership change, policy overhaul or rebrand.
"A mentoring relationship illuminates new perspectives to spark creative problem-solving and builds self-esteem – both ideal qualities in business leaders," the HR leader said.
"At the same time, it allows mentees to ask any questions they may have about the business and build their confidence by filling gaps in their knowledge. Setting personal goals together keeps both parties accountable for reaching them and encourages KPIs that will contribute to the success of your business."
The professional bond requires one to identify and develop the potential of the mentee based on the mentor's own "experiences and wisdom," said Australian executive coach Avril Henry.
"The best mentors are those who challenge you, encourage you, nurture you, support you and teach you. They can be trusted advisers and be your friends too," Henry shared with HRD.
A mentor doesn't have to be older than the mentee, either. "It is really about creating a connection within a specific area of interest, line of business, set of skills or a particular stage in career," advised Chantal Brine, CEO of Canadian talent development firm En Point.
"A mentor is someone who might help you work through challenges or help you to make a decision, through conversation, sharing experiences, and dedicated time building a relationship," she said.
Read more: The power of great mentors, sponsors and sounding boards
Mentors and sponsors: What's the difference?
Even with their wealth of experience and knowledge, however, mentors are often relegated to the role of career adviser. Mentorship is indeed critical to enhancing competencies, but "what is more effective in raising someone's profile and getting into senior leadership positions and on boards is sponsorship," Henry said, pointing out how sponsors invest in the success of their protégé.
"Sponsorship is about becoming an advocate for someone and their career, introducing them to their networks to build their profile, putting their names forward for jobs and board positions, with no benefit to them as sponsor," she said.
But is one form of career guidance better than the other? A study from Deloitte found sponsorship to be more impactful than mentorship. While "mentors can counsel an individual," sponsors can deliver "opportunities that accelerate individual careers," Deloitte analysts said.
For John Petzold, a talent strategist and former senior partner at Korn Ferry, employees need sponsors to "prop you up and push you forward" and "provide air cover so you can take risks".
Sponsors have more at stake
Not everybody can become a sponsor, however. The main advantage of a sponsor, Brine said, is their "position of authority".
They are influencers in their own field – they know which levers to pull to make a difference in a person's career. And they create opportunities their protégé wouldn't have access to otherwise.
"Your sponsor not only has more experience than you in a certain area, but also has the ability to bring you 'up' alongside them," Brine said.
Sponsors advocate for you before senior leaders and prospective employers, and "nominate you for projects, boards, or contracts". But their endorsement also means there's much more at stake: if their protégé fails, they go down with them.
This is why HR leaders establish formal sponsorship programmes to help senior leaders invest their time in building up their protégé and tapping into their own networks more effectively.
Henry believes the relationship is built on trust. "I know that they understand my values and how I can contribute to organisations, and therefore would only recommend me for positions, projects and boards where I could make the greatest contribution, while being a good cultural fit," she said.
The benefits of sponsorship aren't one-sided: 87% of sponsors are found to be "very engaged at work" compared to 73% of non-sponsors, according to a study by Coqual, formerly the Center for Talent Innovation, in the US.
"Advocating for rising employees, along all stages of a career, pushes your own career forward," said Julia Taylor Kennedy, executive vice president at Coqual. "It signals your leadership capacity to those above you – that you are committed to the organisation and tuned into up-and-coming managers."