HR head of Coca-Cola Beverages explains response to hybrid work, staffing shortage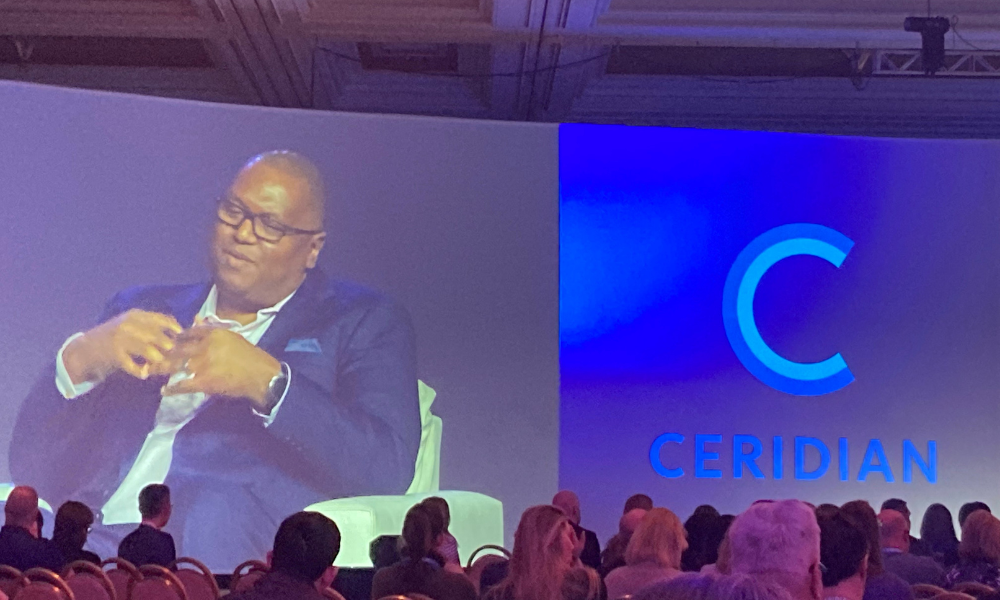 At the height of the COVID-19 pandemic, that was reality for Coca-Cola Beverages Florida. One of the largest Black-owned businesses in the U.S., the privately held, minority-owned company saw its workforce shrink from 4,800 to 4,200 in the spring of 2020. The sudden reduction forced the HR department to think differently about talent, according to David Cross, senior vice president of HR at Coca-Cola Beverages Florida.
"Our two most valuable assets are our brand and our people," Cross told HR professionals at Ceridian's INSIGHTS 2022 event last week.
"It's been a challenge over the last couple years as the talent landscape has fallen off. People have left. A new employer-employee contract has developed. We're now competing with fast food, Uber eats and other industries for the same talent."
As a result, the company tapped into alternative talent pools: the military, part-timers, gig workers, even those seeking a second chance. In fact, formerly incarcerated individuals are unemployed at a rate of more than 27%, according to the Prison Policy Initiative.
"We supplemented our workforce with hundreds upon hundreds of those types of folks who have helped us navigate the last couple years," said Cross, a nearly 25-year veteran of the HR industry, who spent more than a decade at Sears before joining Coca-Cola in 2007.
"We realized it's actually a good model. You can't go back to wanting 99% full-time workers. Now, we have to figure out how to navigate and operate with these contingent workers as we move forward because they've been part of our labour strategy. We're educating our leaders because leading a team of contingent, part-time, full-time and gig workers is different. You need technology and tools to make that work. Managers can't manage all these folks without the tech to back it up."
Of course, HR tech is big business – the payroll software market alone was valued at $25.1 billion in 2021 and is expected to reach $46.6 billion by 2028, according to Vantage Market Research. That's a compound annual growth rate of 11%. Other studies estimate the HR management market to grow even faster, closer to 13%.
Furthermore, the Hackett Group's research proves how key HR tech will be. Its data predicts HR headcounts to drop by 0.4%, but workloads to increase by 9.3% in 2022. All the indicators point to companies' tech dependence accelerating. "We've had to fundamentally shift how we think about talent in real time and leveraging tools and technology has helped us get there," Cross said.
Since the pandemic, Cross added, there's been more emphasis on segmentation of Coca-Cola Beverages Florida's workforce. With 80% of the employee base as frontline workers and roughly 300 knowledge workers in corporate roles, the company has had to evaluate and tailor the employee value proposition for each segment.
For example, time commitment has changed for the company's frontline and warehouse workers. "They don't want to work 10 hours a day," Cross said. "They want to be flexible and nimble, but we weren't built for that, so we've had to change some of our processes. We've had to be much more agile and nimble than we've ever had to before."
In order to meet employees' evolving needs, company leadership has also had to adapt, particularly in terms of managing a hybrid workforce. It's a sentiment echoed by many HR leaders who answer to experienced C-suite members reluctant to trust their employees are accomplishing their tasks while working remotely.
"For a lot of our leaders, if they can't see it, they're not quite sure what you're doing or achieving," Cross said. "Their definition of success is based on daily observations. When you fundamentally change that overnight, you wonder how do I assess my talent and know it directly translates to performance? We've had to identify new metrics and tracking to give managers the visibility they need to assess talent."