NTUC Income's CHRO shares with us some staff engagement tips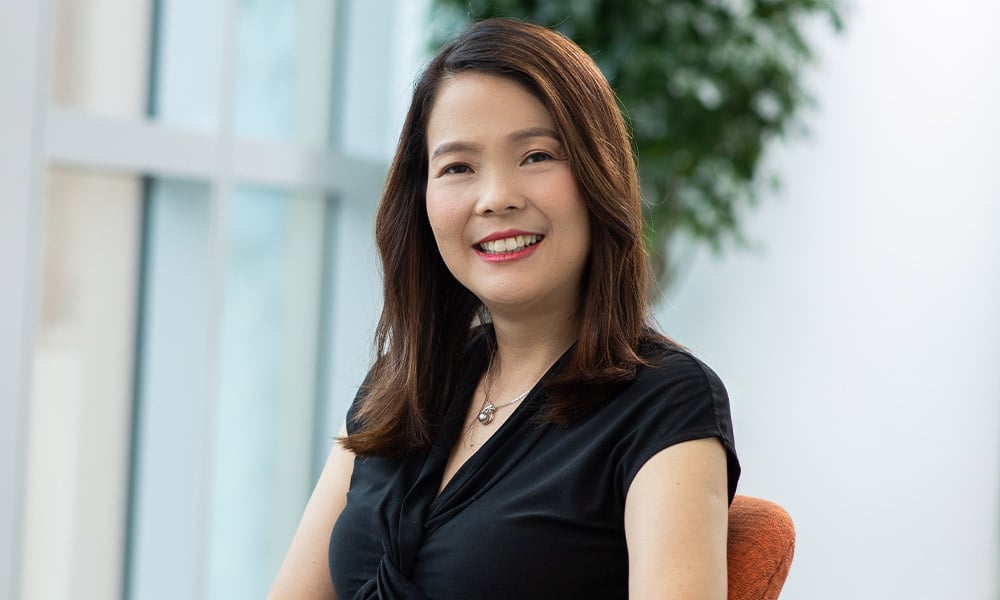 At the height of the pandemic last year, most professionals (68%) across Asia were forced to work from home. While they did enjoy the freedom of working remotely, many found themselves missing being in a physical office. JLL found that half of staff based in Singapore said they especially missed the social interactions you'd have through the day. That means the quick 'hello's when you got in the office, the light-hearted conversations during lunch, or the gossip sessions around the water cooler.
One year on, a global survey by YouGov, commissioned by Otter.ai found similar results. When asked what they missed most about working in the office, employees cited things like:
Water cooler chats or office chatter (43%)
Better workstation or office setup (36%)
Eating lunch out (25%)
Happy hours with my colleagues (20%)
Companies can always remedy any issues with the home office setup, with many offering special allowances for remote workers to furnish their spaces or enhance their internet connectivity. However, how do you replicate the informal chats you used to have around the office? Yes, you can always drop a message and sprinkle them with emojis, but it's not the same as bumping into your co-worker while out and about the office and exchanging some banter.
Read more: Will we finally get to return to offices this year?
Increase check-ins with employees
Those micro chats you have through the day are a pretty big deal for companies. They reflect the company culture and enable managers to get to know their teammates better. While managers have been encouraged to increase their check-ins with staff since the start of the pandemic, it can still feel a little forced compared with the spontaneous 'water cooler' conversations. Either that or staff may feel like their boss was hounding them for yet another work assignment.
Regardless, it's good practice for leaders. As for making the calls feel less like micromanagement, it all boils down to being genuine in your exchanges and really wanting to get to know one another. This can take some time for all parties to get used to but it helps make engagement feel more deliberate.
Read more: Feeling uninspired? You probably miss your work spouse
Set weekly team meetings
This was why Juliana Ang, CHRO at NTUC Income (Income) advocated for it when managers asked for tips on how to engage their team members while working remotely. "One of the easy things we told them to do was to make sure there's a weekly meeting – because not all teams may have one," Ang told HRD. "And then you check in [on staff], make sure they're all right, and all that."
For managers with more junior staff on their teams who may feel "a bit lost" at their jobs without having their leaders physically around to guide them through the day, Ang's team suggested a more structured approach to team meetings. They said the managers could set two meetings a week. The first one being on Monday to set and align work expectations or goals for the week. The next one can be on a Friday afternoon, to check that everyone stayed on track. Of course, managers should also encourage staff to drop quick messages or emails if they weren't sure about their work.
But that Friday call doesn't have to be so serious all the time. "For some teams, what they did was they actually had a Friday afternoon chit chat session," she said. "So they all logged onto Teams [account] and then just talked. You know, just do the gossip thing, because I think what people miss is the lunchtime gossip [and] the 'pantry talk'. Many things happen during those talks. Actually, a lot more alignment happens during those talks than in a formal meeting."
Read more: How social isolation is killing productivity
The pandemic's impact on employee engagement
The experienced HR leader, who's had over a decade's worth of experience at Income alone, added that while managers used to fear remote work's possible negative impact on team productivity, they were now genuinely involved in helping staff stay engaged in their jobs. "I think more and more they are taking ownership," she said.
Like many companies, they've always conducted regular engagement surveys. However in the earlier days, managers were pretty 'hands off' about it – even if it concerned their own team members. "At the start they always thought it's a HR problem," she said. Some leaders even verbalised that "engagement is not my problem".
Since the pandemic and remote work, everyone's realised just how critical engagement is since it's linked with everything from staff morale, productivity to overall well-being, and hence retention with the company. Leaders thus became more involved in the process of monitoring engagement and figuring out what to do if something felt 'off'. "When we started doing the engagement survey, we showed them the results, and said, 'okay so what are you going to do [about it]?'" Ang said. "We had to teach them: 'now you need to change the way you lead [and] you need to be interested in the results'."
It took time and lots of communication by the HR team, but eventually leaders understood their role and responsibility in sustaining engagement. "We really went into the journey," she said. "We showcased the teams that did very well [and] what they did. And then we continued to work hard. The HR team worked with the managers side by side to look at issues faced by their teams and looked at improving their own engagement results/scores."