UberEats riders are demanding a pay of £5 per delivery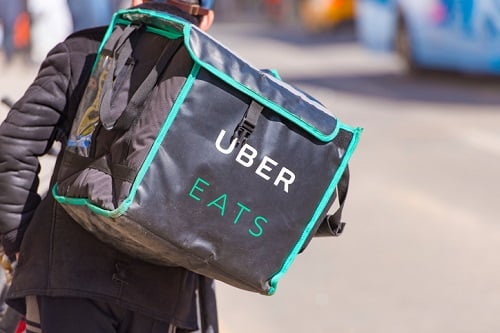 A group of UberEats drivers and JD Wetherspoon, McDonald's, and TGI Fridays employees launched a nationwide strike in the UK to raise issues about their pay.
Workers in London and several other cities were expected to take part in the walkouts. Similar protests were held simultaneously in four other continents.
The riders are demanding a pay of £5 (US$6.50) for every delivery they make, and an additional of £1 (US$1.30) for every mile per delivery.
In a statement, UberEats said couriers across the UK who used the UberEats app were able to earn an average of £9-10 per hour during mealtimes last week. Many other drivers also use similar delivery apps.
The Bakers, Food and Allied Workers Union (BFAWU) criticised UberEats' claim of fair payouts for its drivers.
"The fact that UberEats drivers have decided to strike on the same day as us shows that low pay is an issue that affects people across the industry," a spokesman from the BFAWU said.
This is not the first time UberEats drivers resorted to walkouts to protest the unfair treatment in their pay. In September, several riders went on strike after the company reduced its minimum rate per delivery from £4.26 to £3.50.
Meanwhile, employees at JD Wetherspoon, McDonald's, and TGI Fridays are calling on management to increase their pay to £10 per hour.
McDonald's downplayed the workers' strike while JD Wetherspoon pointed out that pay rises within the company have increased from £20m last year to £27m this year. TGI Fridays has yet to comment on the workers' strike.