The app aims to help businesses understand critical legal requirements of safety incidents, according to its creator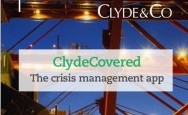 Recent reports of preventable deaths at construction sites highlighted the need for a better implementation of workplace safety policies.
In a bid to help employers better understand the legalities of safety incidents in the workplace, global law firm Clyde & Co recently launched a health and safety app "designed to take the guesswork out of whether a workplace incident is notifiable or not … and what steps an individual or business should take following the incident".
Dubbed 'ClydeCovered', it was created by the law firm's regulatory & investigations partner, Alena Titterton, in conjunction with developer Chocolate Coded and is now available free for download at iTunes.
"Laws requiring you to do something shouldn't be difficult to interpret. When you have a safety incident, you want to know what to do as quickly as possible," she said.
The app is set up to:
• Identify the individual's location and the jurisdiction they are in using GPS;
• Tell whether the incident is notifiable to the relevant local health and safety regulator;
• Provide the user with the relevant regulator's details to streamline incident notification;
• Convert the information they provide into an incident report which can then be saved or emailed;
• Provide tips on immediate actions required to effectively manage a serious health and safety incident; and
• Enable the user to directly contact Clyde & Co's emergency response team, 24/7.
"Legal, safety and human resources teams are increasingly operating on a global and regional basis, requiring them to work across multiple jurisdictions. As a global law firm with health and safety expertise around the world, we saw the opportunity to meet that need with ClydeCovered and provide real time information to them," said Titterton, referencing the app's first-of-its-kind cross border content.
"Being freely available for download, I hope the ClydeCovered app prompts professionals to think about how they can create solutions that improve safety and support better decision-making using the power of technology. There's a world of untapped possibilities out there," she added.
While it currently only covers Singapore, Australia, and New Zealand, the law firm said there are plans to launch it in other Asia Pacific regions and globally over the next few months.
Related stories:
Culture change needed in workplace safety improvements
Ask a lawyer: What type of workplace accidents should companies report?
Workplace fatalities up by 40%