One of the perks employees are privy to is an all-expenses paid sabbatical to achieve what might be their 'lifelong dream'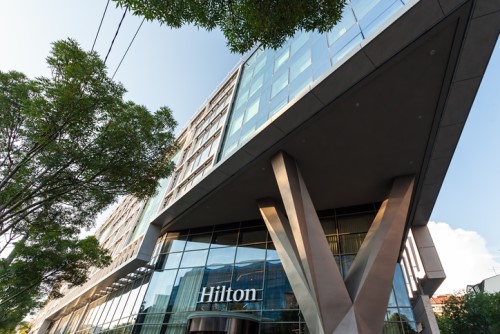 This year, Hilton was recognized as the Best Multinational Workplace in Asia, and a Great Place to Work in nine countries including India, Saudi Arabia, UK and the US. One of the key reasons that has kept employees happy and engaged is its benefits and welfare program, the Thrive@Hilton initiative.
As part of the initiative, each year Hilton awards 10 employees from its global properties an all-expenses paid four-week sabbatical to pursue a cause that is closest to their hearts. This includes a stipend of US$5,000 and a travel camera to document their memories.
2018 saw two of its winners hailing from Southeast Asia: Hilton Garden Inn Singapore Serangoon's Angel Hu and Hilton Colombo Residences' Minoli Senanayake.
"We are very proud of Angel and Minoli who are going to take the opportunity to work with organizations of their choices to give back to the community," said Paul Hutton, VP, operations at Hilton, Southeast Asia.
"This is what being part of a company with the extent of our scale and footprint across the globe is all about and we look forward to seeing the impact of their journey during their sabbaticals."
Hu is using this opportunity from Hilton to give back to less fortunate youths in Thailand with Radion International, an organization that provides humanitarian aid, community development and crisis relief to poor and at-risk children. She will join efforts with Radion to provide education opportunities for underprivileged children.
Minoli on the other hand will be spending time at Sri Lanka's first centre for children with disabilities, Ayati Centre, where she will assist therapists with their day-to-day work.
In order to qualify for the Thrive Sabbatical, individuals had to have completed five consecutive years at Hilton and submit an online application detailing the activities and desired outcomes of their sabbatical.
For the submission, team members could either choose to "Give a Dream" or "Live a Dream": either by enriching the lives of others by volunteering or philanthropic activity or through achieving a personal goal by exploring a new interest. The sabbaticals must take place in 2019.
Now in its second year, the 365 applications were reviewed by an independent panel, of which 10 were selected to win US$5,000 and an all-expenses paid four-week sabbatical. An additional 10 applicants won US$1,000 and US$500 to be donated to charities.
"We are constantly looking for the best ways to provide our team members with meaningful opportunities that will allow them to live their best every day," Hutton said.
"The Thrive Sabbatical program enables 10 of them each year to grow and flourish as individuals as we provide the resources and time they need to fulfil what might be a lifelong dream."