HR managers could see a growing variety of WFH jobs next year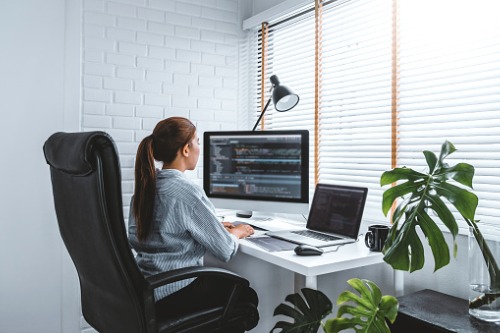 Some companies are going 100% remote – others are going hybrid. No matter which arrangement you're offering employees, some are transitioning into a work-from-home setup for good.
Of course, most white-collar jobs already have the freedom and flexibility workers need to succeed in a remote environment. But, as career site FlexJobs learned in a recent survey, other traditional office-based roles are surprisingly thriving as a WFH position.
Read more: These workers will consider changing jobs even in a pandemic
"The pandemic has really encouraged companies to reconsider the types of jobs that can be done from home and revaluate what positions are actually compatible with remote work," said Sara Sutton, founder and CEO of FlexJobs.
"As everyone broadens their views of the workplace, I fully anticipate we will continue to see a growing variety in remote job titles into 2021," she said.
Read more: These jobs are growing despite COVID-19
From entry-level to senior-level roles, these are the 50 most surprising remote jobs of 2020:
Apparel Product Development Consultant
Architect
Associate Scientist - Climate Impact and Snow Modeling
Bridge Engineer
Conversation Designer
Cosmetology Practice Question Writer
Culinary Arts Virtual Teacher
Dental Assistant or Hygienist
Digital Painter
Director of Identity and Freelancer Fraud
Electrical Controls Analyst
Fertility Utilization Review
Festival Coordinator
Finance and Banking Translator
Fitness Instructor
Geospatial Analyst
Home Stylist
Infectious Diseases Research Scientist
In-Game Chat Moderation
Junior Food Photographer
Lead Chef Instructor - Pastry
Lead Sediment Design Engineer
Lead Telehealth Creative Arts Therapist
Life Coach
Menu Team Supervisor
Mixology and Bartending Instructor
Navy Readiness Improvement Program Lead
Northern Mine Geotechnical Specialist
Nurse Practitioner
Organic Handler Certification Specialist
Pattern Maker
Phonetician
Project Manager - Custom Farm Builds
Prop Styling Photographer
School Social Worker
Scientist
Script Analyst
Senior Mortgage Underwriter
Senior Scientist - Biocompatibility Specialist
Simulation Creator
Social Support, COVID-19
Spaceship Physics Developer
Strategic Partner, Sports
Styling Team Lead
Tele-radiologist
Tissue Regeneration Specialist, Surgical and Sports Medicine
Toxicologist
Trade Book Strategist
Virtual STEM Camp Director
Wildlife Scientist