'We know we deserve better'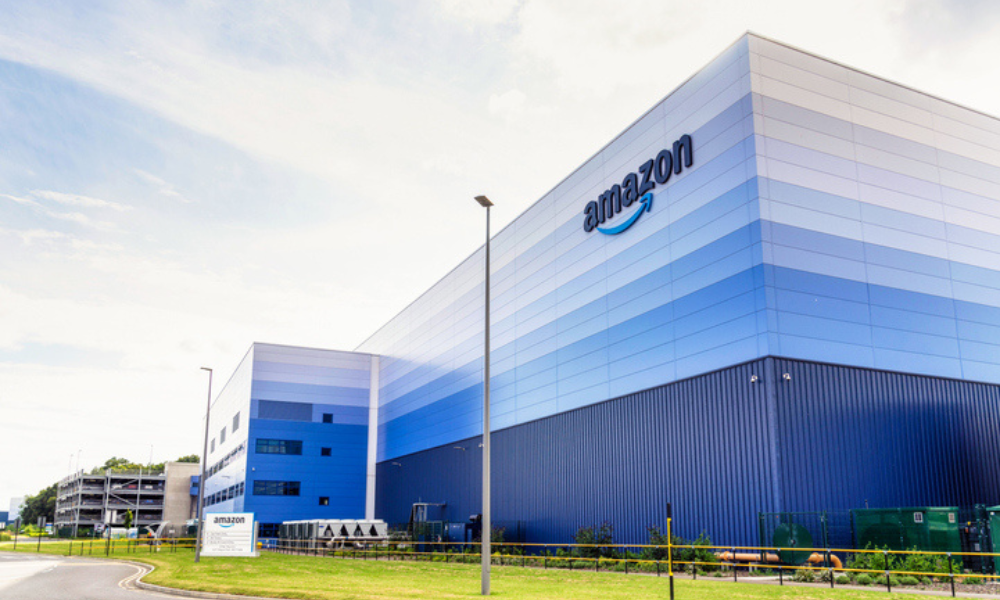 More than 150 Amazon employees walked off the job at the company's regional air hub at San Bernardino International Airport on Monday.
In the first coordinated labor action in Amazon's airfreight division, workers demanded more money and better working conditions, according to a group of employees organizing under the moniker Inland Empire Amazon Workers United, The Washington Post reported.
Read more: 'People shouldn't have to look to their employer to receive basic human rights'
The group is calling for the e-commerce giant to give a $5 pay raise, jumping from $17 to $22 an hour. Roughly 900 employees have signed a petition demanding pay raises, according to the Warehouse Worker Resource Center, a nonprofit that advocates for workers in the Inland Empire, a region located east of Los Angeles.
Amazon spokesperson Paul Flaningan, who argued only 74 of the facility's 1,500 employees actually participated in the protest, said full-time employees at the facility can earn up to $19.25 an hour, depending on their shift, CNBC reported.
In addition to wanting more compensation, workers demanded increased health and safety measures, especially during the dog days of summer. On Monday, San Bernardino was under a National Weather Service (NWS) heat advisory, with the NWS warning that heat-related illnesses are possible across the Inland Empire. Workers have previously raised concerns about the suffocating heat to managers at the facility, which resulted in them creating additional rest areas, The Washington Post reported.
NEW: 160+ Amazon workers just walked off the job at an air freight facility in San Bernardino, CA.

900 workers signed a petition in July calling for a $5 raise. Amazon responded by advising workers to use apps like GasBuddy to save money.

Today workers walked out to protest. pic.twitter.com/fyElXU7Obh

— More Perfect Union (@MorePerfectUS) August 15, 2022
"Whether we're suffering from heat exhaustion, not getting paid enough to afford rent, or being retaliated against for speaking up, we know we deserve better," said Inland Empire Amazon Workers United. "We're demanding higher standards."
Flaningan countered that the highest recorded temperature in the facility is 77 degrees. "While we're always listening and looking at ways to improve, we remain proud of the competitive pay, comprehensive benefits and engaging, safe work experience we provide our teams in the region," Flaningan said.
In April, Amazon workers at a warehouse in Staten Island, NY voted to join a union for the first time in company history.
The Amazon Labor Union (ALU) has called for the e-commerce giant to raise wages, give more paid breaks and vacation time, enact "more reasonable" productivity rates in the warehouse, among other demands. ALU is led by Christian Smalls, a former manager at the Staten Island facility, who was fired by Amazon in 2020 after the Seattle-based company claimed he violated social distancing rules. Smalls argued he was fired in retaliation for staging a protest at the beginning of the COVID-19 pandemic, calling for stronger safety measures. Last year, Smalls launched the ALU, which relies upon donations via GoFundMe to fund organizing activities.
The same day as the Amazon walkout, roughly 2,000 employees went on strike at Oakland, CA-based Kaiser Permanente, the largest non-profit health maintenance organization (HMO) in the United States.
Social workers, psychologists, therapists and counselors held rallies and picket lines outside Kaiser facilities throughout California. The strike has been organized by the National Union of Healthcare Workers, which represents 16,000 workers in California and Hawaii.
Over the weekend, mental health clinicians accepted a wage offer from Kaiser, but the organization rejected a comprehensive settlement proposal, which included provisions aimed at making Kaiser "significantly increase staffing and sharply reduce appointment wait times," KCRA News 3 in Sacramento reported.