HRD delves into the features and advantages of Papaya Global. Discover more about the company that is revolutionizing global payroll and workforce management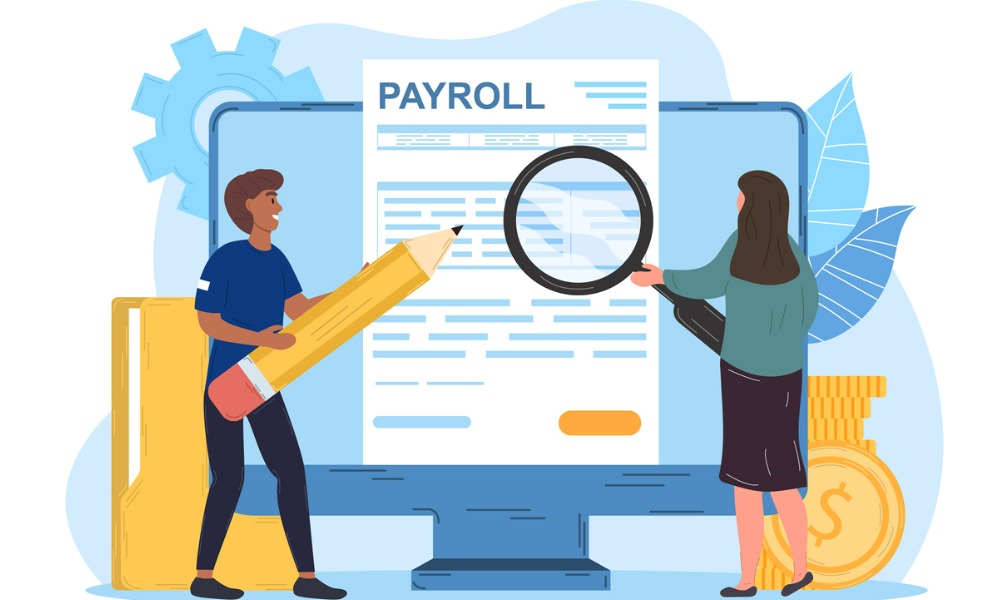 To optimize their human resources operations, companies need an integrated solution that consolidates HR functions and provides comprehensive data analysis. Enter HRIS systems, like Papaya Global, that streamline HR processes, offer centralized data, and enable better insights for improved business operations.
In this Papaya Global review, HRD will delve into the features and uses of Papaya Global. We'll look at how it can be used for global payroll, payments, and workforce management with their cloud-based solution.
Papaya Global's cloud-based SaaS platform streamlines HR and payroll management for companies with a global workforce. It is designed to be user-friendly and scalable, ensuring full compliance while providing industry-leading business intelligence and analytics.
This automated solution integrates with existing HRIS management tools and offers real-time business intelligence to simplify cross-border payments, onboarding, and ongoing employee management. The platform consolidates all employee data, enabling accurate and visible payroll tracking.
Here are Papaya Global's top advantages:
Save time and money running your global payroll processes by streamlining them with Papaya Global.
Papaya Global's expertise in compliance ensures your business can confidently expand globally.
Ensure the security and protection of your company's sensitive data with Papaya Global's industry-leading security and compliance solutions.
Gain valuable insights into your payroll and HR operations through Papaya Global's analytics suite, uncovering new opportunities for your business.
Papaya is a valuable tool for businesses looking to hire employees anywhere while maintaining full legal compliance - even without a local entity. This platform offers a streamlined approach to employee search, onboarding, and management processes, allowing all necessary documentation to be accessed and standardized in one convenient location.
With Papaya, businesses can benefit from automated processes and simplified documentation, ensuring efficient and compliant hiring practices.
Papaya Global: Payroll Solution
Papaya can help businesses achieve success in managing their payroll operations on a global scale. Your business can benefit from automated payroll processes, resulting in reduced costs and maximized efficiency across 160+ countries - all from one centralized location.
Top Features:
Payroll
Compliance
User Permissions
Papaya Global: Payment Solution
With guaranteed global payments processed within 72 hours, Papaya's platform can help businesses streamline their payroll operations and ensure timely payment to employees worldwide.
By removing the burden of payment processing, businesses can enjoy increased efficiency, enhanced accuracy, and greater peace of mind.
Top Features:
Cross-border Payments
Visibility & Control
Fraud and Automation
Papaya Global: Integrations
Papaya enables businesses to enter data just once and seamlessly integrate their HRIS, PTO, time and attendance, expense data, and third-party partners into the system.
Top Features:
File Integration
Customized API Integration
API automation
Learn more why Papaya Global is one of the best HRIS software available today.
Papaya Global's tailored pricing plans caters to businesses of all kinds, ensuring that you get the best possible value. Whether you are a startup or a big enterprise, Papaya Global's comprehensive suite of HR and payroll services is tailored to your unique requirements.
Global Payroll & Payments: Effortlessly manage payroll, taxes, and benefits while ensuring compliance with local regulations in all the countries where your company has entities. This option provides a comprehensive solution to streamline your global payroll operations.
Employer of Record: Hire, pay, and offer benefits to your international employees without setting up a local entity. This option allows you to expand your global workforce with confidence.
Contractor Management: Efficiently manage your global contractor workforce with this contractor management solution. This option streamlines the contractor management process while ensuring compliance with local regulations.
Check out the best pricing option for your needs and budget below.

Papaya Global also offers a stand-alone Payroll Intelligence Suite that provides real-time insights into your workforce spending. The goal of this is to help you optimize your workforce spending. Here are the details: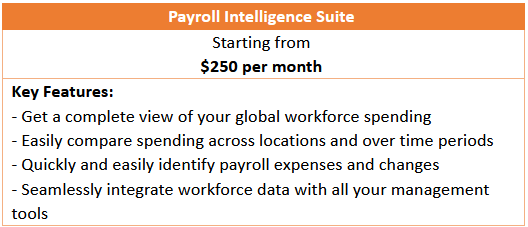 Customers can request a personalized quote to receive a tailored plan that meets their unique needs. Their team will work closely with businesses to understand their business requirements and provide a solution that allows for:
A complete view of your workforce spending in one place
Real-time business intelligence to plan future spending
Valuable insights from your payroll data to make data-driven business decisions
Papaya Global review: Does Papaya Global have a free demo?
Yes. Papaya Global offers a free demo on their website.
If you are exploring other options for your HRIS software needs beyond Papaya Global, you may find the following alternatives worth considering:
Headquarters address: 228 Park Ave S, PMB 22154, New York, New York, 10003-1502
Year established: 2016
Size (number of employees): 700+
Global offices: 9 locations across 4 continents including USA, Israel, and Hong Kong
Businesses served: 700+ companies
Key people: Eynat Guez (Co-Founder, CEO), Ofer Herman (Co-Founder, CTO), Ruben Drong (Co-Founder, Chief Innovation Officer), Inbal Aviad (Chief Legal Officer), Zvika Liblich (Chief Strategy Officer), Suriel Bendahan (CTO Payments), Benny Vazana (SVP Finance), Anat Eldar (SVP Product), Eyal Raz (VP Product Operations), Noa Geller (VP HR), Edy Rozenfeld (VP Architecture), Michal Regev (VP FP&A), Jeremy Walstall (VP Sales, EMEA, and APAC), Jason Van-Dusen (VP Sales, Americas)
Papaya Global was founded in April 2016 by Eynat Guez, Ruben Drong, and Ofer Herman. Papaya quickly caught the eye of investors, raising $1.5 million in a venture capital seed round from New Era Capital Partners and Dynamic Loop Capital.
After launching their platform to immense success, Papaya secured $45 million in a Series A funding round from Insight Partners, Bessemer Venture Partners, and their original investors in 2019. This funding helped propel Papaya to new heights.
In 2021, Papaya raised a staggering $250 million in a Series D funding round led by Tiger Global and Insight Partners, pushing the company's valuation to an impressive $3.7 billion. This success enabled Papaya to expand their offerings even further, with the acquisition of the remote work connectivity platform NickNack and the innovative money transfer company Azimo.
To sum it up, Papaya Global is a top-tier solution for businesses seeking advanced support for their international workforce. With its focus on global payments and global workforce management, it may not be the perfect tool for small to medium sized businesses which only operate in one country.
When your business and workforce are expanding, it is important to partner with a company that can adapt to your evolving needs. Papaya Global has the flexibility, expertise, and experience to scale with you and help you navigate the complexities of global workforce management.
If you still are not sure whether or not this is the right HRIS platform for your company, see our overview of what HRIS software does for assistance. You may actually find out that it's another piece of software that your company needs, so be sure to take a look over our HR software reviews for more options.
Have you used Papaya Global and want to share some thoughts? Let us know in the comments section.