This Paycor review will tell you what this HRIS system can do by combining payroll services and human capital management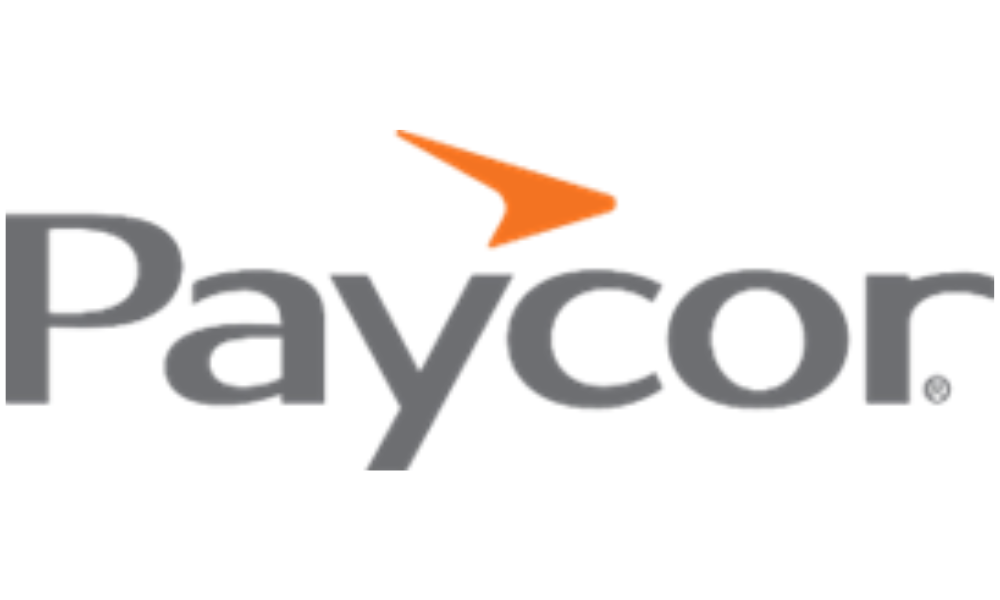 Growing businesses need access to an efficient management system that allows them to make smarter decisions about their employees and processes. Paycor can help them with that.
Designed for small and medium-sized businesses, this full-service, cloud-based human resources system assists companies with various core employee management tasks, including payroll, time tracking, talent acquisition, and learning and development.
This Paycor review will give you a rundown of the different features of this HRIS platform so you can decide if it is the right fit for your company. We will also discuss the various industries it caters to and what separates it from industry rivals.
Paycor combines payroll management, human resources information system (HRIS), and HCM in a unified platform. Modest-priced plans typically offer businesses automated payroll, onboarding, and tax-filing capabilities, while more expensive plans provide access to a range of benefits, HR tools, and compliance support services. Regardless of the plan, the platform comes with a mobile app that employees can use.
Paycor allows customers to upgrade their plans to access more features and benefits as their businesses grow and needs evolve. These enhancements, of course, come with a corresponding price.
Paycor offers five types of HRIS software systems built for the unique needs of different businesses. These are:
1. HR and payroll software
Paycor's payroll system provides a range of functionalities that enables business and HR leaders to automate routine tasks, mitigate compliance risks, and improve efficiency. These include:
Payroll software: Gives businesses access to different payment options, pre-schedule payroll cycles, and make payroll changes in real-time. Also allows staff to view important information, including pay stubs, W-2s, and benefits details, through the Paycor mobile app.
HR software: Enables HR leaders to update employee information, streamline tasks with automated workflows, and store digital documents and forms using a single platform.
Expense management: Makes it easy for employees to enter eligible expenses for frontline managers to approve and payroll administrators to reimburse. Also lets business leaders customize policies and track expenses with easy-to-read reports.
HR analytics: Offers predictive analytics that helps businesses understand what motivates employees and identify behavioral trends. Also gives them insights into the likelihood of turnover and what can make staff stay.
2. Talent management
Paycor's talent management platform allows companies to streamline their hiring process to effectively fill job vacancies, develop top talent, and retain employees. Businesses can access these core features:
Recruiting software: Allows HR leaders to screen candidates using a dashboard, customize hiring workflows, recruit candidates virtually, and automatically save post-interview feedback through easy-to-use scorecards.
Onboarding software: Enables new hires to fill out forms and documents electronically and gives them access to a range of engagement tools even before their first day.
Talent development: Lets businesses streamline conversations between managers and direct reports, improve and manage communication loop between peers, teams, and the entire workforce, and align goals and objectives.
Custom planning: Helps HR leaders monitor pay equity and analyze compensation trends, create competitive pay practices, update pay rates for cost-of-living adjustments for multiple employees all at once, and reward high-performing workers with an off-cycle raise.
3. Workforce management
The workforce management platform from Paycor is designed to help businesses reduce labor spending, manage overtime, and maximize productivity. These can be done through the following tools:
Time and attendance software: Fully integrates with payroll to help eliminate duplicate data entry, reduce costly errors, and improve payroll accuracy.
Employee scheduling software: Eliminates complexities in the process through editable templates and mobile scheduling and optimizes coverage by allowing employees to set their availability and swap shifts.
4. Employee experience
Paycor offers an employee experience platform that enables businesses to create a workplace where employees want to show up, make a difference, and succeed together through team building. This includes the following tools:
Pulse surveys: Allows HR leaders to gather employee feedback and convert it into real and actionable insights. Also gives businesses access to a range of engagement and benefits templates with customizable filters.
Career management software: Gives business leaders access to role responsibility profiles to ensure that employees are meeting expectations and identify areas where they can improve.
Learning management system: Combines virtual and in-person employee training in one platform to enable employees to learn at their own pace.
5. Benefits administration
The benefits administration software from Paycor enables businesses to simplify complex processes, including open enrollment, by offering the following platforms:
Benefits Advisor: A new platform that allows business leaders to reduce tedious administrative tasks through automated workflows, robust reporting, and the Open Enrollment Wizard tool.
ACA reporting and compliance software: Provides comprehensive reports and access to IRS filing services to ensure that businesses are compliant with the Affordable Care Act (ACA).
Pay-as-you-go workers' compensation: Allows companies to automate insurance payments based on payroll and eliminate large down payments and end-of-year surprises.
While Paycor's HRIS platform is primarily designed to benefit certain industries, it can be customized by businesses in other sectors. The key industries are: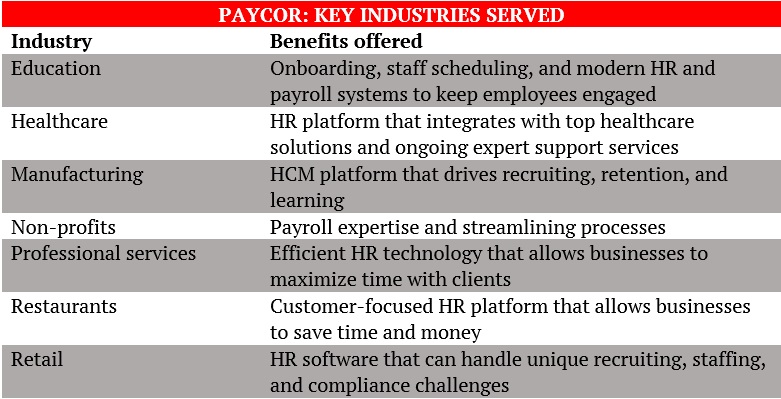 If you don't see your industry in there it is still possible that it could work for your company, or that Paycor could help customize the software.
The table below details the technical specifications of the Paycor platform.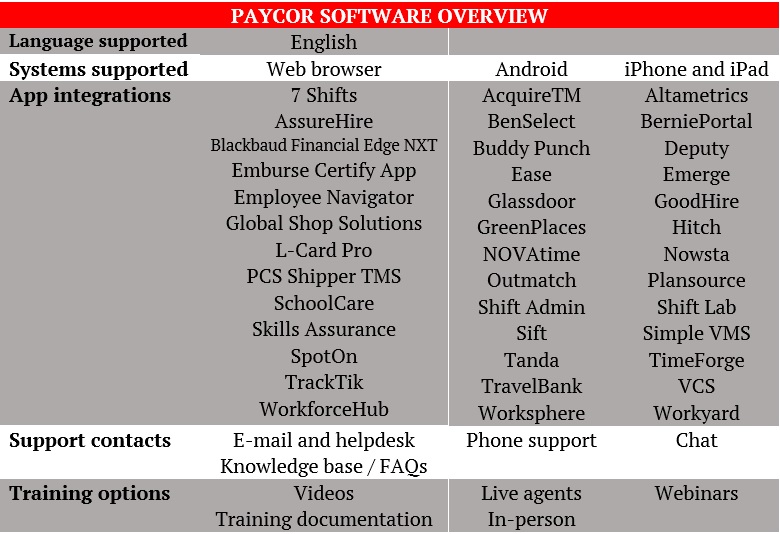 Paycor offers not just payroll services but also a range of HR functions, so its competitors can be from different fields, depending on what you are comparing them to. In terms of complete HRIS services, Paycor's top competitors include:
BambooHR
isolved
Darwinbox
Ceridian
Zenefits
BrightHR
Humi
Papaya Global
ConnX
ELMO Software
Paycor was founded by former chairman Bob Coughlin in 1990. It currently has offices in 15 states and serves more than 40,000 businesses. Here's a complete overview of the company.
Headquarters address: 4811 Montgomery Road, Cincinnati, Ohio 45212, United States
Year established: 1990
Size (employees): 2,300+
Number of clients: 40,000+
Platform users: More than 2.3 million
Key people: Raul Villar, Jr. (CEO), Adam Ante (chief financial officer), Alice Geene (chief legal officer), Swati Garodia (chief strategy officer), Ryan Bergstrom (chief product officer), Chuck Mueller (chief revenue officer), Paaras Parker (chief HR officer), Rick Huff (chief information officer), Joe Meyer (chief technology officer), Joe Frassica (EVP, digital sales), Brett Meager (SVP, client service and loyalty), John Warcop (SVP, implementation)
Paycor has received rave reviews from clients for offering much more than payroll features, unlike some of its competitors. The platform also combines HCM and HRIS capabilities and could really be classified as either type.
Despite having extensive features, the software's user interface is surprisingly clean, intuitive, and easy-to-navigate. It also allows users to customize their homepages, enabling them to incorporate some form of personalization. In addition, Paycor is constantly launching new features, which automatically apply to clients' accounts, thanks to the platform's cloud-based delivery model.
The downside, however, is pricing. Paycor can be expensive to many businesses, considering it caters mostly to small and midsize companies. It also charges miscellaneous fees for a range of services, including amended tax returns, minimum billing fees, and check copy. So, businesses looking only for payroll features can benefit from more affordable alternatives.