A new Ikea incentive links company outcomes to employee pension bonuses. Could it work for your organization?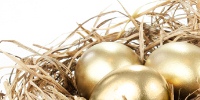 A new incentive at Ikea aims to link the success of the company to a personal outcome for every employee.
Tack!, which is Swedish for thank you, sees every employee worldwide receive an equal contribution to their pension plan, based on the company's financial goals being met.
According to a company statement, the program was inspired by founder
Ingvar Kamprad's
wish to share the success of the Ikea Group with all employees.
"In a time when so many other businesses are struggling, it is wonderful to be able to reward our valued employees and contribute to their future." says Kerri Molinaro, President of Ikea Canada. "Our ambition is to be an employer of choice and our commitment is to be a leader in wages, benefits and life-long security for our employees"


Employees who have been with the company for a minimum of five years will receive a contribution to their pension plans, with all full-time employees who qualify receiving the same amount regardless of unit, position or salary level. Part-time employees will receive a proportional amount in relation to hours worked.

Few Canadian employees are prepared for retirement, and pension increases or bonus systems can be an excellent way to not only help employees prepare, but to also engage and retain employees.

Sigurdson McFadden Benefits & Pensions president Kevin McFadden said there are specific benefits to contributing to pensions over offering a direct cash bonus or raise. He described an employer giving their worker a one dollar an hour raise. The employer's costs went up proportionally, meaning that $1 would cost them $1.30 in McFadden's estimation. At the same time, income tax meant the worker might only see $0.70 of that raise.

Comparatively, extra money put into a pension plan had no added costs for employers, and was tax exempt until it was removed by the worker.

As the first of the baby boomers reach retirement, inadequate savings could impact the national economy.

"This large bubble of the population is not adequately set up for retirement," McFadden said "It's going to cause huge financial problems and I think only when that happens will people and companies truly wake up to the magnitude of the issue."