Sit/stand desks could boost workplace wellbeing by giving your staff healthy options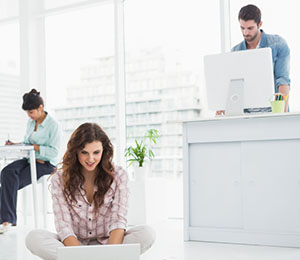 It's no secret there is a strong link between chronic disease and inactivity, yet the dawn of the sitting/standing desk could get your employees back onto their feet and boost workplace wellbeing.

With more Australians working longer hours at the office, HR professionals can play a key role in turning the traditional desk-based office job into a more holistic workspace environment.

As workplaces place greater emphasis on employee health and wellbeing, the provision of sitting/standing desks will allow your staff greater choice over how they work, says Stephen Minnett, Director at leading design firm Futurespace

Minnett says there are key benefits associated with sitting/standing desks.

"Sitting/standing desks contribute to health / wellbeing by allowing people to break up long periods of sitting with periods of standing," Minnett told HC Online.

"Sitting/standing desks can be good for casual standing meetings when people want to review a document – whether hard copy or electronic," he says.

However, employers must keep in mind that this is just part of what should be a holistic approach to wellbeing in the workplace, he says.

Industries best placed to benefit from standing desks include those where people are working in sitting positions for extended periods of time, such as at a call centre or financial services institution, Minnett says.

While some employees might resent employer intrusion into whether they sit or stand at work and be resistant to change from the conventional sitting desk, HR professionals can encourage their employees to embrace a standing desk culture in their workplace.

"HR professionals and employers should educate employees as to the benefits of varying their working position," Minnett says.

"In our experience sit / stand desks do not mandate behaviour – it is up to the individual as to whether they stand or not."

Employers can limit any legal risks associated with discrimination and health and safety by providing all employees with education about and access to sit/stand desks, and ensuring they source good quality products, Minnett says.