From the hilltops of the Himalayas to corporate boardrooms, mindfulness is the new zen.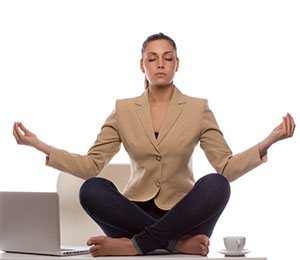 The ancient Buddhist practice of mindfulness is finding its way into modern workplaces, with many corporate boardrooms embracing the link between mindfulness and better business practices.

Ford Australia is championing a mindfulness training initiative as part of the car maker's investment in research and development.

Graeme Whickman, President and CEO, Ford of Australia said the company was offering mindfulness training to employees to help them de-clutter their daily distractions as the company pushes an aggressive new innovation agenda at its local and global facilities.

"We are committed to fostering an organisational culture where a strong sense of 'family' exists, good relationships are valued, teamwork is internally motivated, people feel genuinely valued and empowerment and employee involvement are inherently part of our nature," Whickman says.

He says Ford Australia is leading the charge in connecting mindfulness with business practice, both inside and outside the company.

"We have already committed to another 100 Ford managers to engage in mindfulness training on top of the 82 who have already completed the phase one training program, with discussions to look at offering it to all employees."

Australian Ford engineer turned psychologist Phillip Chen Yi Mei launched the company's first mindfulness training locally in early 2015, and participation in the program has jumped by 125 per cent following a successful phase-one pilot program.

Mindfulness research shows that yoga, meditation, breathing exercises or even a workplace nap can help improve focus, productivity, efficiency and creativity.

Ford's mindfulness course involves four days of off-site training during which employees are taught to cultivate personal wellness, provision effectiveness and integrate mindfulness in dayto-day activities.

Graydon Reitz, director, Asia-Pacific Product Development, Ford of Australia says investing in their employee's wellbeing will help the automaker remain at the top of its game.

"We also recognise that we need to invest in our employees to free them up to create the innovations of tomorrow for our customers through our vast R&D facilities in Australia," Reitz says.