Legal experts weigh in on novel workplace practice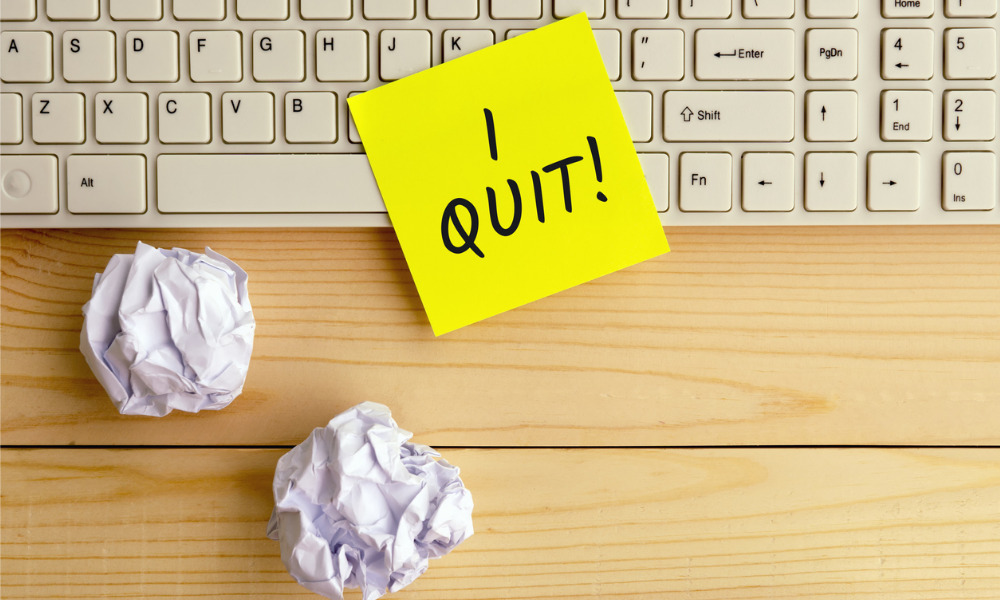 With incidents of "quiet quitting" emerging across workplaces, legal experts educate employees on measures to take when an employer performance manages a worker.
Recently, HRD reported the rising trend in "quiet quitting," described as "when an employee is physically present at work but has made the decision to do the bare minimum amount of work to stay employed and collect a paycheck."
HRD said the trend proves detrimental for HR as this could be a subset of The Great Resignation, which could affect the workplace culture. Employees who practice "quiet quitting" fear becoming more vulnerable to an employer's performance management.
Worker's fear over quiet quitting
As a worker for a start-up tech company, Harry regularly pulled over 50 hour-weeks, working on weekends and responding to emails during evenings, the worker wrote to news.com.au. Yet, the COVID-19 lockdown changed his perspective, and he decided to work to live instead of living to work.
"Slowly, over the past year, I have put more boundaries in place at work," Harry told the news outlet. "I try to work my 37.5 paid hours, have taken my emails off my mobile phone and no longer work weekends – ever. I believe the phrase for what I'm doing is called 'quiet quitting' but I like to call it 'doing my job in the hours I'm paid'."
Following Harry's changed work views, his boss said he is not "putting in the hours" anymore and that the worker could potentially undergo "performance management" if Harry's "attitude doesn't improve." Harry's boss also explained that working extra hours is all part of their workplace culture.
"I don't have a bad attitude – I simply don't want to half kill myself to get the job done anymore," Harry told news.com.au.
What should employees remember?
Nine.com.au's resident lawyers, Alison and Jillian Barrett, explained that quiet quitting means "rejecting the 'hustle' culture or the idea that work has to take over your life and instead simply doing what is required of you in your role."
"This might include not staying back late unpaid, and not responding to emails or answering calls outside of normal working hours," the resident lawyers said, according to nine.com.au.
Concerning Harry's case, the Barrett lawyers said he should thoroughly examine his employment contract and job description to guarantee that all inherent requirements are met and also review if there are any policies employers must follow to manage underperformance.
"Your employment can be terminated if you aren't meeting the inherent requirements of your role," the resident lawyers said. "In addition to reviewing your employment contract and position description you should also review your employer's policies and practices about your role and what is expected of you."
If an employee needs further clarification, the legal experts recommend asking the employer to explain the expectations of a worker's role and notify if any of these aren't met and ask for this through writing.
Moreover, the Barrett lawyers noted, "there is a fine line between an employer sharing their concerns about your work performance and bullying."
"If you think the line has been crossed and it occurs repeatedly over a period of time impacting your health and safety, it could constitute workplace bullying, which is unlawful," they added.
The Barrett lawyers also reminded employees that they could not be subjected to disciplinary action without a valid reason and a fair procedure, and employment termination should only be a last resort for employers.
"Disciplinary action could include a written warning about your apparent underperformance, which would detail the reason/s for the warning, your employer's expectations and consequences for not improving your performance over a reasonable time frame," the legal experts said.
"If you are ultimately terminated, and you believe it was done unfairly, you should consider an unfair dismissal claim with the Fair Work Commission," they added.
Lastly, the lawyers warned employees to immediately seek legal advice if needed since stringent time limits apply regarding these legal issues.
Related stories