The HR team at 7-Eleven corporate are set to have a busy few weeks after the company's chairman promised to reimburse all underpaid employees.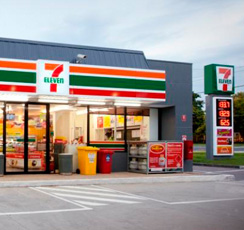 Senior management at franchise chain
7-Eleven
have made a promise to fully refund underpaid staff, apologising "unreservedly" to the company's exploited workers.
The reimbursement offering will apply to all affected employees, even those who are now overseas.
The announcement came at a public hearing held in Melbourne by a Senate Committee, which intended to probe the company's exploitation of its workers.
The hearing was part of an inquiry into Australia's temporary work visa program.
Last month, an
ABC
Four Corners investigation exposed the company's
systemic underpayment of its workers
.
A number of employees also faced the dual exploitation of being forced to work in breach of the terms of their visas.
Yesterday's inquiry heard that these actions had been occurring systemically within the company for decades.
New revelations were also brought to light at the inquiry, including allegations that some franchisees had charged workers up to $70,000 for visa sponsorship.
One employee claimed to have lost his job as a consequence of speaking out.
During the hearing, the company's chairman, Russell Withers, offered an apology.
"I want to stress that this has been highly embarrassing and I apologise unreservedly to any worker that has worked in a 7-Eleven store who has not been paid correctly," he said.
Withers suggested that the root of the problem was rogue franchisees.
"It is simply not in our knowledge whether the franchisee employee has been underpaid or not," he claimed.
However, consumer advocate Michael Fraser – who claimed to have alerted 7-Eleven to the issues three years ago – countered that the company undoubtedly had some knowledge of its franchisees' wrongdoings.
"How does an Indian in Melbourne, an Indian franchisee and a Pakistani franchisee in Sydney, and a Chinese franchisee in Brisbane, how do they all know the same scam?" he questioned.
"How is it possible that me [sic] with no budget can stumble on such a big wage scandal buying a loaf of bread yet head office with all their oversight find no systemic problem?"
7-Eleven said that by next month its internal investigations should reveal the proportion of its 620 franchisees that underpaid staff.
A new franchise system?
Greens MP and industrial relations spokesman Adam Bandt recently created a bill that has the potential to change Australia's $170 billion franchise industry.
Fairfax Media
reported
that the private member's bill aims to amend the Fair Work Act so that parent companies – or franchisors – have a greater liability for the actions of their franchisees, specifically in relation to the underpayment of wages.
If passed, the bill would introduce a system in which underpaid employees of a franchise could make a claim against the head office.
Currently, workers who fall into this category must chase the franchisee for any unpaid wages, which often results in employees being threatened with dismissal.
Bandt reportedly suggested that by allowing employees to claim underpayments directly from head office, there would be a shift in the workplace culture of the franchise.
"Instead of leaving it to vulnerable workers to uphold the law through expensive legal action, head offices would take more responsibility for what goes on in the stores that carry their name," he said.
Franchisees' obligations as employers
HC
previously spoke to Veronica Siow, partner at Allens, about the potential consequences should legal action be taken against 7-Eleven.
"Under Fair Work legislation, employers have to comply with National Employment Standards (NES) and the relevant Modern Awards," Siow said. "A breach of the NES or awards is a civil breach, and can attract a penalty of up to $54,000 per Course of Conduct."
"There is also provision in Fair Work legislation that imposes a penalty on a person – which can be an individual or a corporation – who is complicit in, aides, abets, or in any way is knowingly concerned with or party to that particular breach."
This could lead to a costly legal battle for 7-Eleven, should they be found to have been involved in their franchisees' misconduct.
"The employers, as I understand, are the franchisees," Siow said. "Each franchisee is the employing entity of their staff; they will clearly be on the hook for any breaches and can be sued for separate breaches.
"There is also the chance that the head franchisee – the corporate Australian entity – may also be found to have breached legislation."
You might also like:
Bill could overhaul franchise system
United Petroleum latest company accused of mass underpayments
What are the legal implications for 7-Eleven corporate?