Despite topping countless 'Best Employer' lists, many organisations in the tech industry still foster a sexist culture.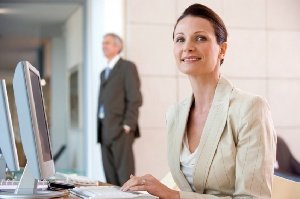 Bloopark, an Apple app development agency based in Germany, has posted a job ad that panders to a male audience, and denigrates the role of females in the tech industry.
The job ad for a web development position included the statement "Your girlfriend doesn't understand," Business Insider reported.
The blunder is one of many examples of the tech industry's side-effects of being male dominated.
Last year, a female game developer stated she is "groped" at every Game Developer Conference by other developers, with Apple accessories company Hyper featuring naked models in body paint at a trade show. Business Insider also reported on Yahoo hiring lap dancers for staff and two men at PlayHaven fired after making sexist remarks.
Earlier this month, LinkedIn pulled ads for developer network TopTal, after it deemed the female engineers featured in them to be too attractive to be engineers, News Ltd reported. LinkedIn stated that the ads were removed in error.
Although sexism appears to still be an issue in the tech industry, it does not engulf the entire field. "The clients that we typically work with tend to be part of the opposite ilk and actively take steps to be positive," Andrew Cross, managing director at recruiting firm Ambition Technology, told HC.
Cross explained many larger tech companies are taking initiatives to ensure female hires, such as instructing recruiters to have 20% of the shortlisted applicants as women. He stated some organisations have "really taken a more aggressive approach to addressing the balance".
Despite the glass ceiling hanging over the industry, many women are entering executive positions in tech companies, such as Rose Clements, HR director at Microsoft Australia, and Marissa Mayer, CEO of Yahoo. The ability for women to enter into powerful roles in the tech industry doesn't surprise Cross. "I think of the females in the IT sector I work with and almost 100% of them are very strong, driven, focused professionals who have had to fight to get where they got to," he explained.
The increase in female C-suiters in the tech industry comes about as the entry-point into the industry also changes.
"We're not seeing as many women come in through the service and help desk roles … where we do see a reasonably strong representation is in the creative space – online media development," Cross stated. "That development space has typically been quite male dominated so to see that movement is quite good, and it has probably been supported by start-ups and more forwarding-thinking businesses."
Although women making headway into the industry is positive, Amy Nguyen, a student and writer for Medium.com, stated that an onerous burden is placed on women in the tech industry to be "perfect". Nguyen argued that while men are accepted as having strengths and weaknesses, women are expected to either excel in every aspect, or are considered worthless. "Being expected to be either a "perfect super-human" or a "girl who can't code" puts a huge amount of pressure on women," she stated.
Cross agreed with the sentiment. "I think there's certainly a pressure on women to compete with their male counterparts in an industry that has history of over-supporting the male doctrine. There will always be good and bad resources."
One path to improving the position of women in the tech industry that Cross sees actually involves moving away from highlighting the gender issue when talking about diversity.
"A lot of talk about workplace diversity has moved away from purely being about gender and has started to look at diversity of thought and people's backgrounds," he explained. "Look at the background, look at their whole career, their whole personality-type and what their career has given them, and then look at the experience that you get as a combined team."
However, despite HR's critical role in conquering this problem, Cross believes the solution lies in much broader initiatives.
"It is bigger than HR. It has to be an inbuilt element of a business's culture that supports equal opportunity and balance for both gender bases," he stated. "We need to encourage more females to come into the industry and if they are being scared off by this male dominated hype then that is a problem for us … until we have more candidates to choose from and employers have the capacity to assess 'best person for the job' as opposed to 'best male, best female' then we are never going to change the majority feel of what this industry is about."
Are there other industries where you see sexism as being rampant? Are you part of a tech company who is taking initiatives to increase its female workforce?