'We learned our lesson and changed our business model, and they became an asset. It's all about finding the balance'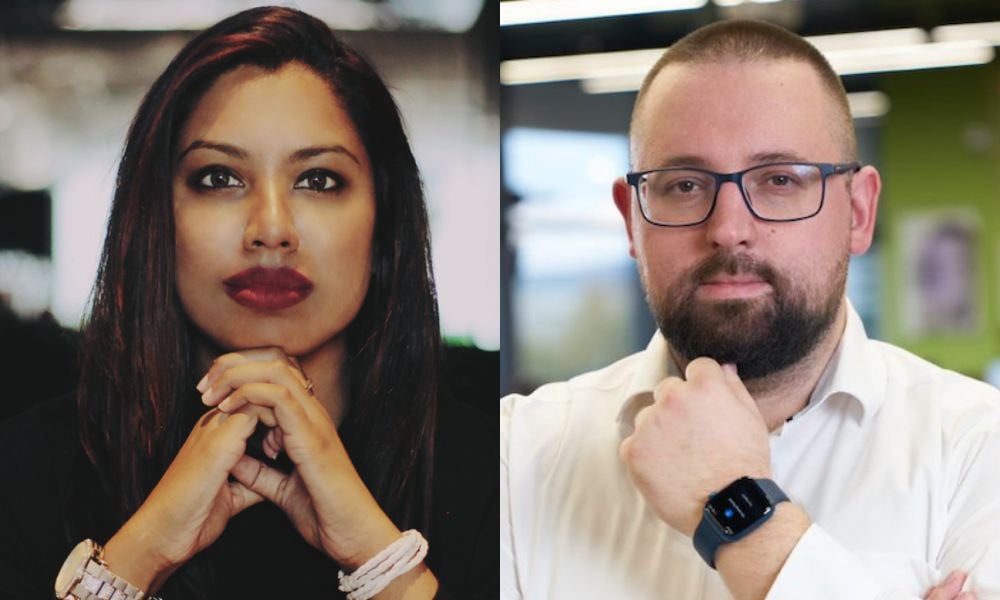 When it comes to the younger generations, employers have their work cut out for them.
Why? Companies have an average of just over two years to keep gen Y (millennials) and gen Z satisfied before they seek greener pastures.
Broken down, millennials last two years and nine months, while gen Z lasts two years and three months, according to a 2021 survey by CareerBuilder.
This is a noticeable gap from gen X staying an average of five years and two months in a job, while baby boomers are very comfortable lasting an average of eight years and three months.
Focused on flexibility
Crowd Media Group has made changes in recognition of the generational differences, according to Judy Sahay, CEO and managing director of the Melbourne firm.
"Gen Y and Z prefer flexibility in the workplace the most," she said. "They want to be able to have the option to work at home, in the office, remote, at a client's workplace, to choose their own hours and workload.

The company found this was a major driving force in keeping this generation at work, according to Sahay.
"The moment we had put in place stricter working conditions, we saw a drop. We learned our lesson and changed our business model and they became an asset. It's all about finding the balance."
Crowd Media Group offer a range of incentives to keep employees happy including: flexible working conditions; four-day work weeks for those who want them; work from home two days a week — with more days depending on their roles — monthly movie nights; a half yearly weekend away with the team; unlimited drinks and food in the kitchen; free parking at the office; and fortnightly Uber eats sent to employees' homes.
"Gen Y and Z are highly motivated by variety of work," Sahay said. "They don't want to do the same thing every day. They want to be able to work where they want. They also want to work for a business that has a focus on society and the greater good — one that's giving back to the community, making an impact, as well as being a socially responsible company.
"They also want to be recognised for their work, this is really important for them."
Gen Z workers are most likely to quit if they're unsatisfied at work, according to Pavel Bahu, global human resources director at travel firm Trevolution Group.
"This is why today, more than ever before, such benefits as modern office space or snacks in the office aren't enough," she said.
"Employees are looking for a great culture at work – both the workplace and the employee must share the same values. It's also becoming more important for companies to get involved in corporate social responsibility activities in order to show that the goal of business isn't only about revenue, but also about giving back to society. Gen Z workers want to be part of a business that does good."
Bahu believes that companies will need to think long and hard as to how to keep gen Z engaged and it will have to involve ideas and incentives that companies have not explored before.
"To attract and retain top gen Z talent, businesses will need to create workplaces that cater to their needs," Bahu added. "This will likely involve a mix of traditional office spaces and individualized work areas, as well as a range of on-site amenities such as gyms and potentially kindergartens."
It will also be important for businesses to provide opportunities for social learning, "through both in-person and virtual interactions, which is one key factor that will drive the success of the Gen Z workplace," she said.
"For employees to grow and develop, they need to be able to communicate and interact with one another. This can be achieved through a combination of in-person and virtual interactions and will be crucial for businesses looking to foster a culture of continuous learning and development."
Taking it 'Outside'
Professional services firm PwC realised that they had to find a way to stop the brain talent of gen Y and Z leaving. In 2022, they created an event called "The Outside" where 3,000 of the companies' senior associates and managers, mostly aged between the ages of 25 and 35, were taken to a four-day retreat in the Hunter Valley of New South Wales to engage, immerse and evolve themselves in a curated learning environment.
"The event architecture was designed to balance curated and co-created content, as well as global and local expertise, anchored across four themes," Lawrence Goldstone, lead partner, future of work, PwC, said. "The journey gave participants a shared experience to forge deeper human connections, foster an inclusive community and build a strong collaborative network."
The event involved five groups of roughly 600 people invited to participate in an array of activities broken into four pillars: self, country, community and future, with the intent to make positive change at work, home and in their community.
"Focussing on self is all about exploring who we are as humans and first understanding our biases and limitations as a person in order to transform ourselves into new ways of thinking and utilise our instinctive skills to achieve higher performance," Goldstone said.
The program has been a huge success, with internal surveys revealing that there has been: up to four times less turnover pre event for those invited; three times less turnover once attended; 99.2% net promoter score (NPS) from attendees; 96% inclusivity score; 99% positive sentiment on social media; and a 4.3% increase in career searches.
"The basis of the event was to invest in and reward and recognise our people for their hard work," Goldstone said. "We wanted to celebrate them and recognise their value. By organising a shared experience, we provided our people with visibility, exposure and a genuine opportunity for a connection to leadership, which leads into a pathway to career growth via best in class personal development."