Staff at Sydney Airport have been setting up camp at work and not going home between split shifts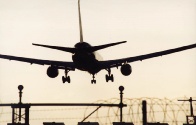 Employees at
Sydney Airport
are sleeping on makeshift beds beneath terminals because they cannot afford to go home between split shifts.
The staff have also expressed concerns that fatigue levels are putting safety at risk.
The allegations concern the outsourced flight support organisation Aerocare.
Most of Aerocare's workers are permanent, part-time with a guaranteed minimum salary of about $16,000 per year under a collective agreement approved by Fair Work in 2012.
George Orsaris, a driver employed by Aerocare, said he would often sleep in the spartan loading area between shifts.
"We get pushed to our limits. Our pay doesn't match it. We don't get rest breaks and we get given a four-hour shift in the morning and then we have a four-or-five-hour break and get a four-hour shift in the afternoon," he told
7.30
.
Sleeping between shifts is a result of the "Americanisation" of the Australian workforce, according to the Transport Workers Union (TWU).
The TWU National Secretary Tony Sheldon said airport and airlines are responsible for vetting the companies they undertake to do work on their behalf.
"Workers are struggling on slave wages and sleeping on bed rolls because they have to spend long days at work to support their families. They are terrified of raising concerns because the bosses are standing over them warning them against complaints," Sheldon said.
"This is being allowed to happen because airports and airlines are outsourcing work to low cost companies and not giving a damn about the workers in their supply chains that it affects."
In a statement, Aerocare said they are "shocked and disappointed" by the allegations and images relating to the company's operations that have appeared on 7.30.
"The company is conducting a full review of all assertions and representations," said the statement.
"We have a 22 year track record of leading our industry in matters concerning employee and broader passenger safety and would never condone unethical or unsafe activity of the type alleged.
"Aerocare will provide a full update once we have investigated the claims that were made in the media."
Related stories:
Turnbull government introduces legislation to 'crack down on dodgy bosses'
Three tips to keep your mobile workers safe