Innovators in engagement recently gathered together to challenge thinking around how companies are connecting with employees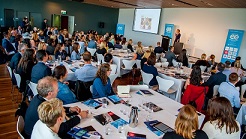 The winners of Australia's first dedicated employee engagement conference and awards were recently announced at the Museum of Contemporary Art in Sydney.
The 2016
ANZ
Employee Engagement Awards & Conference in association with
Reward Gateway
was attended by 150 HR professionals.
This included delegates from large and small organisations who took the opportunity to learn from a range of best-practice presentations.
It was a great chance to get the innovators in engagement all in the one room and challenge everyone's thinking about how they are connecting with their employees, said Kylie Green, Sales Director of Reward Gateway.
"There was a range of thought-provoking sessions throughout the day which were quite diverse," she told
HC
.
"They included practical tips from HR professionals on what they did at their organisations, and thought leaders providing trends in talent mapping and employee engagement modelling for the future."
The best-practice presentations were followed by the awards which were designed to celebrate companies which have successfully been pushing the boundaries in engagement.
The winners were judged around their innovation in employee engagement and how well they connected with their employees, said Green.
"There was a panel of judges focusing on what the companies did which was different, but also relevant to their particular workforce," she said.
Matt Manners, founder, The Employee Engagement Awards, added that the judges were very impressed by the strength of commitment to employee engagement demonstrated by the finalists.
"It augurs well for how Australia & New Zealand will continue to compete in the global economy. Especially with providers such as Fuel 50 that helped enable our winner Z-Energy to engage its staff so well."
The 2016 winners are:
Overall ANZ Employee Engagement Company of the Year
1. Z-Energy
The following companies made up the remainder of the Top 10 list:
2. Adrenalin
3. Epworth HealthCare
4. Involve Training
5. Krispy Kreme
6. McConachie Stedman
7. McDonald Marine + Industrial
8. Sunsuper
9. Teachers Mutual Bank Limited
10. Vocus Communications
Related stories:
National HR Summit named best business conference
Australian HR Awards: 2016 winners revealed
HR Award winner: Australian HR Director of the Year