Here's what you need to know about preventing sexual harassment in the workplace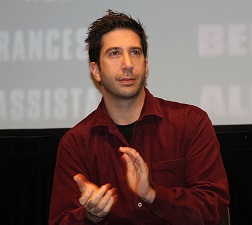 'Friends' actor David Schwimmer has launched a new campaign to raise awareness about sexual harassment in the workplace.

The campaign titled '#ThatsHarassment', features six short films produced by Schwimmer, which include re-enactments of women's real-life experiences.

The videos - called The Actor, The Boss, The Coworker, The Doctor, The Photographer and The Politician - highlight the various ways in which a woman can encounter harassment in everyday life.

All the "That's Harassment" videos cover a different workplace scenario, such as a doctor's office, a corporate environment and a casting session.

In one of the videos, Schwimmer portrays the office boss who makes unwanted advances towards a young worker.

In talking about why he decided to make the videos, Schwimmer said that he grew up hearing stories of sexual harassment from his mother.

"Every woman in my family, in my life, has been harassed, except my daughter, thank god, who's only six," he said.

Schwimmer added that for many women who have been consistently disrespected throughout their life, it might be difficult to recognise when they are being sexually harassed.

"I really hope that men see these [videos] as well, so they can learn, 'Oh, that's not appropriate behaviour," Schwimmer told The View.

In Australia, the topic of sexual harassment is getting a lot more attention in the workplace and the courts.

Lander & Rogers Partner Aaron Goonrey said that where sexual harassment cases are pursued in courts, the question of determining appropriate compensation can be difficult.

"The damage suffered by a victim may not be obvious or tangible, and courts have typically acted conservatively, with damages for hurt and humiliation, or pain and suffering generally in the range of $5,000 to $20,000," he said.

Goonrey added that it is clear that prevailing community standards are influencing the courts' decisions to award higher damages to victims.

Indeed, recent case law demonstrates that courts are more inclined to award damages in excess of $100,000, or even over $1 million.

Lander & Rogers offer the following tips for a successful cultural transformation:

• Employers should ensure that they have in place a clear sexual harassment policy, which is effectively communicated to each workplace participant and is understood.
• Employers should conduct regular training sessions for all staff and management on sexual harassment and the organisational policy, ensuring that the training is specific about the types of behaviours that may amount to sexual harassment. Regular refresher training is recommended.
• An organisation's policy on workplace sexual harassment must be led from the top down, and managers need to understand their roles in the process. The chief executive officer or a senior management representative should endorse the policy and emphasise the fact that all staff are required to comply with it.