HC speaks to an employment lawyer about the legalities of taking action against an employee who engages in inappropriate behaviour during their personal time.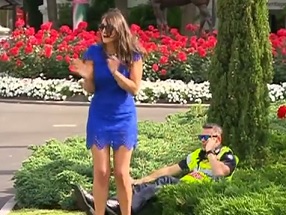 This week, footage emerged from the revelry of the Melbourne Cup involving racegoer Sarah Finn pushing a police officer into a bush. The video subsequently spread like wildfire across social media platforms, and she was
reportedly charged with assault
.
But when does an employee's behaviour outside of working hours become the concern of their employer?
HC
spoke to Kathryn Dent, director at People + Culture Strategies, about when employers can justifiably take disciplinary action against an employee over after-hours behaviour.
"These days, with constant access to social media, out of hours conduct can 'go viral' and attract a wider range of adverse publicity for both the employee and potentially an employer," Dent explained.
She added that the issue in these kinds of circumstances is whether the employer would have the right to take any action against the employee, with the broader issue being: when does out of hours conduct justify disciplinary action, which may include dismissal?
"In most cases the employer's rights will depend on the particular facts, including the employment contract, employment policies and the job requirements," Dent continued.
"Out of hours conduct is more likely to attract and justify disciplinary action where an employee's duties include, or a termination clause provides, that employment may be terminated in circumstances where the employee brings the employer into disrepute (or engages in action which has the potential to do so).
"[This also applies] where the employee is convicted or charged with a criminal offence – particularly where such a charge or conviction directly or indirectly prevents the employees from performing their duties – or if the workplace behaviour or other employment policies extend to regulating after hours behaviour."
Dent advised that we must bear in mind that whether or not the behaviour is directly connected to work, it can have consequences and be relevant to an employer's determinations.
"For example, an employer may want to examine – aside from any directly relevant contractual or policy obligations – whether the after-hours conduct occurred as an extension of a work event, and/or whether it occurred in the presence of or involved other employees."
Dent told
HC
that there have been many FWC decisions recently where after hours conduct – particularly where they are social media-related – were justly used as the basis of disciplinary action and dismissal.
"It comes down to after-hours conduct being an extension of workplace behaviour, which has been enabled by technological advancements, both in terms of what employees do and how they may be captured," she explained.
The employee's specific role within an organisation can also be influential; Dent explained that the higher the profile of the employee, the more instant and public the action taken against them is likely to be.
Recent examples of this have included Scott McIntyre at SBS and Cronulla's Todd Carney, both of whom have had their employment impacted by their behaviour out of hours.
"This proves that while actions or behaviour may not be related to work, the idea of bringing the employer into disrepute, and the fact that they are so well known, have been relevant factors," Dent said.
"The outcome for the employee depends on impact their behaviour has on the employer."
Another, lower-profile, case that has showcased this was the employee of a company within the alcohol production sector being convicted of drink-driving, and being dismissed.
"Even though it occurred on the employee's own time, it was inconsistent with the company brand which advocated responsible drinking," Dent explained.
"In this case, the contract and the way the employee acted were inconsistent, and had an impact on the employer and the employment relationship.
"If the behaviour does bring the employer into disrepute by people being able to connect the employee with the company, or if the employee can no longer perform their duties because of it, the employer is likely to be able to take action."
She added that this is why it is important for employers to ensure that their contracts and any employment policies reflect whether or not after-hours behaviour is something which may warrant disciplinary action or dismissal.
"Often behaviour or social media policies include this; it gives the employer the right to discipline or dismiss the employee," Dent said.
"They may make reference to after-hours events in order to clarify how employees should be acting in public."
She also told
HC
that responsible employers make this clear to their staff.
"Given the proliferation of social media and the liability that employers are exposed to for certain types of workplace behaviours which are unlawful, it would be responsible to clarify that workplace behaviour may extend into after-hours," Dent said.
"Employers should consider this, and if they want to regulate employees to this extent – which the courts have accepted is not unreasonable in certain circumstances – then they should include provisions in their policies and employment contracts to reflect it.
"In any situation, an employer should always be aware of the legal risks associated with disciplining or dismissing an employee.
"For example, in relation to unfair dismissal, the employer would need to afford the employee procedural fairness, which includes giving the employee the opportunity to explain themselves before taking any action, and then assessing what type of action is appropriate in all the circumstances."
You might also like:
Employer-supplied alcohol a 'mitigating factor' in misconduct, says FWC
What can employers learn from Todd Carney's unfair dismissal?
Sacked reporter taking legal action over Anzac tweet dismissal