COVID-19 measures in the workplace paint a dreary picture of a world caught up in crisis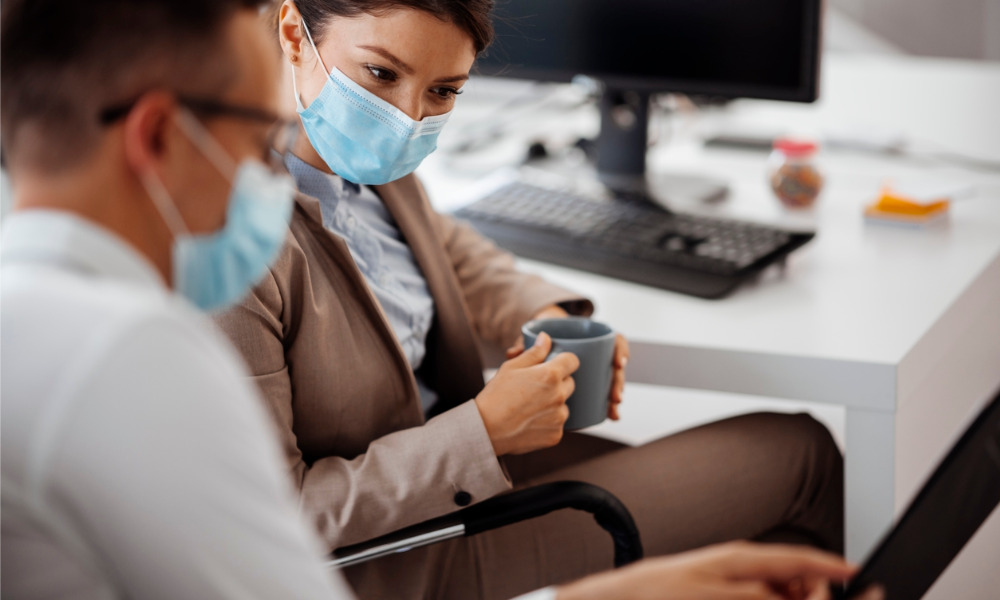 From temperature scans to one-way corridors, the modern workplace is changing – in ways never imagined until the COVID-19 pandemic.
In the new normal, the uncanny features of a bustling workplace – such as chasing after a crowded lift – will be a thing of the past: office buildings will implement a limit on the number of passengers that can take it at a given time.
Neither will workers have a chance to sit together during lunch: shared spaces will likely be closed, and the usual freebies in the lounge or cafeteria (coffee and the occasional free lunch or snack) will be discontinued in even the most generous offices.
Considering how the pathogen SARS-CoV-2 is transmitted through aerosol droplets (released when a person coughs, sneezes or talks loudly), office chatter will also likely be kept to a minimum.
These workplace changes paint a dreary picture of a world in the middle of a health crisis, but these changes are the price organisations are willing to pay to keep on-site employees protected.
For most employers, the obvious and immediate solution to reducing the risk of infection at work is to shift employees to a work-from-home arrangement.
But while some sectors, such as technology and finance, have the leeway to let employees work from home, other industries such as health care, manufacturing and transportation lack the same flexibility.
In fact, 58% or three in five employers in transportation, warehousing and logistics already expect their employees to report back to work at a physical site, according to data from the Conference Board of Canada (CBoC).
Of course, safety will be paramount as businesses reopen. But even with exhaustive measures in place, employers will need to "continually adapt" as they respond to cases that might emerge within their premises, advised Allison Cowan, director of human capital research at the CBoC.
This entails keeping a close watch over the clusters of employees and types of assignment where an outbreak would likely occur and containing the infections promptly.
Loopholes in the system
No matter how prepared companies are, there is always a risk of disruption to work. "This could include bringing employees back and then having to close workplaces again," Cowan said.
The virus might still "find loopholes" and cause an outbreak. This is especially true among workers whose jobs prevent them from practicing safe distancing.
Read more: How COVID-19 spreads in crowded offices
At a call centre in South Korea, for example, one case of COVID-19 was all it took to infect 94 other colleagues – or about half of the workforce – on a single floor at a time when most workplaces across the world paid little attention to social distancing protocols.
This cluster of cases proves how the virus "can be exceptionally contagious in crowded office settings," according to experts from the Korea Centers for Disease Control and Prevention, which led the contact-tracing efforts.
The virus has the "propensity to cause large outbreaks among persons in office workplaces," they said. Certain lines of work are thus more vulnerable to infection, so employers need to develop "targeted preventive strategies" to help slow the spread.
Beyond the workplace
The risk of workplace infection remains high even as more countries consider relaxing their restrictions on commercial activities.
In countries that witnessed relative success early on, the threat of a second wave of infection pushes leaders to tread with caution. But despite warnings on health and safety precautions, some large clusters of cases have been traced back to workplaces failing to implement COVID-safe measures.
In Germany, the largest meat-processing plant in Europe was responsible for the infection of more than 1,500 workers.
Cases of this magnitude often have a ripple effect on the community: the outbreak forced 7,000 people into lockdown, caused schools to close and upended most of the community's social life.
Employees also face health hazards beyond their immediate work environment.
Halfway across the world in New Zealand, workers in Auckland are having to contend with COVID-19 risks even before they set foot in their workplace. Some of the latest cases in the city were retraced to those using public transport.
John Rooney, an employment law expert from Simpson Grierson in New Zealand, urges companies to review how best to support their staff.
"Employers can take this opportunity to assess the health and safety policies that they currently have in place, and whether those allow them to efficiently deal with a crisis like this in the future," Rooney told HRD.
"Issues such as keeping staff safe when working from home, or when they are at risk of exposure to an illness, should be considered by all employers when reviewing their health and safety policies."
Contact tracing and employee trust
As employees worldwide acclimatise to new workplace safety protocols, many are also becoming more open to their companies leading contact-tracing measures – and that often includes using new tools to help pinpoint cases at work.
Read more: COVID-19: How to lead contact tracing at work
In a global study from HR tech firm Kronos, nine in 10 employees (86%) said they are "comfortable to varying degrees with employer-led contact tracing" – whether their employers gain access to their work records (48%) or access to their mobile devices (39%) to investigate cases.
"Employees have demonstrated that they do have safety concerns in the workplace but generally trust their employer to take care of them," said Gregg Gordon, vice president, industry, at Kronos.
There is a caveat, however.
"As the data shows, employer-driven methods of contact tracing are not unwanted among the workforce – though education and transparent communication cannot be overlooked when introducing new policies or protocols related to organisational safety," he said.