Can you spot the warning signs and help staff tackle overwork?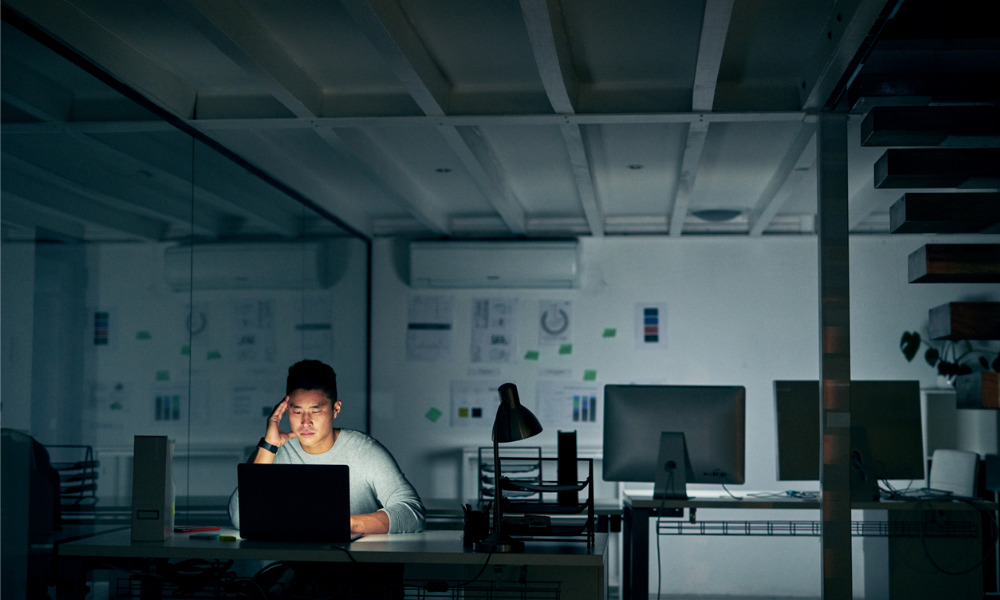 Has remote working turned us all workaholics? Intentional or not, our device-driven way of life has meant the end of the traditional nine-to-five business day. Now, in this new world of remote working, we can access our emails any day of the week - at all hours of the day. This in turn has led to a culture of overworking, of unpaid additional hours, and of stressed out, depressed staff. The pressure to be constantly switched on, to be available for calls at any given time, has given way to a culture of workaholism which, if not addressed, will lead to a whole other kind of pandemic.
Read more: Switching off: The toxic rise of 'virtual presenteeism'
What is workaholism?
According to an academic study, being a workaholic is more than just about working long hours. The term was first coined in 1971 by psychologist Wayne Oates, who defined it as "the compulsion or the uncontrollable need to work incessantly".
A more recent study by Malissa A. Clark, PhD, associate professor, industrial/organizational psychology in the department of psychology at University of Georgia, USA, compiled various findings through the years and defined workaholism as:
Feeling compelled to work because of internal pressures.
Having persistent thoughts about work when not working.
Working beyond what is reasonably expected despite the potential of negative consequences.
Read more: Mental Health Month: How to manage email anxiety
A workaholic versus an engaged employee
Dr. Clark highlighted that being a workaholic is vastly different to being a highly engaged worker. "One key difference between workaholism and work engagement is the motivations underlying these behaviours," she wrote. "Whereas engaged workers are driven to work because they find it intrinsically pleasurable, workaholics are driven to work because they feel an inner compulsion to work — feelings that they 'should' be working."
Dr. Clark added that workaholics were typically stressed out or filled with negative emotions like guilt, anxiety, anger or disappointment when thinking about work-related issues. Meanwhile if you're engaged in your work, you're genuinely excited and enthusiastic about your day-to-day. Workaholics may also find themselves dealing with problems like family conflicts due to the inability to separate work and personal time.
Read more: Fun Friday: Three myths about hard work, busted!
More meetings and longer hours in remote work
In today's context, that inability to separate work and personal time has only intensified thanks to hybrid and remote models. Work-life balance has become increasingly elusive and unattainable – yet paradoxically, it seems as if that's all employers are talking about.
A study of over three million remote workers published by Harvard Business School confirmed that many of us have been working longer hours since the shift. An analysis of the emails and meetings of professionals in 16 global cities found that the average workday increased by about 48.5 minutes during the pandemic's early weeks. Employees also participated in more virtual meetings. Comparing data from before and after lockdowns, researchers found that on average:
Staff sent 5.2% more emails a day.
Emails had 2.9% more recipients.
About 8.3% more emails were sent after business hours.
When it came down to meeting invitations, they observed that:
People attended 13% more meetings.
The number of people invited to each meeting rose by two.
However, each meeting was 12 minutes, or 20% shorter than usual – suggesting that virtual calls were shorter but more frequent throughout the day.
Read more: Is it possible to separate work and personal life?
Can leaders help staff manage overwork?
There are countless studies that showcase just how much remote workers struggle to manage the blurred boundaries. Research from Achievers found that employees (51%) tended to work longer because they worried their bosses had doubts about their productivity while working remotely. This worry has most likely contributed to burnout as nearly half (44%) of respondents said it's prompted them to log into work earlier or stay online later. So how can leaders help employees avoid turning into workaholics?
Regularly remind staff to take a break
If you notice that co-workers or teammates continue to send emails or set calls during lunch time, reach out to them and ask if they're taking a break. You can then send a gentle nudge to remind them to take their daily break. Juliana Ang, CHRO at NTUC Income shared that when we were able to go out and have lunch with co-workers, we were able to relax and have the occasional two-hour team lunch. With remote work, some people may feel that they barely have 20 minutes to eat their meals. "Make sure people have lunchtime," she said. "Keep reinforcing with the management team in every meeting [to] protect the hours of your staff."
Avoid bad habits like after work emails or calls
Leaders should overturn the dangerous culture of sending late night emails or after-hours meetings. For a start, leaders shouldn't be calling staff or sending emails so late in the day either. You should also call out team members who practised those bad habits. You need to be deliberate about these practices, said Ang. "If people call a meeting at night, I will question them," she said.
Read more: Tech CEO calls out industry's overwork culture
Ensure staff plan meetings ahead to set boundaries
This can help staff plan their schedules better and avoid those dreaded after-hour calls. When everyone was in the office, Ang explained that you had to "ask permission" to hold meetings and ensure that the sessions were useful for all attendees. This etiquette still holds value in the virtual workplace. It can also offer leaders and staff the necessary structure and boundaries for work.
Have casual chats to find out how staff are handling work
Getting into the habit of having casual chats about non-work activities, even a few minutes before a work discussion, can help take people's mind off work for a bit. It can also help you identify co-workers who are working too hard or getting consumed in their work. You can then encourage staff to engage in hobbies or take time off to focus on family time or simply rest.
Encourage people to use their leave days
While most of us won't be able to travel anytime soon, it doesn't mean you should be hoarding all your annual paid leaves and working through the entire year. Some companies have scrapped the policy that allowed staff to carry over unlimited leave days to the following year. Instead, companies are encouraging staff to use up their leave days for rest. Other companies have also enforced that teammates avoid contacting staff who are on leave, with some firms even going to the extreme of temporarily denying staff access to their work accounts during the break.