It's been right under your nose the whole time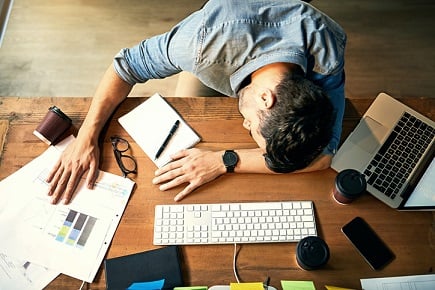 There's no denying the very real link between low employee morale and a productivity slump. And despite the plethora of research out there documenting the correlation, 36% of organizations still see engagement as a top challenge.
Why, you ask? Well, according to Gena Restivo, vice president of HR at AstraZeneca, it's time for HR to really start examining their culture rather than papering over the cracks – starting with your most disengaged workers.
"The first step in analysing why exactly your employees may be disheartened, starts with some introspection," she told HRD.
"Ask yourself, does your organization have a clear people strategy? Do your people know the company's commitment to them? Is there a culture of openness and trust?"
As a leader, Gena believes it's important to question yourself too. Are you communicating a compelling organizational purpose? Do you personally model your organizational values consistently and recognize others when they see them in action?? Are you communicating to your employees as regularly as you could be?
"After some introspection, then you have to listen," she quipped. "You need to have a real honest conversation with your employees. Dig a little deeper, uncover their aspirations, their worries and, ultimately, how you as their leader can help."
It may seem like pure talk but measuring the ROI on engagement will quell any doubts you've grown. Engaged employees are five times less likely to leave the company, with actively involved workers willing to "go the extra mile" for their brand, their managers and their colleagues.
"Put a plan in place and act on that plan," added Gena. "Mutually agree on how you're going to support them, and then act on it. From my perspective, a leader must excel at communicating, listening and recognizing great work consistently. Sometimes employees feel like they're not actually making an impact on the business, so let them know how their involvement is making a tangible difference."
And Gena was quick to stress that this is an ongoing conversation – you can't put a pin in it and come back later. It's an ever evolving, transparent and continual process between employer and employee. This is something, she told HRD, that she's very proud of at AstraZeneca.
"At AZ, we push the boundaries of science and deliver life changing medicine, and our values guide the way; We follow the science. We put patients first. We play to win. We do the right thing. We are entrepreneurial. Those five values are at the centre of everything we do, and how we do it."
It's not flashy promotions or media kits that shape a company, it's the values. The statistical case for building a strong company culture is difficult to disagree with. An organization with a discernible core culture will enjoy an average turnover rate of just 13.9% - a dearth of values will see that figure sky rocket to 48.4%.
So where does that leave your organization? In the war for talent, Gena reminds us that you simply cannot afford to ignore the waring signs of a decaying corporate culture – because a tidal wave of resignations are sure to follow if you do.