If you want to be great at performance management, there's a little secret you need to understand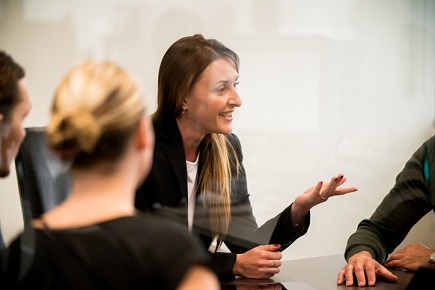 By David Sturt and Todd Nordstorm
As a leader, it's your responsibility to continuously communicate expectations, to define duties, and to help people accomplish strategic objectives. That's your job. But, if you want to be great at performance management, there's a little secret you need to understand.
It was Arianna's fifth year at her firm. She liked her job. She liked her co-workers. And she told us that she respected her boss. But, still, she wanted to leave. "I don't want to be one of those people," she told us. "I'm not needy. But, I needed more."
Arianna wasn't talking about needing more responsibility, or autonomy, or pay. Instead, she explained that although her boss was extremely consistent at managing her performance, he wasn't very good at acknowledging and appreciating the results she created.
"I like to think of myself as a high achiever. I'm very goal oriented and I like pushing myself," she said. "But, after five years of consistently exceeding expectations, you'd think my boss would have shown some sort of appreciation. Instead, every time we met, he'd just talk about how excited he was to increase my goals."
Arianna's situation is all too familiar as we've travelled around the world talking to both leaders and front-line employees. In fact, research shows that 79% of people who quit their jobs cite "lack of appreciation" as their reason for leaving.
That saddest part of all of this is that managers have so many opportunities to show people appreciation.
Consider this. If you search the words "Performance Management Cycle" in Google you'll get 194,000,000 results in less than a second. You'll also quickly discover a seemingly endless supply of graphic models that vary slightly depending who created them.
However, at the most basic level, all models are somewhat similar in defining steps leaders should take while managing an employee's performance.
The basic four steps in most models are: Plan, Act, Monitor, and Review (your company might use different words to explain each concept). All four of these steps are perfect opportunities to show appreciation.
1. Plan. Although planning, goal-setting, and strategic direction may not at first seem like a good opportunity to show appreciation, it's actually a perfect time to have a sincere conversation with an employee and tell them why you believe in them.
Talk about the qualities and strengths you recognise in them. Having someone believe their ability is a powerful form of appreciation because it shows them that someone truly understands their unique capabilities.
2. Act. We can't tell you how many times we've heard from employees who say they often don't hear from their leader at all during a project. They say the only time they hear from their manager is at the start and end of a project.
But, this is a missed opportunity to show appreciation by encouraging effort. We all need someone cheering us on. Research shows that when efforts and results are recognised, employees report: 1) An increased confidence in their skills, 2) An understanding that they are on track and in good standing with their manager, and 3) it creates an improved relationship with their leader.
3. Monitor. Although the word monitor may not sound like the most appealing term, as it creates imagery of a stodgy curmudgeon raising an eyebrow to make sure employees don't step out of line, the monitoring step is not only a great way for leaders to remove roadblocks for employees, but it's also a great time to reward small achievements, which, we all know, lead to big achievements. Plus, our research shows that when employees were asked what their manager or company could do to inspire them to produce great work, by far, the number one answer was, "recognise me." It was bigger than, "pay me more, give me autonomy, and promote me."
4. Review. This step may have borrowed some of its qualities from the traditional annual review or quarterly review. However, in today's world, this review is often more focused on goal achievement, or result creation – which is a good thing.
It's the process of sitting down with an employee and assessing what happened during a certain time frame, what was accomplished, and what could be improved. All of these things are good. Still, this step is still a great place to appreciate and celebrate an employee. And, it doesn't just have to focused on their work results.
During the review step it's great to talk about the energy, humour, and tenacity of an employee. Maybe they bring a certain calmness in times of stress. Maybe they have a 'never-die' attitude that is valued. Talk about, appreciate, and recognise an employee for these qualities…because, when you do, you'll see more of it.
Performance management is the responsibility of every leader. And, if you want to be a great leader – someone who truly knows how to inspire others to greatness – each step in the performance management process (no matter what it looks like at your organisation) provides a perfect opportunity to show your appreciation.
Let's face it; as a leader, if your team isn't great, then you won't be great either.
David Sturt is the Executive Vice President of Marketing & Business Development of the O.C. Tanner Research Institute. Todd Nordstorm is the Director of Content of O.C. Tanner Research Institute.
The original article first appeared on Forbes