The New Year's here – so too is COVID-19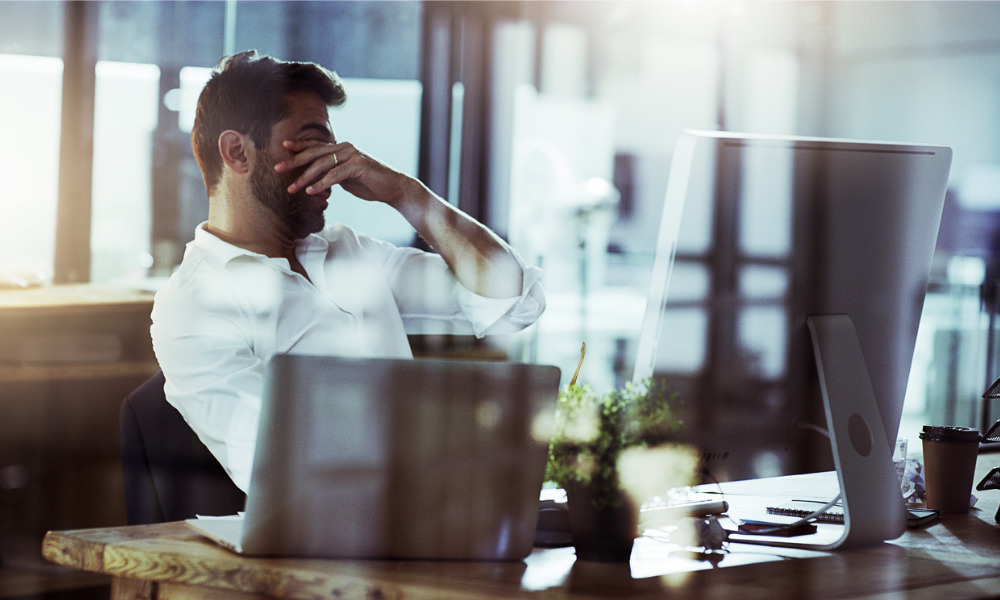 Happy New Year – now get back to work.
2020 felt like it lasted about 100 years – but we got through it with talk of 2021 and a return to our old normality. Our daily Zoom calls were filled with 'oh, it'll be alright in the New Year' or 'by 2021, everything will be fine' and lots of 'keep smiling – it'll be over soon'.
Well, the New Year is here – and so too is COVID-19.
The impact of the virus on employee mentality, on psychological wellbeing, has been just as devastating as the physical effects. And now, as HR leaders return to the daily grind, they're faced with a team who's tired, overwhelmed, and jaded.
A report from Pew Research Centre found that over one third of employees have displayed signs of depression and anxiety since the pandemic took hold – with that number rising to 55% for those struggling financially.
Read more: Facebook: COVID-19 vaccine not mandatory for staff
Looking across age groups, the ongoing chaos seems to have affected younger teams more significantly – with 33% of employees aged between 18-29 suffering stress compared to just 15% of over 65s.
The real-time impact of this data is evident.
Productivity had taken a nosedive – and yet employees report that they're often working way beyond their contracted hours. COVID-19 has acted as a catalyst for an 'always on' culture, one which is costing leaders time, money and talent.
Make no mistake. Your people are as fed up as you are.
Unless organisations make a concerted effort to inspire and uplift their struggling staff, we're going to have a whole new catastrophe on our hands.
So, how do you motivate a team when you're feeling unmotivated yourself?
"That's the million-dollar question," senior leadership coach Emily Bond told HRD.
"The reality is most people are feeling exhausted – and they're not mentally prepared for the second half of the COVID-19 marathon. It's important to consider how your work impacts those around you.
"As a leader, you need to dig deep to find those extra reserves of energy. When you find yourself trying to balance overloaded work schedules with home-schooling your kids with managing domestic tasks, self-care sort of falls to the wayside."
Read more: HR Analysis: Why your mental health strategy is failing – and how to fix it fast
Bond recommends finding 10 minutes each day for some 'me time'. It may sound small, but that little break recharges your mindset and helps you get through the day with a genuine smile.
Get personal
There's no 'one-size-fits-all' recipe for managing exhausted employees. In fact, it's essential that HR leaders take an individualistic approach to mitigating a jaded team.
Research from HubSpot found that 69% of people would work harder if they felt more appreciated. A key component of this is recognising the separate needs and motivators of each person. What works for one won't necessarily work for the other – so take the time to really listen and understand how you can help the individual. Don't just form a generic strategy and hope for the best.
"Get your game face on," added Howard Sloane, managing partner at creative consultancy The Ignite Partnership.
"Step up and show them why you lead this team, whether it's large, small, organisation-wide or virtual. In my experience the best leaders are those that inspire when everything seems lost."
Acknowledge team goals – no matter how small
A big part of inspiring your team through the tough times comes down to reward and recognition. Recent research from Achievers highlighted the correlation between acknowledgement, retention, and productivity.
Over half of those surveyed claimed they were planning on moving jobs purely because of a lack of recognition. Conversely, almost one in seven employees said a more authentic rewards culture would entice them to stay on.
Take the time to set small goals within your team. This could be anything from raising money for a charity to cutting down on overtime – anything which brings the gang together. Each time a goal is met, either personally or as a group, celebrate with your people.
Stop with the micromanagement, already!
If there's one thing that sucks the life out of employees, it's micromanagement. Constantly looking over your people's shoulders, finding faults in their work, and not giving them that creative freedom to really grow are cardinal HR sins. Not only does it sap the morale out of an already overworked team, but it creates discord and unrest – ultimately leading to a huge turnover rate.
Training provider Trinity Solutions found that 77% of employees have been penalized by a micromanaging boss – 69% of these people considered leaving their jobs because of this alone.
Yes – of course you need to check that your team is performing to a high standard. But try not to suffocate them with endless emails, meetings, and critiques.
"Organise but don't over control," added Sloane.
"You will need a plan and that plan will need to be concise but make sure that you don't stifle people - this will make people shy away from responsibilities and, worse still, make them think that you don't trust them. That will breed increased negativity and enhance stress levels."
Take the bad with the good
Finally, please stop trying to spin-doctor your way out of a global catastrophe. Employees don't want to hear that everything is stardust and rainbows – it makes people feel as if they can't bring their authentic selves to work.
"There's a tendency to only want to talk about the positives, and skirt around the reality of what's happening," added Bond.
"It can become kind of like blowing sunshine up the 'you know where'. Messages just become totally diluted to the point that employees start questioning whether you really understand what they're going through.
"As a leader, you need to acknowledge the bad as well as the good. Don't shy away from speaking about the negatives. Talking through issues with your team is a good bonding experience – and it shows you listen and care about what's going on outside of work."
Key Takeaways for HR
Over one third of employees have displayed signs of depression and anxiety since the pandemic took hold – 55% for those struggling financially
69% of people would work harder if they felt more appreciated – part if this comes down to recognising the separate needs of each person
Stop micromanaging! It's one of the main reasons employees leave a role
Don't try to make everything super positive all the time. Take the bad with the good and let your people vent if they need to