A strong workplace culture can help organisations thrive against all odds – but how do you even figure what needs tweaking?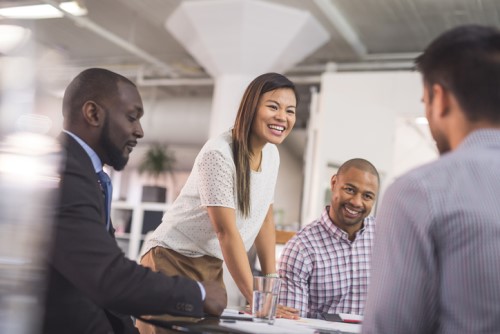 An increasing number of employers are embracing how creating a strong workplace culture can help the organisation thrive in the uncertain age of changing business models, an increasingly diverse workforce, and digital disruption. But how can employers go about evaluating and improving their culture?
The first step is in understanding the incoming culture disruptors that HR will face in 2019. According to O.C. Tanner, here are three over-arching factors to look out for:
A more diverse workforce
Increased diversity is not only changing the cultural demographics of the workforce, but changing the expectations, complexity, and professional relationships in the workplace. Plus, we are now all experiencing the effects of having five generations in the workforce – each with their own distinct views and attitudes.
Increased use of technology and artificial intelligence (AI)
AI can work wonders for efficiency, but we still need human ingenuity and creativity to tap its true potential. Some skillsets need to change in order to capitalize on the benefits of AI. HR leaders now have the challenge to make the transition to being a digital business, with both processes and culture revolving around a new business model.
A lack of connection in an increasingly connected world
Despite the tsunami of digital connections, we are not making the connections that matter. Longer work hours, social media, and an increasingly mobile lifestyle all play a role in this increased loneliness at the workplace.
The next step employers can take is to consider working on fundamental elements that are crucial to an employee's decision to join, engage with and stay in an organisation. The following six insights were highlighted by O.C. Tanner as the most crucial in their 2018 Global Report on Workplace Cultures.
Purpose
When organisations tie their purpose to some sort of social good, employees are 54% more likely to report that their organisational purpose motivates them to do their best work. Unfortunately, Singapore falls short in this area with only 48% being motivated by their organisation's purpose to do their best work, compared to the global average of 58%.
Opportunity
Only about half of employees feel their organisation provides opportunities for career advancement, learning, influence, or special projects. When employees experience variety in their jobs, there is a 56% job increase in overall job satisfaction and a 106% increase in the likelihood they will be motivated to contribute to the success of the organisation.
Also, 55% of respondents from Singapore agree that they feel a stronger sense of opportunity when given a chance to try new things.
Success
A mere 46% of Singaporean employees feel like they've accomplished something they considered significant at work in the past 30 days – lower than the global average at 54%.
It was found that employees feel successful when they have the tools they need, receive fair performance assessments, know how to achieve more in the organisation and understand what success looks like. If these four elements are present, 92% of employees say they feel successful.
And only about 52% of Singapore respondents agree that they have the tools they need to be successful at their organisation, which is lower than the global average at 63%.
Appreciation
There is a 71% decrease in a feeling of appreciation when praise or recognition is not given after an employee puts in extra effort or accomplishes something great.
Recognition must be deliberate and given in a timely manner as employees feel more appreciated when they receive a deliberate "thank you" (116%), a spontaneous praise (172%) and formal recognition (355%).
Unfortunately, only 26% of Singapore respondents feel that their organisation goes to great lengths to recognise great work – the lowest percentage compared to the other markets and global average of 39%. It is also worth noting that 49% of respondents from Singapore found it more meaningful to receive recognition that is personalized to them – 10% more than the global average of 39%.
Well-being
When employees feel forced to respond to work-related issues while away from work, they are 34% more likely to leave the organisation and 115% more likely to believe their situation at work is hurting their ability to be happy in other aspects of their life.
On the topic of mental health, loneliness at the workplace seems to generational, with Gen Z (45%) and millennials (35%) feeling considerably more isolated than baby boomers (24%) and Gen X (25%).
When social and emotional well-being are prioritized, it was found that employees are 52% more likely to feel less stress than average. And when employees have control over integration between their work and personal lives, we see a 53% increase in satisfaction with employee well-being at their organisation.
Leadership
Organisations that fail to be open and honest with employees portrayed a 174% increase in distrust towards their direct leader. This leads to a lower rate of employee retention – 64% decrease in rate of staying.
However, when leaders are perceived as mentors and strong advocates for employee development, connecting with employees on special projects, the results are incredible: 1019% increase in odds of a favourable leadership perception; 582% increase in odds of feeling appreciated; 837% increase in odds of employee engagement.
And when leaders extend the effort to get to know their employees on a personal level, 84% feel more appreciated and 75% feel a sense of belonging to the organisation. In Singapore, only 48% of employees say that their leaders know them on a personal level, compared to the 55% global average.
To find out more about the essentials in a sustainable culture framework, download a comprehensive version of the O.C. Tanner Research Institute's 2018 Global Culture Report here