Technology is a wonderful thing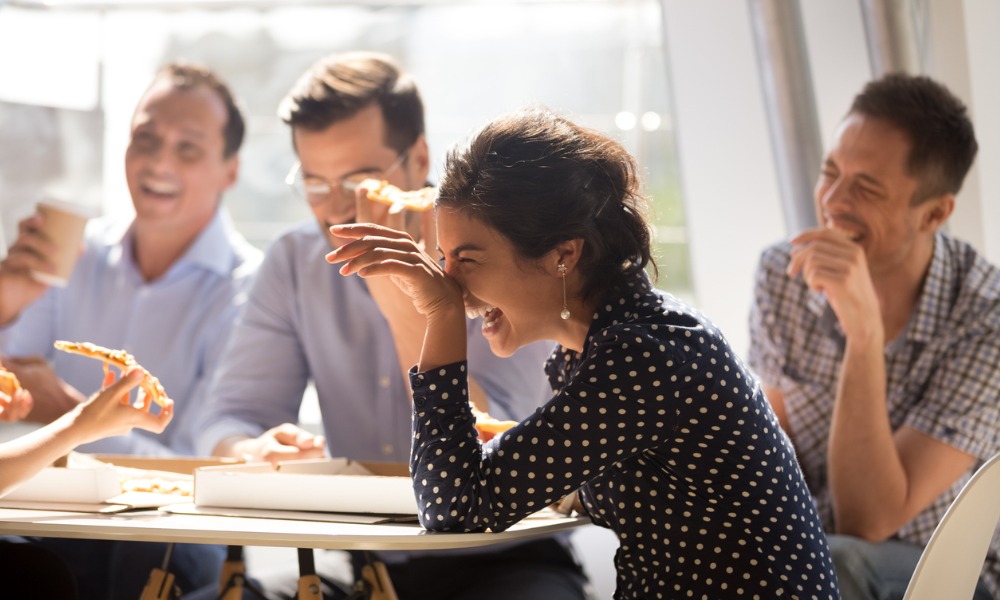 Technology is a wonderful thing. It enables companies to work smarter, faster and - in many ways - easier.
Yes, tech can be an amazing tool for productivity - but it can also essentially tether employees to their work 24/7, which doesn't make for a great work-life balance or a healthy mindset.
"People feel like they become just a number, especially in larger companies," says Frederik Armbrust, innovation strategist at LiveTiles. He says a small percentage of employees may take time away from work to go to the gym, for example, but a larger percentage act like workhorses - they work their 9-5, or beyond, and don't take the necessary time away.
The studies are out there - the cost of employee burn out is steep for companies. According to statistics form the Global Wellness Institute, illness in the workforce costs the United States economy $576 billion annually. Poor health can lead to lost employee time, an increase in chronic conditions and millions per employee of lost revenue - a massive impact on companies.
"We have all this technology to help people work so much, but there needs to be time off or a way people can de-stress," Armbrust says.
At the beginning of last year, the company established a "mini-purpose" around happiness, and co-founder Peter Nguyen-Brown, chief experience officer and executive director at LiveTiles, began "happiness research." The research included studying the Harvard Emotional Intelligence Series, chatting with wellness experts and even examining the natural happiness of his own children.
Nguyen-Brown presented his findings on the importance and priority of looking after the company's wellness, and realized he could use the opportunity and position with LiveTiles to drive happiness in a much bigger way.
In April of 2018, the concept of LiveSmiles was born - a platform that allows employees to be connected to their place of work, but in a more social way. Microsoft teamed with LiveTiles to become the LiveSmiles global launch partner, and one of the first users of the platform, which is available to all companies free of charge.
"We wanted to make it free because it's such an important topic," Armbrust says, adding LiveTiles has always been a strong advocate for free technology. "That's one of the founding values of our organization - yes, as a publicly traded company it is about work and money, but it's also about that other aspect of having that social impact and responsibility."
Armbrust is very open about his own lived experience that makes wellness tools like LiveSmiles important to him. About 12 years ago, he had a new job with Microsoft, a new car, a new house - all these positive things were happening in his life, and yet, he was in a dark place.
"A lot of people get burned out when their work isn't going in the right direction or they're not happy, but there's also information overload - that's what happened to me."
Armbrust was lucky enough to have a supportive company that provided him with the opportunity to take time off to work on his mental health, which in his case meant doing mindfulness training to learn to be more aware of what's going on in the moment and fully experiencing it. Technology played a role in allowing him to work from home, or work half days, and slowly come back part time.
"That's where technology was helping me get back into the organization," Armbrust says. "At that time, something like LiveSmiles would have helped."
Technology is not just about getting work done faster, for longer and from any location - it can help with human, social connection and wellbeing, and that's what LiveSmiles provides. Operating with three premises in mind - make it about people, make it intelligent, make it simple - it was the winner of "Best Application of AI in the Enterprise" at AIConics Awards in June 2018. Armbrust believes it won because the platform weaves together the individual and the workplace.
"We leveraged AI to solve business challenges. How can you leverage AI or machine learning in a way that has a business but also a social aspect? A lot of times AI is used to get more data managed or increase analytics - that's not what we did. We bring the social aspect to people's attention."
Through LiveSmiles, an organization can create a portal, have employees make personal profiles and then the provided profiling technology helps connect people who might not even know they had the same interests. Employers are provided with the data and insights on how employees are using LiveSmiles, and suggestions on how to improve engagement. Employers can create specialist bots for employees to engage with and learn from, ask how the employee is feeling on a scale of 1-10 and provide support depending on the response, make wellness journeys fun and visual, provide news or information from trusted sources or connect local experts with companies using LiveSmiles.
Even simple things like employees meeting for a coffee, talking about sports or attending an activity provided by company can have a big impact by getting them to take a break from the work side of the company, and engage in the social side, Armbrust notes.
Again, the stats are there to support the use of wellness programs in the workplace. Companies with wellness programs in place have employees with reduced tobacco use, lower blood pressure and cholesterol and who use fewer sick days.
And it makes good business sense.
"People that are happier or healthier are more productive, but also are going to stay longer - surveys show there's a financial aspect on both sides because the turnover is less and productivity goes up because people are happier," Armbrust says. "It also helps attract new talent if you can say, hey our work-life balance is very strong, we address issues and connect with each other. And it's free to leverage the technology."
North America has a different approach to mental health and wellness at work than what Armbrust has seen in Australia and Europe.
"There's a completely different kind of culture," he says. "We want to help HR because they see most of the mental health issues at work."
He gives the example of the New York Police Department, which he says has seen eight suicides in the last few months. He also lists workplace and school shootings as extreme examples of what can happen if people aren't heard, aren't open about what's going on with them and are unable to express their issues.
"It's a sad thing we have to go after those examples - it's a very sad topic, but it's one we need to address ASAP," Armbrust notes. He says the feedback from companies using LiveSmiles to improve the wellness of their workforce has been "very positive that we are addressing this big, big topic."
As for LiveTiles, the company uses the platform as well, where they leverage it for "simple things."
LiveTiles has CFOs - Chief Fun Officers - throughout the company that are responsible for the leveraging their portal for the more social side of things.
"Some examples are Secret Santa - you pick a name and can check out their interests through the profile on the platform - or individuals can set up an event like a Cinco de Mayo celebration or a Formula One viewing party," Armbrust explains.
"We give a lot of freedom to end users to connect and start events and be connected in a different manner than always work related."