How HR professionals can create positive change within their workplace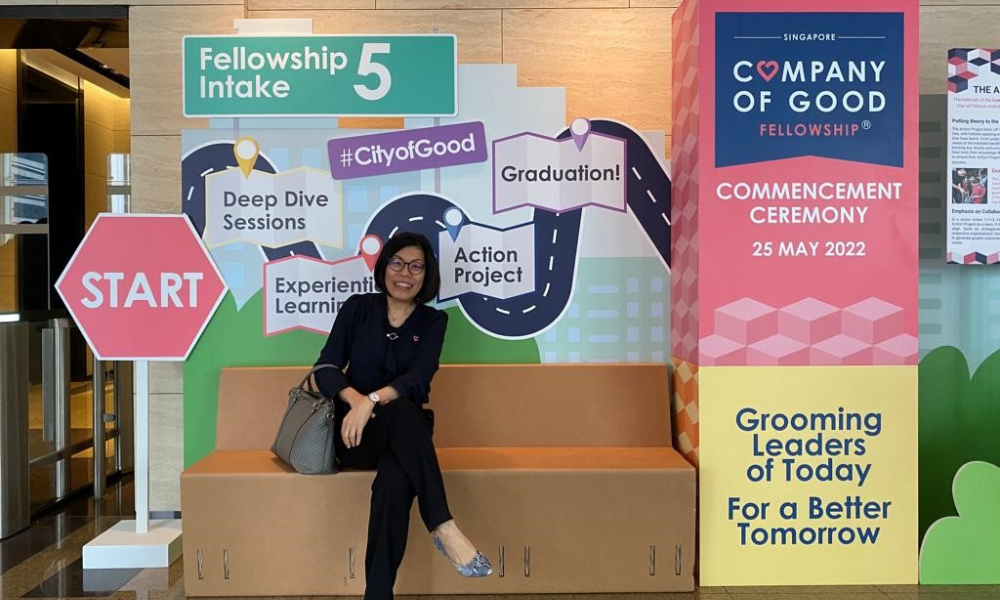 This article was produced in partnership with National Volunteer & Philanthropy Centre (NVPC)
Whether it's charity events, fundraisers or marathons, 'corporate giving' is often associated with doing good outside of your company. However, as the domain of corporate social responsibility expands and corporate purpose gains momentum, businesses are realising that 'corporate giving' can also be something closer to home.
As companies increasingly strive to create positive change, many are realising the importance of starting with their own workplace. For HR professionals, the potential to create positive change is huge – from championing mental, physical and emotional health, to empowering employees to 'pay it forward', the HR industry is in a prime position to create stronger workplaces globally.
According to Sharon Ho, Human Resources Director at HOYA Surgical Optics, the first step towards positive change is to make a business case for doing good. Once senior management is on board, the impact across the company – and outside of it – can be amplified significantly.
"With the growing emphasis on ESG (Environmental, Social and Governance) globally, I believe HR can provide thought leadership in contributing towards the 'social' pillar," Sharon says.
"I am a firm believer of paying it forward. If corporations supported the notion of making 'goodness' the business of every organisation, the impact to wider society can also be amplified and sustained."
When it comes to building corporate giving capabilities in HR leadership, the value of specialised training can't be understated. Sharon Ho recently completed the Company of Good Fellowship – a talent development programme that grooms high-potential business professionals to catalyse change to benefit both business and society. The five-month programme includes a series of deep-dive sessions on transformative leadership, frameworks for corporate giving, and offers Fellows the chance to learn from like-minded professionals and experienced mentors. As part of the course, Fellows also develop an action project, which they are then expected to kick-start as a giving initiative within their own organisations.
Beyond corporate giving or CSR, it's important for organisations to understand why they exist. In the face of the ongoing pandemic and climate change, consumers all over the world are expecting more from businesses. There is a growing expectation for organisations to step up and contribute to meeting needs in society. Maximising profits as the sole objective of a business is graduallly losing its shine.
For Sharon, the course has helped to guide her organisation on how to do good in a way that is strategic, sustainable and impactful.
"There are three key skills that one can develop through the Fellowship – strategic thinking, design thinking, and collaboration," Sharon explains.
"Strategic thinking is around how the company can connect its CSR with its corporate purpose to make corporate giving sustainable in the long term. Design thinking is all about solving problems, and is a process that teams can use to understand their customers, challenge assumptions, redefine problems, and create innovative solutions that can be prototyped and tested."
"Finally, collaboration is about harnessing the power of good among the community of past and present Fellows," Sharonadds.
"There are abundant opportunities for us Fellows to collaborate for good, creating a greater impact for society at large. The networks and relationships formed will facilitate strategic partnerships, and allow your company to leverage on the expertise of Fellows who come from a variety of industries and functions, such as MNCs, SMEs and government agencies."
Ultimately, the programme equips Fellows with the know-how to create a stronger company culture – something that will set your organisation apart as an employer of choice. This becomes particularly important when attracting talent, as modern jobseekers increasingly look for purpose and meaning behind their work, rather than just a paycheck.
"Fostering that sense of meaning and community will lead to positive outcomes for your employee attraction and retention strategy," Sharon says.
"By learning these skills, businesses can learn how to position themselves in the sweet spot where their corporate giving is strategically aligned with their core values and the purpose of their organisation."
To find out more about the Company of Good Fellowship , click here.