It's beginning to feel a lot like Christmas – sort of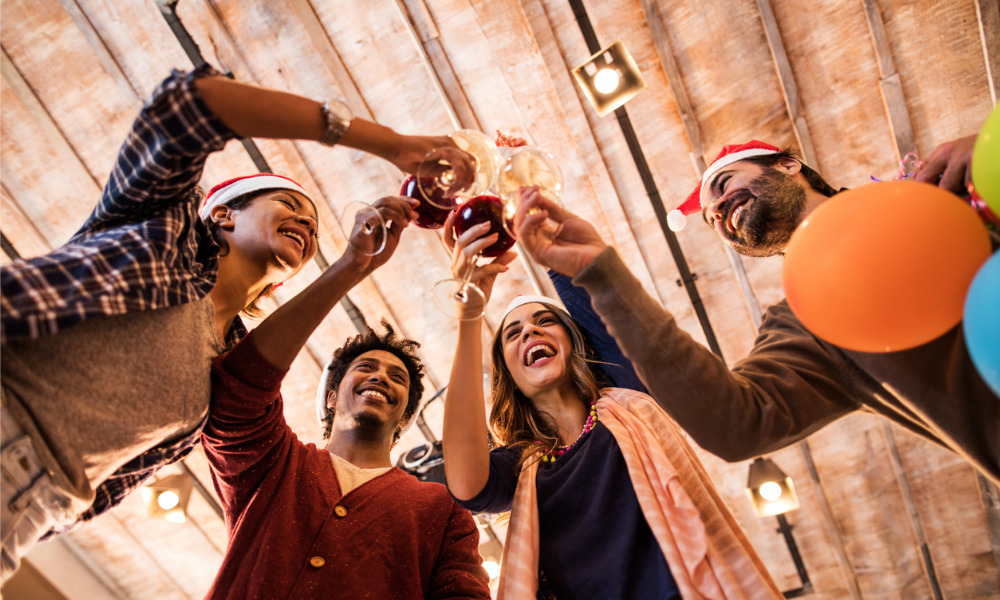 It's beginning to feel a lot like Christmas – sort of.
The past year has been anything but easy. From pandemics to forest fires, lockdowns to redundancies – we've navigated a hellscape of uncertainty, anxiety and dread.
With 2021 finally in our sights – it's time to round the year off on a high note.
The festive season is already upon us - and though it may look different from last year, should we really be forgoing the annual office party entirely?
A report compiled by service provider Moneypenny found that 26% of employers have already organized a virtual celebration for staff.
Read more: CEO email-blasts 10M customers to endorse Joe Biden
However, as a result of remote work and office closures, just seven percent of those surveyed are sticking with the traditional in-person office shindig this year.
With uncertainty still hanging in the air, 30% of employers haven't discussed having a party as of yet – with the majority of employees aged over 65 saying they're really not bothered about celebrating this year.
In the UK, where the majority of Christmas parties will undoubtedly be banned, MPs have urged the government to fund staff bonuses. One Labour MP asked Chancellor Rishi Sunak to help bosses to help pay each employees a bonus of £200 in lieu of an in-person party.
And this idea seems to chime well with staff, as it seems just one in four employees actually want party this year.
According to a report from Love2Shop, nine out of 10 workers would choose a gift voucher over a celebration – and over half of employees wouldn't feel comfortable attending a 'post-COVID Christmas party'.
While it's employers' choice how they want to reward their staff this year – with remote working becoming the norm, it's time HR got a bit creative with their suggestions.
HRD spoke to Kelly Davis, chief people officer at airline Sunwing, who revealed how she'll be rewarding staff this year.
Read more: Talking politics: How to deal with employee conflict
"In our corporate office in Canada, we're lucky enough to have an executive chef who ran the on-site restaurant during normal, pre-COVID times," she explained.
"I started hearing all these great notions around how to reward and recognise staff remotely – and we came up with the idea of putting together bespoke packages.
"For example, lessons on how to make the best holiday appetizers, or how to pair the best fine with a festive dish, or where to find the best locally sourced ingredients.
Davis also revealed that they've amped up communication for their employees – going so far as to bring back the virtual online newsletter – which is populated by their own staff.
"It's rewarding to see how our people are coping through the pandemic – from making facemasks to baking to running beauty boutique. It really brings the whole team together and spreads a bit of cheer during these difficult times," Davis told HRD.
With the rise of remote technology, virtual office parties could be another potential option for employers over the festive period. But will employees really want to attend?
"People who are working are already close to burning out with stress, and a party is one thing to enjoy at the end of the year – seems even this is not happening this year," added Jonathan Ratcliffe of Office Space company Offices.co.uk.
"As bad as it is, we're excited to see what everyone comes up with to replace the face-to-face Christmas fun – it'll be the best Christmas for grumpy scrooges that's for sure."
Ratcliffe also offered up some tips on how to engage and entertain employees form a distance this winter, including fancy dress conference calls, Zoom karaoke, and cheese and wine tasting courses.
Virtual reality seems to be the go-to option for most employers – the problem for HR departments is how do we make them different from any other online meeting?
The key is not making the party mandatory. Employees don't want to be told they have to attend this 'fun' celebration – it should be a request not a requirement.
HR leaders need to be mindful of the fact that many employees have other responsibilities to worry about such as childcare or elderly care. Some may have other plans already; some may have the seasonal flu – and others might simply be too drained and burned out from the past year to pretend to have fun with colleagues.
How will you be celebrating the festive season this year? Tell us in the comments.