A new report has recently ranked the world's cities according to their candidate pulling-power. What does this mean for your HR strategy?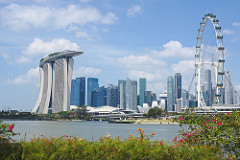 Singapore has placed fifth in the
Global Power City Index
, a result which plays well into HR's hands when it comes to attracting the right foreign talent.
The Index, which is produced by The Mori Memorial Foundation in Japan, ranks 40 major urban centres on their ability to attract creative individuals and business enterprises from around the world.
One aspect of the report of interest to HR was the ability of Singapore's "city brand" to attract senior managers and boost business innovation. Singapore ranked as the second best country in this area with managers enticed by the following factors:
Potential of business growth
Ease of doing business
Richness of human resources
Favourable environment for employees
Although these factors were important, other aspects such as liveability, cultural interactions and environment were still considered when attracting new senior staff.
Just as this holistic approach has helped Singapore bring in creativity and innovation over the years, so too can it help companies attract skilled staff especially if Singapore's national image is used together with the company's corporate brand.
"[The] country's reputation for providing an excellent quality of life is a big plus in terms of motivating employees to accept an assignment there," ECA International Asia regional director, Lee Quane, said.
Christine Wright
, MD of
Hays
Asia, agrees adding that the country's ability to attract creativity and innovation can also save employers money when sourcing foreign staff.
"[As] Singapore now has an international reputation as a great place to live and work, employers no longer need to entice expats with generous packages."
Although many companies are still willing to pay high salaries for these senior staff, especially when in short supply, the premiums paid are not as high as they once were, Wright said.
Related stories:
Do expats actually earn more than locals in Singapore?
Four steps to building a winning employer brand
What's keeping expat HRDs in the banking sector?