The team beats fierce competition and walks away with $20,000 worth of prizes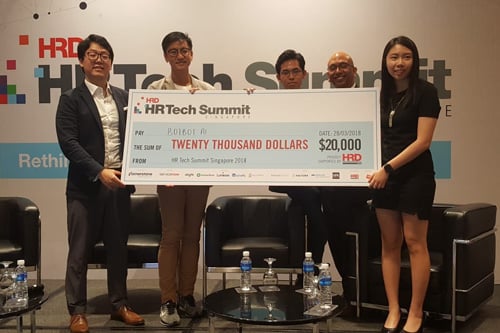 Botbot.AI have just won the Tech Den start-up competition at today's HR Tech Summit.
The start-up walks away with a $20,000 marketing campaign from Key Media in HRD Magazine and the opportunity to secure funding from investors present at the event.
"I think it's a great validation of our relevance in the HR space and we hope to augment more back office operations through AI," said Chelsea Sim, chief of staff at Botbot.AI.
A total of five start-ups participated in the competition. Each team had three minutes to pitch and explain their solutions to a panel of three judges.
The panel was made up of Yee Hoong Chow, investment analyst at Monk's Hill Ventures, Kuan Hsu, co-founder and general partner at KK Fund, and Adrian Tan, co-founder at The Resource Group and Career Hero.
The competition capped a day of thought-provoking sessions that discussed the impact of digital disruption on HR.
Related stories