The Ministry of Manpower's latest report on the labour force in Singapore shows slower income growth due to a weaker economic environment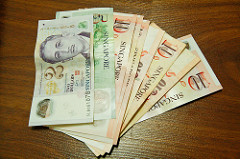 According to the latest report on the labour force in Singapore by the Ministry of Manpower (MOM), median income showed growth though at a slower pace amid the weaker economic environment.
Median incomes for full-time employed residents rose by 2.7% to $4,056 from $3,949 from the period of June 2015 to June 2016, including employer contributions to the CPF.
In real terms, income grew by 3.2%, almost three points lower than figures reported in June 2015, after adjustments made for negative inflation, estimated MOM in their report.
Full-time employed residents on the 20th percentile on the income ladder also showed income growth, continuing an uptrend in the last five years.
Income growth for this sector was reported at 2.6%, rising from $1,733 in 2011 to $2,106 in 2016.
Staffing firm Adecco Group's head of marketing and communication, Ian Grundy, said the median income growth is a key indication "that the market is still doing fine".
"This is still a candidate driven market amid a tight labour market," he said.
"The battle for talent ensues and also puts wage pressure on employers. There is a shift toward higher skilled jobs in Singapore with the rise of higher tech industries. Shortage of skills is also driving up income with the supply of available relevant talent."
Related stories:
Salary boost seen for tech sector in Singapore
How to avoid the 'compensation trap'
Musk predicts need for a universal basic income