The resulting noisy and distracting environment is forcing some employees to quit within six months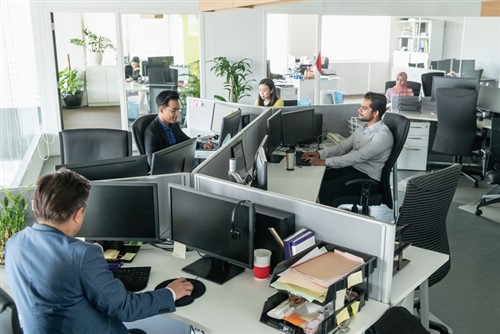 The open office is designed to increase employee collaboration, but a new study from Oxford Economics, commissioned by audio pioneer Plantronics, finds that the resultant noise pollution of the open office is reaching epidemic levels.
Employees in the noisiest office environments are even more likely to say they may leave their job in the next six months.
According to the findings, conditions have grown much worse since Oxford Economics conducted its first study in 2015.
Oxford Economics interviewed 500 senior executives and non-manager employees from many industries and functional areas for the 2018 study.
The study also included detailed interviews with executives who are taking steps to deal with collaboration and productivity challenges in their open offices.
Majority of executives and employees report near-constant noise in their workplace and three out of five say they lack quiet space for meetings or to focus.
Conditions are much worse now than three years ago, with only 1% of employees (down from 20% in 2015) saying they are able to block out distractions and concentrate in the office.
About half of executives believe their employees have the tools they need to mitigate noise and distraction in the office, but only 29% of employees agree (down from 41% in 2015).
As a result, employees are taking matters into their own hands by leaving or tuning out their surroundings to get work done. Three out of four employees say they need to take walks outside to focus, and 32% use headphones to block out distractions.
The findings also suggest that noise and distraction impact wellness, productivity and even financial performance, yet executives aren't doing enough to address the problem.
A mere 6% of executives report having equipped their office with noise mitigating features, with just 40% understanding the link between noise, distraction and productivity.
Additionally, according to the study, millennials are more accustomed to an open office versus older colleagues, likely because they started careers in such a setting.
Despite that, they are the first to acknowledge the issues that come with these environments and tend to deal with these challenges differently than their older colleagues.
Millennial employees are much less likely to say they find a noisy working environment energizing: 9%, versus 30% of older colleagues.
They are also less satisfied with their office layout than older employees: 38% of millennials versus 48% of others.
Millennials are more likely to voice out that their organisation should address noise, distraction and information overload, and would take walks outside to focus. They are less likely to use an office break room or quiet space for the same purpose.
"This year's results are telling – open offices may provide overall cost savings, but they're taking a toll on our productivity and wellness," said Jennifer Adams, director at Enterprise Solutions Marketing.
Do you think open office concepts are overrated? Share your comments below.