In one of the more unusual recruitment initiatives this year, the bank reached out and ate with students from the world's top universities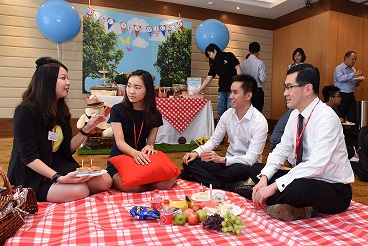 In its latest efforts to attract the world's brightest young talent, OCBC Bank hosted a "sky picnic" on the 50th floor of the OCBC Centre.
Undergraduates from top overseas universities such as Oxford, Cambridge and the London School and Economics & Political Science were invited to dine along with interns and the bank's senior management.
The gathering aims at encouraging students in Singapore to commence their careers with OCBC through the Young Bankers Programme and the Post Graduate Management Associate Programme.
The Young Bankers Programme is a 12-month structured initiative putting graduates through industry orientation and training alongside overseas exposure and mentoring.
The Post Graduate Management Associate Programme lasts for 18 months for post graduates with master's degrees and two to six years of work experience. Participants take part in division-specific programs to deepen their understanding about that division's function.
Those attending the sky picnic were able to mingle with the bank's senior management and division heads as well as with other participants of the Young Bankers Programme.
"We are happy to host this picnic to engage overseas Singaporean undergraduates and our own interns in a fun and casual setting," Cassandra Cheng, the bank's head of group talent management, said. "Our younger generation has an important role to play in ensuring that Singapore remains as one of the world's top financial hubs."
Cheryl Ng, associate in group operations & technology, recently completed the Young Bankers Programme. Her time within the program taught her much more than just work, she said.
"I also discovered more about myself as a person and what I am capable of. The ability to rotate to different departments and network with senior management are valuable opportunities that have given me very good exposure in just 12 months."
The opportunity also provided the chance to network within the bank, allowing her to build a peer network amongst others who also passed through the program.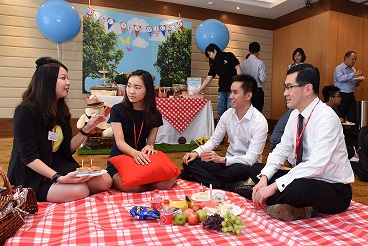 Image: OCBC Bank's Head of Consumer Financial Services, Mr Dennis Tan (first from right), and OCBC Young Banker, Ms Cheryl Ng (first from left), sharing about OCBC's programmes over a picnic
Related stories:
How Maybank Kim Eng secures the best graduates
Government unveils new apprenticeship scheme
Satellite comms firm probes for S'pore STEM talent