The sector is changing in many big ways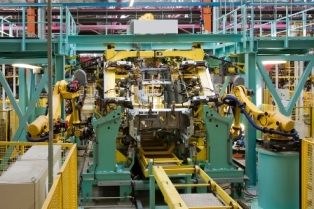 The manufacturing sector, which makes up one-fifth of the Singapore economy, grew 8.1% year-on-year in the second quarter after growing 8.5% in the first.
Employment has been declining, though. The sector cut a further 2,500 jobs in the second quarter, marking the 11
th
consecutive quarter of decline. From 540, 300 workers in 2013, manufacturing employed 498, 400 people last year.
The number is almost evenly split between local and foreign workers, reported The Straits Times.
Various explanations have been offered. First is uneven growth across various segments in the sector. For example, electronics makers have been witnessing a boom and there have been many openings in precision engineering and semiconductors.
Marine and offshore engineering, however, has been hit hard by low oil prices. Companies are still reeling from the impact and tens of thousands of workers were axed after a string of high-profile bond defaults.
Second, there has been a surge in demand for entry-level and digitally-skilled workers.
Third, job prospects vary depending on whether workers are professionals, managers, executives and technicians (PMETs) or rank and file.
Cheng Hing Nan, senior career coach at
Workforce Singapore
, told The Straits Times: "Many of the PMET job losses are due to the restructuring of the economy. If they do a career switch, they would see a reduction in their pay. "
On the other hand, rank-and-file workers are sought after because their skills are more transferable.
The consensus, however, appears to be that the changes are not cyclical ups and downs. They instead reflect seismic shifts in the way factories are structured. Companies have invested in automation and technology, so fewer workers are needed.
"New technologies such as 3D printing and robotics are fusing with digital technology such as artificial intelligence to give rise to advanced manufacturing," Lim Kok Kiang, assistant managing director at the
Economic Development Board
, told The Straits Times.
The head of treasury research and strategy for OCBC Bank,
Selena Ling
, agrees. "There are some structural shifts that fundamentally change the role that physical manpower plays," she said.
As a result, there is clear need for new and higher-value roles in the manufacturing sector.
"The introduction of new workflow, technology and robotics, for example, requires new skill sets in troubleshooting and operating a variety of man-machine interfaces," said David Ong of Infineon Technologies Asia Pacific.
"It's not easy to get talent," Neo Eng Chong of Makino Asia said. "We face another problem – hiring of scientists."
Chee Teck Lee of Moveon Technologies said "it's not equipment when you press a button and it runs. You need to do programming, you need to do materials observation. So we need people who have very multidisciplinary skill sets - for example, optics engineers with materials background."
"There has been a global shift toward the digitalisation of manufacturing," Singapore Manufacturing Federation secretary-general Lam Joon Khoi told The Straits Times. "Businesses must transform or be left behind."
Related stories:
China is setting itself up for a massive robot revolution
Korea takes first step towards levying robots