Is your role one of the top five HR jobs tipped to be in hot demand in Singapore this year?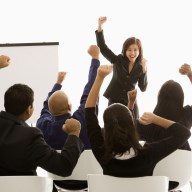 HR business partners and regional compensation and benefits managers are pegged as being some of the top HR roles in demand in Singapore in 2015.
These roles – along with talent acquisition managers, HRIS leaders, and professionals in talent management and organisation development – form the top five positions bringing the most "value added services" to business this year, according to results of a study released this week.
The study – an inaugural Human Resources Salary Guide by ZW HR Consulting Singapore – also suggested HR across the board would remain a lucrative profession with a continuing upward trend in terms of salaries.
As Singapore is a regional hub for many multinational companies (MNCs), these high salaries have also become benchmarks for Asia Pacific professionals, the report said.
Director for human resources practice at ZW HR Consulting, Sunil Dutta, said the company was seeing a high demand for HR related jobs in various sectors as MNCs and large local firms continue to aggressively expand their presence across the region.
"This has created new opportunities for more robust and sturdy HR, Compensation and Benefits and Learning and Development professionals with specific industry experience to manage long-term strategies.
"Overall, there has been an increase in the number of HR roles coming to market at all levels and across various disciplines."
The average salary bands for HR professionals are up 5% to 10% for 2014/15 as compared to 2013/14 figures, ZR HR Consulting managing director Mervin Chui said.
"The potential for HR to influence and drive business strategy has never been stronger as employers realize they need to invest in strong HR professionals."
Against the backdrop of a talent scarcity across Singapore, he said experienced skilled professionals in general could expect to see salary hikes.
"Employers will have to consider hiking up salaries to keep pace with inflation, to attract the right talent and to retain their critical workforce."
Salary predictions for full-time generalist HR roles included:
Role
Years'
Experience
Lower
Range
Upper
Range
HR director
6 - 8
120,000
150,000
10 - 15
160,000
220,000
15+
240,000
300,000
HR manager
0 - 3
48,000
60,000
3 - 5
55,000
70,000
5+
80,000
100,000
HR business
partner
0 - 3
48,000
60,000
3 - 5
55,000
70,000
5+
85,000
110,000
HR advisor /
officer/admin
0 - 3
36,000
39,000
3 - 5
40,000
45,000
5+
50,000
60,000