Rising trend is "encouraging," says parliamentary secretary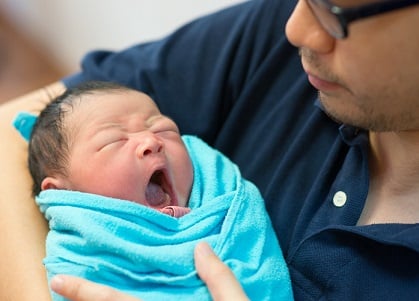 More fathers are applying for the Government-paid paternity leave (GPPL), according to Muhammad Faishal Ibrahim, Parliamentary Secretary, Ministry of Education & Ministry of Social and Family Development.

Among fathers of children born in 2016, about 11,300 fathers have applied for Government-paid paternity leave so far. Ibrahim said the figure is still increasing, as fathers have the flexibility to take up to paternity leave up to a year after their child's birth.

There has been a rise in the take-up rate over the past few years. "In 2014, we had about 38.5% take-up rate; in 2015, it is 44.1%; in 2016, as at to-date, it is 35.7%. But like I said earlier, fathers have up to 12 months to take the paternity leave from the date of the birth of his child. On the other hand, the employer has three months more to submit the claims," said Ibrahim in Parliament on March 3.

"The figures for 2015 and 2016 have not been finalised and we expect the figures to be higher. If you look back, the trend has been going up, and it is encouraging."

From 2017, eligible working fathers – including those who are self-employed – are entitled to 2 weeks of paid paternity leave funded by the Government, according to the Ministry of Manpower (MOM). "It is mandatory for employers to provide the second week of paternity leave to fathers of citizen children born from 1 January 2017 onwards," said MOM.

According to MOM, eligibility for paternity leave is based on the child's status as a Singaporean citizen, not the parents'.

The GPPL entitlement per week depends on your number of working days in a week. If a father works 6 days a week, then he will get 12 days of GPPL.

A father can also apply to share 1 week of his wife's 16 weeks of Government-Paid Maternity Leave, subject to his wife's agreement.

"We are very committed to encouraging fathers to be part of the family development and child-raising process. As such, we have been reaching out to employers to develop family-friendly workplaces and environment," said Ibrahim.