They are willing to postpone marriage, kids, home purchase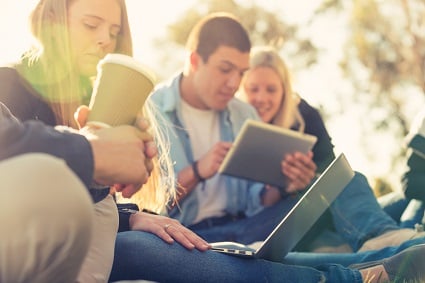 Nixing traditional measures of success and playing down global volatility, more than eight in 10 college seniors in the US say they want to work abroad.
A study conducted by Cite Research for Graebel Companies revealed 81 % of college seniors – the first batch of Generation Z to enter the workforce – want to work abroad and 75% are likely to accept offers from organisations with work-abroad options.
While 65% of these students acknowledge increasing terrorism in the world, just 13% consider it a barrier in pursuing jobs in other countries.
"Today's college students appear to be enthusiastic risk takers, and they're looking for careers that will fulfill their strong desire to explore the world," said Bill Graebel, CEO of Graebel Companies, Inc.
Experiencing new cultures is the prime reason (77%) for wanting to work abroad, followed by personal growth (71%) and the chance to travel (69%).
Respondents are so willing to work in other places –London, Paris, Sydney, Tokyo, Berlin, Johannesburg, São Paulo and Singapore – that they are willing to put off buying their first home (66%), having children (60%), and getting married (44%).
"Today's college students are motivated by different things than their parents were. They care about adventure, experience and flexibility more than 401(k)s, corner offices and dental plans," said Tim O'Shea, Vice President, Worldwide Consulting Services for Graebel.
The survey was conducted among 500 U.S. college seniors between August 4 and August 10, 2017, using an email invitation and online survey. Ninety-eight percent of those surveyed were between 18 and 22 years old.
Other findings:
While 81 percent of college seniors want to work abroad, only 47 percent expect to have the opportunity to take a job overseas in the next three years.
Seniors with majors in humanities and arts, natural sciences and social sciences are more likely to want to work abroad; business majors are slightly less likely.
Sixty percent of all respondents believe increased globalisation has a positive impact on communities.
Thirtyseven percent of all respondents believe the U.S. economy will improve over the next three years, while 50 percent believe it will worsen.
Respondents want to work abroad for extended periods of time, with 43 percent saying they'd be willing to move for one to three years.
Most students expect companies to offer relocation services, including paying for travel expenses (82 percent), finding them a place to live (68 percent) and moving their belongings (66 percent).
"This survey proves global companies must evolve with their workforce by aligning new talent with their interest in working abroad. By doing so, you can attract the best talent and improve your company's long-term success," said Graebel.
Related stories:
What makes Singapore's millennials different?
Are fresh grads in Malaysia too demanding?