A strong culture of equality in the workplace has benefits for men as well as women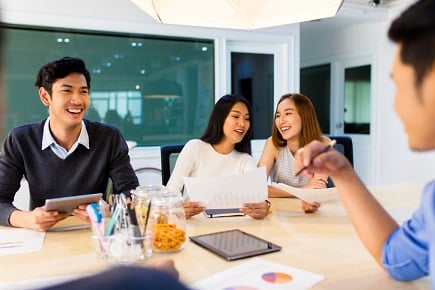 Establishing a strong culture of equality in the workplace will not only empower women to rise the ranks – men are more likely to be motivated to advance as well, found Accenture.
The technology consultancy found in its Getting to Equal 2018 report that a culture based on equality will ensure that women are 55% more likely to advance to a managerial role, and men, 31% more likely to progress as well.
Having factors in place that allows everyone to benefit will also improve employee engagement and talent retention. According to the study, 97% of Singaporean employees are satisfied with their career progression, 96% aspire to get promoted, while 97% aim to become senior leaders in the organisation.
"Our research shows that in companies with cultures that include the workplace factors that help women advance, men thrive too, and we all rise together," said Teo Lay Lim, senior managing director, ASEAN country managing director, Singapore Accenture.
Setting clear diversity targets, the research found, is a crucial step for leaders who want to strengthen their cultures.
"Culture is set from the top, so if women are to advance, gender equality must be a strategic priority for the C-suite," said Ellyn Shook, Accenture's chief leadership & human resources officer.
"It's critical that companies create a truly human environment where people can be successful both professionally and personally – where they can be who they are and feel they belong, every day."
While both genders stand to benefit when HR manages to perpetuate the culture of equality in the organisation, women have the most to gain.
Accenture highlighted three areas that can help employers promote workplace diversity: providing exemplary leadership, taking comprehensive action, and creating an empowering environment.
The study found that women are twice as likely to aspire to progress in organisations with at least one female senior leader.
It also found that taking comprehensive action such as providing a women's network correlates with their advancement in the company. About 56% of the women surveyed, however, did not have access to such a network in their organisations.
In addition, an empowering environment where employees are given the responsibility and freedom to be innovative and creative tend to positively influence their advancement within the company.
Related stories: