2 in 5 workers don't have access to child care, finds report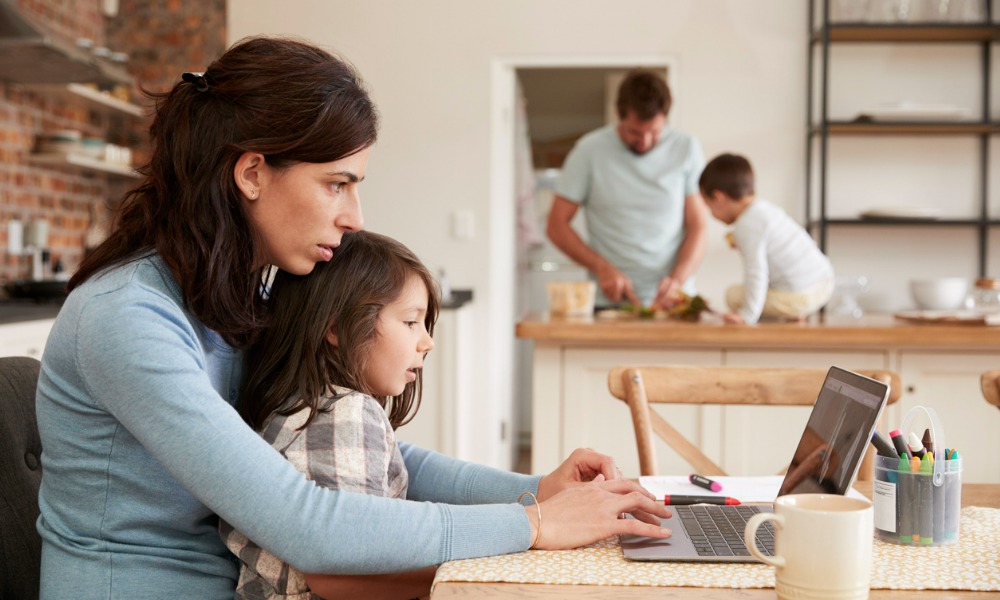 Remote and hybrid work is not always rainbows and butterflies, judging by the results of a recent survey.
While 58% of working parents say the increased flexibility in their schedules are a source of fulfillment and relief, it can also be a source of isolation, reports Bright Horizons, a provider of early education and child care.
Specifically, nearly half (47%) of those working in remote or hybrid settings only talk to the people in their household, and 41% go days without setting foot outside their house.
"The Modern Family Index research confirms that many working parents are struggling personally and professionally. While they have embraced a more flexible work environment, it has come with unintended consequences that are impacting their mental health and their ability to manage life's responsibilities," says Stephen Kramer, CEO of Bright Horizons.
Two-thirds of the global workforce say they prefer a hybrid arrangement, according to a previous report.
Younger workers feel more likely to grapple with isolation than their older counterparts, according to the Bright Horizons report.
More among them are going days without going outside while remote working (49% Gen Z/Millennials vs. 31% Gen X/Baby Boomer) and are more likely to go without speaking to anyone beyond their household (53% Gen Z/Millennials vs. 40% Gen X/Baby Boomer).
Personal tasks of working parents
Two in five (41%) hybrid or fully remote working parents say they at least sometimes feel like they need to hide their personal obligations from others in their workplace, based on the survey of 2,005 adults in the U.S. from Feb. 23 to March 6, 2023.
"Parents are likely hiding their burden because they likely have no guidance on how to manage fully remote and hybrid work and being a working parent at the same time," says Bright Horizons.
Also, while remote work is permitted, many of those working in a hybrid environment are concerned about the impact it'll have on their careers.
While 71% of office workers want to work a hybrid or remote schedule of their choice, only 43% of employees can work in the location of their choice, reported Ivanti, a provider of automation platforms.
Over a third (35%) feel the arrangement negatively impacts their careers when they choose to work from home, and 42% of those working remotely or in a hybrid environment worry about bringing up complaints related to working from home as they fear speaking about it could result in a return to working in person, according to Bright Horizons.
Child care is also a problem: extreme child care shortages have left 40% of parents saying they don't have access to the child care they need, with 41% citing cost as a barrier.
Half (50%) of these parents agree their productivity at work suffers when they are stressed about child care, and 77% feel that having child care support is important to how productively they work.
Supporting working parents
Now, nearly half (49%) of workers wish their employers would do more to help. Specifically, workers want their employer to:
offer to help pay for child care (43%)
provide emergency child care benefits (34%)
offer on-site child care (32%)
offer flexible spending account (FSA) for childcare expenses (30%)
"The moment is now for employers to step in to fill these voids," says Kramer. "This includes clearly defined benefit programs, mental and professional support services, as well as access to quality child and adult care. Giving this kind of assistance to working parents allows them to be more productive and bring more of themselves to work each day."
A previous report found that policies mandated for all workers in jobs that can be done remotely can lead to decreased engagement, reduced desire to stay with the employer, a decrease in the amount of work done each day, and increased commuting time.
Here are some things employers can do to support remote/hybrid working moms, according to Mitel, a provider of remote work solutions:
Give mothers some wiggle room in their schedules, including the option to work remotely when needed or adjust their hours around the school day.
Provide flexible leave time separate from vacation days.
Offer subsidies for daycare or summer camp, provide childcare facilities or access to early education.
Acknowledge and address the additional challenges facing single mothers and mothers of color. Listen to what these women need and foster an inclusive culture with an emphasis on allyship and mentorship to make sure they feel heard and appreciated.
Create opportunities for mothers returning to work by addressing your hiring process and offering training, "returnships," or on-ramp programs.