Remote work is now here to stay, so it's time to strengthen the policies and practices on remote work hiring. What are some challenges and how do we resolve them?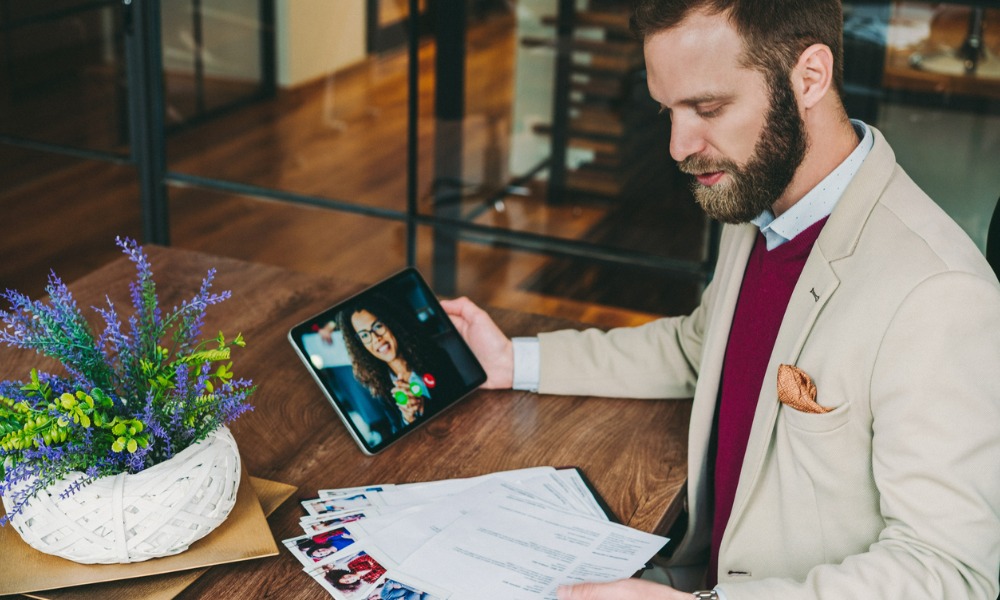 The complications of the global COVID-19 pandemic have brought a monumental shift in work environments and work processes. For at least two years, quarantine and hazard control regulations forced businesses to change toward a model that could continue profitability without sacrificing the health of employees – thus the transition towards hybrid work models and/or remote work systems.
From workplaces where all necessary equipment, technology, and processes were centered around a physical workplace, remote work models have benefitted corporations that could transfer their work processes online using cloud-based software.
Remote work hiring can be quite difficult for human resource (HR) managers and staff who have to sift through thousands of job applications on online job boards. The work continues with collecting all documentation and compliance requirements needed during the onboarding process.
In this HRD guide to remote work hiring, we'll talk about the remote work model, how the hiring process has changed using the remote work model, and how your business could navigate through the norm of the digital workplace model.
We'll also share some insights into hiring talents for remote work positions. Before starting with the hiring process, it's important to establish policies and guidelines first. Find out how to do just that with our guide on how to create a remote work policy.
Remote work, or telecommuting as coined by NASA engineer Jack Nilles, was designed in 1979 as an experiment by IBM employees to work from home using their personal computers and terminal emulators to connect to organizational mainframes (servers).
Telework results: Productivity down and company culture fading? Not!https://t.co/otWvS3YxX0

— Jack Nilles (@JackNilles1) October 22, 2022
By 1983, the experiment that started out with five employees expanded to 2,000 IBM employees. Since then, remote work has been on the increase. According to a study by Gartner Inc., remote workers would represent around 9 percent of all employees by the end of 2023. Around 36.2 million Americans are expected to be working remotely in 2025 – contrary to popular expectation.
For employees who choose remote work, this workplace model ensures work-life balance, decreases commute/travel time to and from work, enhances business continuity, and expands career opportunities.
For others, the main reason why remote jobs are better is the flexible lifestyle it affords those who can balance personal life and work life (especially if the employee has caring responsibilities), the health and wellness benefits it provides (lesser stress and higher morale), as well as a renewed passion and interest for their jobs.
From an employer's point of view, some benefits of remote work hiring are:
increased employee satisfaction and retention
higher productivity
better employee engagement and loyalty
lower expenses on rent and equipment
a wider talent pool for potential candidates
Through the development of different technologies such as collaborative software, virtual private networks, conference calling and videotelephony, internet accessibility and WiFi, cloud computing, voice over IP (VoIP) and mobile telecommunications, as well as software and applications such as Microsoft Teams, Google Meet, Zoom, Webex, and Skype, remote work hiring has been much easier and more beneficial for businesses.
Also, outsourcing work using remote work models can enable businesses to attract more talented and expert candidates from around the world. Remote work hiring reduces the need for expensive relocation packages and/or cross-border compliance practices and regulations.
Some of the major hurdles that an HR professional can experience hiring for remote work positions are:
Employee engagement:
Most HR managers might find it challenging to maintain employee engagement minus physical presence.
For employers, the right work-from-home infrastructure that avoids background disturbances and isolation can avoid drastic dips in employee engagement.
Communication and collaboration:
Communication and collaboration have always been a critical consideration for HR professionals. In a remote work setting, HR managers may find it more challenging to address communication-related issues, possibly leaving employees frustrated.
Beyond internet connectivity and technical limitations of the remote work setting, the lack of physical interaction and the ambiguity of messaging can hamper collaboration between employees.
Employees may also feel dissatisfied if they cannot communicate with their manager effectively, leading to increased attrition rates.
Goal setting and KPIs:
HR managers are integral in communicating the performance metrics that employees should follow and achieve. To avoid any miscommunication on goals and performance KPIs, transparency is key.
Defining strategic policies, performance metrics, KPIs, and procedures that measure performance, as well as letting employees understand their role in achieving business goals, are among the main tasks of the HR department.
Measuring productivity:
Though monitoring productivity and performance are not directly linked to HR tasks such as recruiting and hiring, HR managers are also expected to track employee productivity.
Tracking employee behavior in a remote work setting can be a balancing act. Using tracking tools and software may hurt employee morale and suggest that the business does not trust its employees. However, not monitoring productivity may result in underused resources, resulting in lower work output.
Micromanagement of remote workers can result in higher attrition rates, employee dissatisfaction, and employee turnover.
Work-life balance:
The remote work hiring model brings its advantages and disadvantages. On one hand, employees can experience better opportunities in their personal lives where they can balance working and taking care of the family. However, some employees may experience burnout and overwork due to the blurred lines between work and personal life.
In the long term, helping employees reach a work-life balance can maintain productivity and engagement while preventing work-related stress.
Remote work is great for travelling the world.

But it's also great for building an incredible life for your family at home.

Don't forget that.

— Tom Hirst (@tom_hirst) July 9, 2023
Company culture:
Though a variety of tools and software allow working from home to be the norm, businesses may struggle in translating organizational culture. Most companies have a distinguishable company culture born from community events and physical interactions between different departments of the business.
In the absence of a clear work culture due to the isolation felt by doing remote work, employees may feel disconnected from the organization.
Onboarding and hiring:
While remote work hiring and recruiting can be easier using HRIS software and platforms that are integrated into various job boards, Zoom calls and Teams meetings cannot replace actual physical interviews and meetings. New talent can feel disconnected from the organization or their work team whenever there is training or onboarding.
Recognition and visibility:
To boost morale and increase employee engagement, businesses often organize events that award and recognize employee performance and achievements. Without these physical events and office atmosphere, remote workers can find it difficult to maintain work morale.
A tool that can be a big help is employee engagement software, for this we'd recommend you read our Culture Amp HR software review.
Technological support:
While a big part of remote work hiring is relying on technology such as cloud-based software, providing adequate real-time support for the right technology and tools by enhancing the work processes comes with the effective implementation of collaborative and communicative applications that allow them to work productively.
To fully support remote workers, HR teams can employ these solutions:
Keep communication lines open and respond rapidly.
Observe payroll laws and regulations.
Support staff in aligning their personal employment goals with the wider business goals. Provide appropriate feedback and adequate performance metrics. Establish benchmarks for success.
Create engagement through events and team-building activities to encourage interaction.
Reward achievements and recognize good performance.
Solicit feedback and complaints, monitor work activities using a transparent work record, and establish a remote worker culture that involves everyone.
Equip remote workers with the proper tools (software and/or equipment) and self-service HR tools (such as HRIS software) to improve the completion of work-related tasks independently.
When Elon Musk referred to work-from-home policies as "morally wrong" and said that all workers should return to the office it created an important #HR conversation around #remote work, and what defines a great workplace. https://t.co/cQFbjhvKJn #hr #chro #hiring #remotework pic.twitter.com/C8HgM6w72r

— Salary.com (@Salary) June 13, 2023
Most of the job board forums that are related to employee recruitment and hiring often talk about how difficult remote work hiring is for both employers and employees. Are remote jobs hard to get? It depends. For employers, attracting the best talent lies with building a corporate brand and reputation and selecting the right websites to advertise remote work positions.
Branding and reputation
Employees looking for a good business to work for rely on the brand and reputation of the organization posting the job. Relying solely on the company's website or Google search results allow employees to ascertain whether they are willing to be hired and be employed.
However, job boards also include a review or feedback section where disgruntled ex-employees might air grievances. To counter the potential damage, it helps to build a robust careers page on your business website and use social media accounts to share stories of your organization's work culture.
You could also use written articles or video testimonials about why your business could be the best opportunity for those finding remote work.
Lastly, you could highlight the values that your company upholds in your About Us pages so that potential talents could align themselves with your vision-mission.
Job boards and advertising
Looking for the right job boards and career website is difficult when there are various options that you could post your open job positions.
Once you have your job post ready, choose whether you are going to post it on large, global job boards such as Indeed and Freelancer.com or on local job boards such as Jobstreet and Workable. You could also find what are the best jobs for remote work to advertise by looking at industry-specific job boards.
Before posting your remote job, however, you should design attractive and fair compensation packages, offer meaningful benefits and leave plans, as well as writing clear and concise job descriptions, specifications, and qualifications that could attract the right talent for the role you are looking for.
Other benefits you could offer for remote jobs are:
Healthcare and insurance plans
Technology and/or internet connection allowances
Learning and development training opportunities
Increased leave and vacation time off packages
Productivity tools and equipment for use in home offices
Achievement-related rewards and recognition bonuses
Yes, HRIS platforms can help make the recruitment and onboarding process much easier.
Ceridian Dayforce is one of the more popular cloud-based payroll software. Odoo ERP is another good HRIS software that you can use. It offers modular open-source applications that support your business through customization and personalization. Darwinbox is an HRIS software that can automate your HR-related tasks.
For an extensive listing of HRIS software that could work for your organization, see our HR software reviews page.
Do you have any insights on remote work hiring in your organization? Share your feedback in the comments box below.