The Employment Relations Authority has ruled in favour of a catering company, after its former chef left following an alleged pan-throwing incident.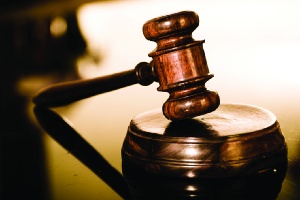 An attempt by a former employee to claim three weeks' wages from a catering company has failed, after the
Employment Relations Authority
ruled that she had made it clear she did not intend to work out her notice period when she left the company.
Peta Costello was employed as a chef by Logans Catering at its café, where she told the ERA she shared cooking responsibilities with the company's owner and director James Logan and junior commis chef Brett Radcliffe.
Costello claimed that she resigned verbally to Logan on 30 August, 2013, but didn't provide her notice in writing and wasn't asked to do so.
Logan denied that Costello told him she was leaving.
Matters heated up on 7 September when Logan, Costello and Radcliffe were working in the kitchen.
Radcliffe told the authority that he had a good relationship with Costello until that day when she became malicious towards him, asking him questions about things for which he was not responsible and becoming angry and critical of him.
Logan was in a meeting at the time and spoke to Radcliffe during a break, telling him they could discuss the matter after the lunch service.
At 11am, Costello asked waitress Glenys Adlington where Logan was. She had her rolled up chef's knives with her and said, "That's it, I'm out of here", but returned to the kitchen when she was told Logan was in a meeting.
Radcliffe said Costello became angry about the cleanliness of the kitchen and utensils and out of date food supplies and began swearing and throwing pots and pans on the floor.
Radcliffe said he was reduced to tears by Costello's behaviour towards himself and a young waitress.
Costello denied throwing the dishes around, saying she only threw one pan into the sink.
She claimed that when she and Logan discussed the matter, he became verbally and physically threatening, which he denied.
When he went with her to collect her belongings, he claimed she told him, "I'll never be back to this f****** s***hole".
Authority member Eleanor Robinson found that Costello had verbally resigned in the August and was working out her notice period.
"I find from the evidence that Ms Costello had formed the intention to leave her employment at the café by approximately 11am when she had approached Ms Adlington carrying her chef's knives, asked where Mr Logan was and commented that, 'I've had enough, I'm out of here'.
"In this situation I find it more likely than not, as confirmed by the evidence of Mr Radcliffe and Ms Adlington, that Ms Costello had made clear her intention of not working out the remaining period of her notice period at the café before, during, and subsequent to the discussion between her and Mr Logan on 7 September 2013 rather than Mr Logan dismissing her."
She found that the company did not owe Costello any money for her contractual notice period. Costs were reserved.