The operators of an orchard near Nelson have been ordered to pay almost $135,000 after an employee died due to an accident deemed preventable by WorkSafe NZ.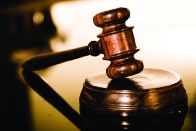 The operators of an orchard have been ordered to pay $134,500 after one of its employees was killed when his tractor rolled down a bank while he was driving.
Gary Wakefield was mowing the orchard when the tractor rolled, pinning him beneath it and giving him fatal injuries.
This week in the Nelson District Court, AB Wood Holdings (Wakefield's employer) was fined $49,500 and ordered to pay $85,000 in reparation for failing to take all practicable steps to ensure Wakefield was not exposed to hazards.
Wakefield's death was investigated by
WorkSafe
New Zealand, who found that the company could have reduced risks by altering the growth of a particular row of apple trees and reshaping the terrain.
WorkSafe also said that AB Wood could have built suitable barriers along the slope where the accident occurred as well as implementing a formal risk assessment.
Judge Tony Zohrab said that these precautions would have been "quite practicable", and noted that rollover protective structures should be used in all high-risk situations.
Keith Stewart, WorkSafe chief investigator, revealed that vehicle rollovers are the most common cause of vehicle-related deaths on farms – accounting for more than half of all farm fatalities.
"Many fatalities and injuries in agriculture occur because the known risks are not fully taken into account," he said. "WorkSafe is working with the agriculture sector to help bring about a change in this behaviour."