Find out who was honoured as best in class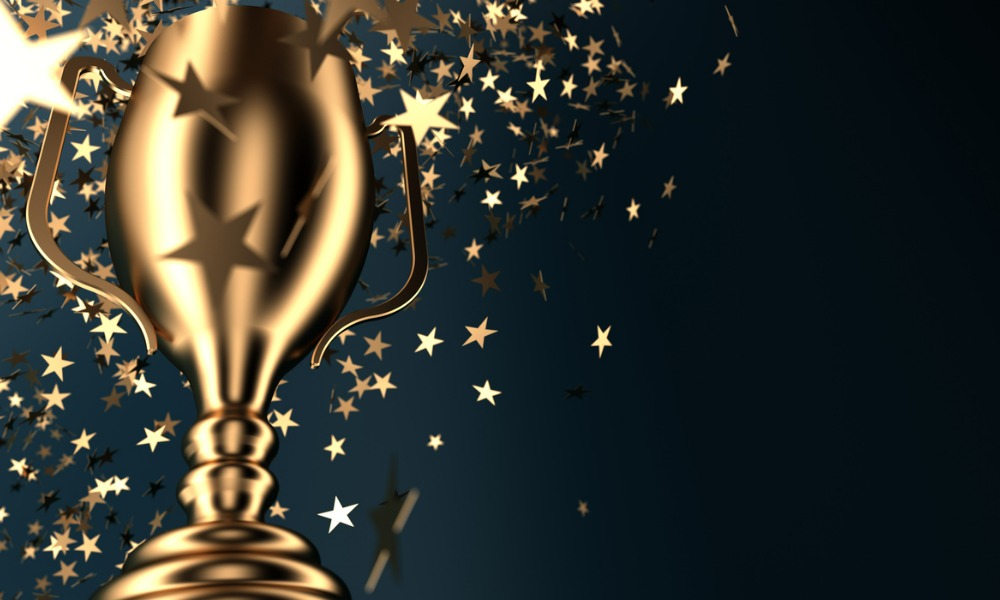 In the glitzy surroundings of the Fullerton Hotel in Sydney's CBD, HR professionals were able to come back together for an in-person event - after two years of virtual ceremonies - to celebrate the finest in their field. Close to 1000 people gathered to cheer the outstanding achievements of professionals who have been on the front line of huge workplace challenges.
The Australian HR Awards 2022, partnered by HRD and Australian Business Lawyers and Advisors, celebrated excellence in the HR profession in a night that recognized individuals and teams in 20 prestigious categories.
The night's entertainment kicked off with a pre-awards cocktail reception, red carpet, dinner banquet and awards ceremony – and, of course, live entertainment throughout the evening.
Horticulturalist and TV presenter Jamie Durie hosted the event and began by giving away bottles of Champagne to the tables celebrating most vociferously! During a delicious three-course meal, stylish band, Groove Academy entertained enthusiastic delegates who later headed to the dance floor to party on till late.
Here were some of the night's big winners:
Working in the highly pressurised clinical sector, Sarah Churchill from CareFlight walked off with the prestigious Australian HR Director of the Year award for her outstanding dedication, warmth and empathy. A great role model for other young female leaders.
Evette Moran, Co-CEO of Mark Moran Group was recognised as HR Champion of the Year (CEO) for her work in the aged care sector during Covid and the innovation she has brought in creating people-friendly policies and supporting and caring for her frontline teams.
In the Best Graduate Development program, the award went to Kraft Heinz for their detailed and dedicated program and high retention rate.
A large majority of staff gave the thumbs up to The Fred Hollows Foundation which was selected as Employer of Choice in the Public sector and NFP.
The spotlight also fell on Transport NSW for leading the way by example in the Best Remote Work Strategy, likely to be a focal issue for years to come.
For details of all the winners, see WINNERS 2022 | Australian HR Awards and below for the full list of both winners and excellence awardees – and be sure to check out the HRD website for more information.
INDIVIDUAL AWARDS
Australian Business Lawyers & Advisors AUSTRALIAN HR DIRECTOR OF THE YEAR
Winner: Sarah Churchill, CareFlight
Excellence Awardees:
Cathy Doyle, Symbio
Jenny Bell, The Fred Hollows Foundation
Monica Watt, ELMO Software
Paul Birch, Transdev Australasia
Robert Tanti, SPC Global
Susie Gleeson-Byrne, Uber
Tara Olsen, Capgemini
AUSTRALIAN HR MANAGER OF THE YEAR
Winner: Alice Hanna, Kapitol Group
Excellence Awardees:
Claudia Cannon, RD Consulting
Dora Peake, Versent
Ebru Dogan, Gold Coast Hospital and Health Service
Gabrielle Bongiorno, Gremalco
Lesley Sheard, CareFlight
Robert Feltrin, The Harrison Group
AUSTRALIAN HR RISING STAR OF THE YEAR
Winner: Renee Adams, Roberts Co
Excellence Awardees:
Elizabeth Pudney, Keolis Downer
Hailey Myatt, Madison Group Enterprises
Harris Pisani, Coca-Cola Europacific Partners Australia
Marija Ruzic, Cognizant
Marlee Law, Australian Public Service Commission
Natalie Marquardt, Hays
Sheryl Pang, Protek 24/7
Australian Business Lawyers & Advisors AUSTRALIAN HR CHAMPION OF THE YEAR (CEO)
Winner: Evette Moran, Mark Moran Group
Excellence Awardees:
Ada Guan, Rich Data Co
Bronwyn Pearson, Pinnacle People Solutions
Dana Nelson, BGIS
COMPANY & TEAM AWARDS
HAYS AUSTRALIAN HR TEAM OF THE YEAR (<1000 EMPLOYEES)
Winner: Youfoodz People & Culture team
Excellence Awardees:
Blackhawk Network
Cenitex - People and Capability Team
Cevo's People and Culture team
CyberCX - People and Culture team
Mantel Group People & Culture Team
NextSense People and Culture (P&C) team
Ryman Healthcare - People and Safety Team
Slalom Australia HR Team
REEJIG AUSTRALIAN HR TEAM OF THE YEAR (>1000 EMPLOYEES)
Winner: Transdev Australasia
Excellence Awardees:
Accor Apartments & Realty Talent & Culture Team
Gold Coast Hospital & Health Service
OpenText
SPC
The Disability Trust - People Learning Culture team
The University of Queensland - Human Resources
TSA Group
EMPLOYER OF CHOICE (1-99 EMPLOYEES)
Winner: Clicks IT Recruitment
Excellence Awardees:
DBM Consultants
Hologic Australia and New Zealand
LSKD
Rork Projects
Sleeping Duck
The Proven Group
EMPLOYER OF CHOICE (100-999)
Winners:
NTI
and
Property Exchange Australia (PEXA)
Excellence Awardees:
Adobe
Charter Hall
Coleman Greig Lawyers
DLA Piper
Eli Lilly Australia & New Zealand
Kraft Heinz
WAGESTREAM EMPLOYER OF CHOICE (>1000 EMPLOYEES)
Winner: Accor
Excellence Awardees:
Deloitte Australia
Gold Coast Hospital & Health Service
Johnson & Johnson Family of Companies ANZ
KBR
Publicis Groupe
Telstra
EMPLOYER OF CHOICE (PUBLIC SECTOR & NFP)
Winner: The Fred Hollows Foundation
Excellence Awardees:
Bass Coast Shire Council
CareFlight
Cenitex
Hudson Institute of Medical Research
NextSense
The Disability Trust
BEST GRADUATE DEVELOPMENT PROGRAM
Winner: Kraft Heinz
Excellence Awardees:
BakerMcKenzie
FDM Group Australia
QinetiQ Graduate Development Program
Quantium
SYSTRA ANZ
Warakirri Asset Management
BEST HEALTH AND WELLBEING PROGRAM
Winners:
Coca Cola Europacific Partners - Australia (Health, Wellbeing and Injury Management Team)
and
Commonwealth Bank of Australia
Excellence Awardees:
Australia Post Group
CareFlight
NSW Department of Communities & Justice
Property Exchange Australia (PEXA)
QBE Insurance
The Royal Automobile Association of South Australia (RAA)
BEST LEADERSHIP DEVELOPMENT PROGRAM
Winner: Tradelink
Excellence Awardees:
Australia Post
Deloitte Australia
dentsu
L.E.K. Consulting
Penrith City Council's 'Igniting Leadership' Program
Raytheon Australia Leadership Continuum
SBS
LINKEDIN LEARNING BEST LEARNING AND DEVELOPMENT PROGRAM
Winner: Marsden State High School
Excellence Awardees:
Edwards Lifesciences
Hays Learning & Development Team
Lion and Bendelta
Stuartholme School
Telstra Future Ready program
TSA Group
BEST RECRUITMENT CAMPAIGN
Winner: St Vincent's Health Australia
Excellence Awardees:
EY Oceania Talent Attraction & Acquisition Team
Fraser Coast Regional Council
Gold Coast Hospital & Health Service
mycar
QinetiQ Australia
Scania Australia
GLOBALIZATION PARTNERS BEST REMOTE WORK STRATEGY
Winner: Transport for NSW
Excellence Awardees:
99designs by Vista
nib Group
Seqwater
BEST REWARD & RECOGNITION PROGRAM
Winner: Treasury Wine Estates
Excellence Awardees:
Edwards Lifesciences
Gold Coast Hospital & Health Service
Mark Moran Group
Marsden State High School
National Disability Insurance Agency
EMPLOYMENT HERO BEST USE OF TECHNOLOGY
Winner: The University of Queensland
Excellence Awardees:
Australia Post
Cenitex
DBM Consultants
MSS Security
Telstra - Transformation, Communications & People
BEST WORKPLACE DIVERSITY & INCLUSION PROGRAM
Winner: EY Australia - Switched On - EY's neurodiverse employment program.
Excellence Awardees:
Adobe
British American Tobacco Australia
DLA Piper
nib Health Funds
OpenText
QBE Insurance
Randstad
BEST WORKPLACE FLEXIBILITY PROGRAM
Winner: Planet Innovation
Excellence Awardees:
Accor - Work Your Way & Benefits Your Way
iNova Pharmaceuticals
Mader Group
NBN Co (nbn)
Novotech
QinetiQ Australia
Reward Gateway