Which industries have shown the biggest salary growth post-COVID?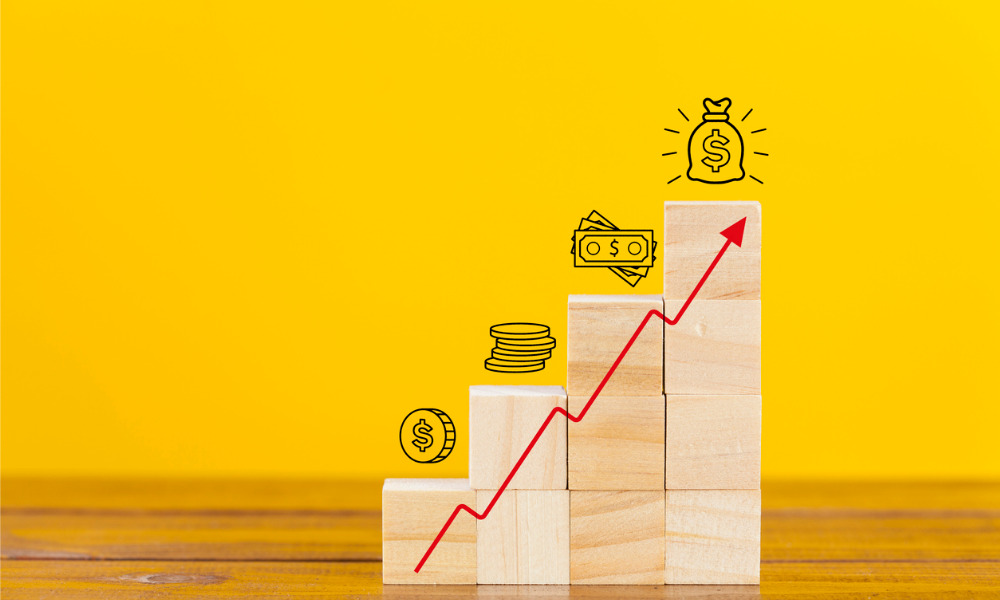 The Australian labour market has confidently emerged out of two years of pandemic lockdowns with many employees enthusiastically returning to their workplaces – (including in remote and hybrid working arrangements) – in what some commentators have called the "the great jobs boom".
Recent data by SEEK and the Australian Bureau of Statistics (ABS) confirms that Australia is in the middle of a colossal jobs boom which is great news for jobseekers but continues to prove challenging to HR teams and recruitment agencies struggling to fill desperately needed positions.
The Reserve Bank of Australia's (RBA) recent pictorial snapshot of the economy shows what this jobs boom looks like.

RBA key economic indicators around Australian labour market
Hays Recruitment has also commented on the tight labour market in their publication: "Hays Australia Salary Guide 2022-2023: Insights for Employers" stating that:
"Australia is currently facing a skills shortage at a level unmatched in our 46 years in recruitment."
The Hays Salary Guide Survey found that 91% of employers around Australia were experiencing a skills shortage. In addition, of those businesses surveyed, 83% of respondents reported that these workplace shortages would slow business growth and negatively impact the operations of their organisations. The Hays report also showed that more than half of employees surveyed were "open to new opportunities in the year ahead" – possibly thinking about changing employment or career paths.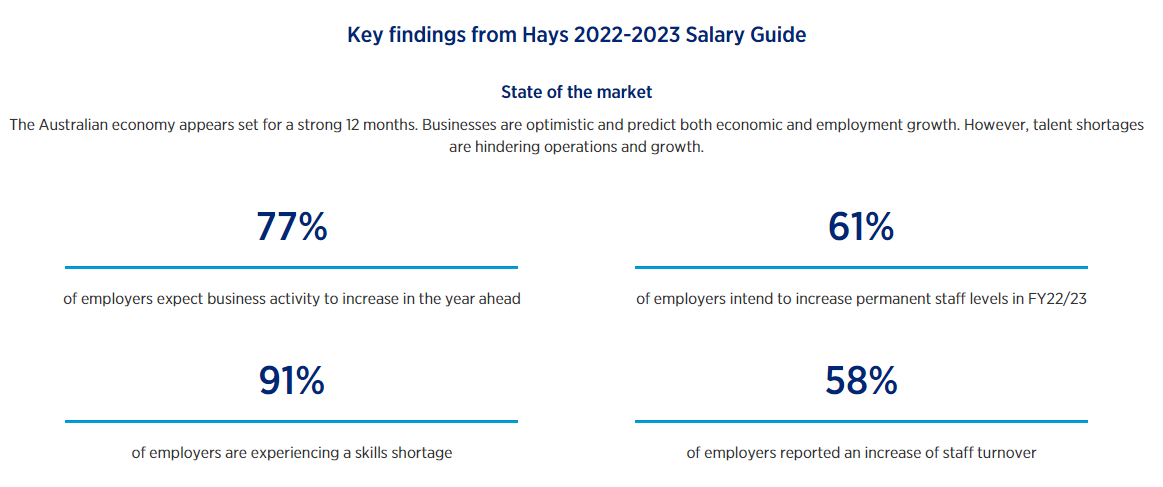 Hays Salary Guide 2022-23 – Key Findings
Hays also cited the Reserve Bank's predictions for the remainder of 2022 indicating a further drop in Australia's employment rate to as low as 3.5 percent by next year.
Notably, Australia's most populous state, New South Wales in their 2022 Workforce Skills Survey found that nine out of 10 NSW businesses were negatively impacted by these significant workforce shortages. So, it's not surprising that these workforce shortages have also delivered some rapid salary growth across a range of industry sectors.
Read more: Nine in 10 NSW businesses face 'workforce shortage'
SEEK's salary data compares pre and post-pandemic wages
SEEK's latest jobs data insights shows that there are now more advertised jobs across a range of industries – than at any other time over the past 25 years in Australia. Australia's tight labour market has created a highly competitive marketplace for employers trying to attract the best people into their companies. Industries with skills and staffing shortages are those most likely to be seeing salaries jump as employers scramble to fill positions by offering bigger salary packages to smaller pools of candidates.
Which industries are showing the biggest wage growth?
The four industry sectors with the strongest wage growth are:
Real estate and property
Education and training
Healthcare and medical, and
Manufacturing, transport and logistics.
Significantly, some of these industries have also experienced dramatic losses in staff over past two years – particularly education and healthcare – as many workers have left those professions in response to greater job stresses arising from the pandemic. The rise in real estate salaries (for leasing agents) may also be a flow-on effect from the ongoing housing (and rental) crisis across Australia.
The SEEK data showed that the number of jobs rose by 41.4% in February 2022 – compared with data collected from February 2019. The data simultaneously showed historically lower levels of job applications compared to overall historical trends. Both these factors send a strong message to employers to be more competitive in the way that they approach their candidates – in terms of advertising and salaries offered.
The SEEK data (see below) compared job ads listed from November 2022 to February 2022 and from November 2019 to February 2020. Their findings suggested that these trends are reflected across the entire economy.
Insights from the SEEK data suggest that the pandemic played a big role in driving up salaries for jobs advertised on platforms like SEEK and other online employment marketplaces. They also noted that the Australia's border closures during the pandemic meant that the usual large number of international workers seeking work in Australia were locked out for that two year period. This dramatically affected skills shortages across several industry sectors particularly hospitality, healthcare and construction – to name a few.
The border closures over this period delivered an additional 170,000 job vacancies, according to the Australian Bureau of Statistics. Australia's current employment rate of 3.9 percent is the lowest it's been since 2008 and before that, in the 1970s.
Fewer candidates mean that it's tougher for businesses for find staff – and many businesses and recruiters are struggling to adapt to these challenging conditions. The SEEK insights report also noted that: "Advertised salaries in different professions and across sectors have risen, because it's hard to find people."
Lack of suitable candidates combined with the tightening labour market means that with less jobseekers applying for positions, each candidate has more bargaining power. This is one factor driving salaries up as business have to higher salaries at the outset to even get applicants to apply. But this salary growth is uneven - with some sectors showing larger salary increases. However, the industries listed below all show considerable salary growth ranging from 20% up to a whopping 36 percent.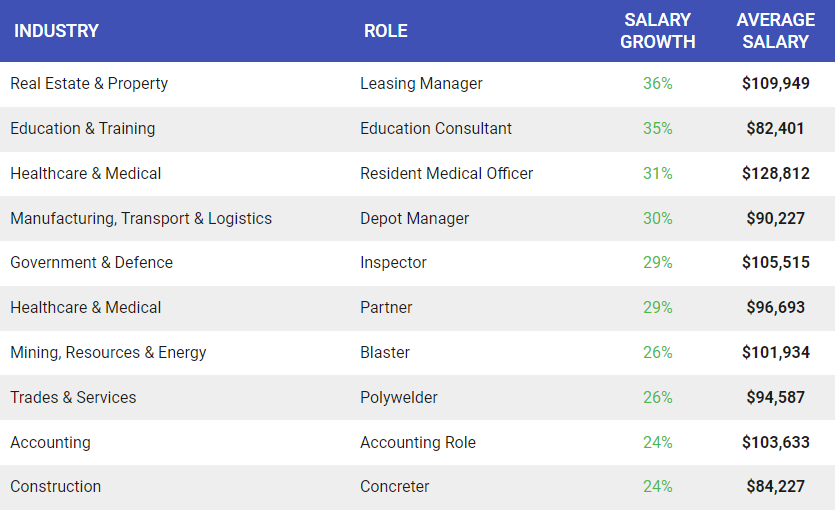 SEEK – based on average annual full time and annualised hourly salaries (excluding contract roles) for job ads listed on SEEK from Nov 21 – Feb 22 (compared to Nov 19 Feb 20).
What can HR managers do to attract and retain talent?
In this tight labour market, where jobseekers have lots of choice, it's up to employers to do their best to attract and retain good staff – even if this means offering them higher wages and benefits at the outset.
The SEEK data and market insights found that for 40% of jobseekers surveyed, salary and compensation packages were more important than before the COVID-19 pandemic. This may be because the pandemic created a sense of uncertainty and wage insecurity for jobseekers concerned about their future prospects.
SEEK also provided some timely hiring advice for recruiters in their Laws of Attraction interactive data portal to help employers get a sense of what candidates in each industry were looking for. They suggested five ways that HR departments could craft their job ads so as to stand out from their competitors in attracting the best candidates:
Write job ads which address your jobseekers' top three priorities – showcase your company's employment benefits/perks.
Explain to candidates how you can deliver what you promise – if you promise flexible working arrangements – demonstrate how this is achieved in your company.
Write job ads which are targeted and specific – show data supporting that your organisation will promote diversity and inclusion (if that's a featured driver for your targeted demographic jobseeker).
Emphasise your employee value proposition (EVP) in the "About us" section of your job ad.
Be transparent about salary – which is a key driver for at least 75% of your candidates.
These five strategies are a solid start for businesses trying to recruit in today's highly competitive labour market where there are noticeable skills shortages, which are showing no sign of abating, any time soon. Employers keen to attract new staff should also be mindful of reputational risk and the importance of their company's employee reviews on sites such as SEEK and Glassdoor. Skilled talent management by HR means making sure that your existing staff are well-looked after (and suitably rewarded) during their time with the company. This means that when a person decides to resign, they are more likely to be leaving positive employee reviews which will, in turn, help to attract new starters.
Read more: Understanding true costs of rising staff turnover