Social recruiting isn't going away – it's cheap, broad and boosts employer branding when trying to reach the next generation. Here are four tips to make the most out of your social recruitment strategy.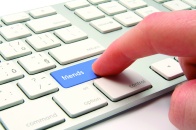 The term 'social media' is an eye-roller for many professionals in 2013. The need for social media policies and an understanding of the broadening landscape is a given for many, but some still remain in the dark about how to leverage social media as not just an employer branding tool, but as one for recruitment.
While Tumblr, Instagram and Reddit are all popular platforms for social media in one way or another, the three most-used forums for social recruitment are also the household names. A study by DDI World found that the majority of hiring managers used
LinkedIn
(89%), Facebook (26%), and Twitter (15%) for social recruitment.
So, where to go if you are looking to leverage social media for recruitment? Posting an ad on LinkedIn or checking candidates' Facebook profiles will not cut it. Many candidates will have privacy settings to the point you can't gleam too much data, and will also structure their page so compromising information is not present. There are also legal implications to be wary of when checking Facebook profiles and making judgments around what is found. DDI World provided four strategies for social sourcing and screening:
Actively observe passive seekers through search functions
Placing information on your personal LinkedIn page relating to the people you are seeking to hire (job descriptions, etc) will mean you will start to appear in searches by individuals looking for that kind of position. Keep an eye on who views your profile and take note of their own profile. If they don't apply, they may be a passive job seeker – meaning they might make the leap if you make the right offer.

Foster connections
Connectivity is a hallmark of social media. DDI World cited hospitality company Hyatt, who developed social media pages specifically for candidates. This included a website and blog for college recruiting, and Facebook and Twitter accounts targeted at job seekers.

Get mobile
Mobile accessibility is important, and making sure candidates can apply directly from their mobile (ideally without having to download an app) is crucial. This way they can apply for that job they found while sitting on the 6AM train.

In addition, tech company Intel unveiled an internal tablet app that identifies and aggregates key candidate information, streamlining the process for its recruiters.

Tweets for the passives
In what is perhaps the most pertinent point in their research, DDI World recommended keeping engaged with passive candidates through Twitter. Try setting up your own profile on Twitter if you don't already have one, and be on the lookout for the types of individuals you'd like to hire. For example, if you are hiring for a tech company, have a look at the people who engage with Wired Magazine or New Scientist. Check out their own profiles and follow them. If they follow you back, you'll have a direct contact for when a position comes up.