Regional figures on employee movements between businesses reveal some surprising trends for firms of all sizes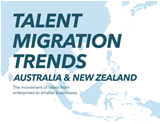 Did you know in 2015, 41% of those professionals who switched jobs from large enterprise companies actually moved to smaller businesses?
For mid-sized organisations, hiring skilled talent is a key differentiator in addressing competition. Often, a common approach is to seek talent from enterprise organisations who have gone through similar cycles of progress and leverage their strategic expertise.
In Australia and New Zealand this behaviour has given birth to a new trend – of skilled talent moving from enterprises to SMBs. We looked at
LinkedIn
data to analyse how this migration is happening and what's powering the growth in this trend. The report throws some interesting insights, which SMBs can use to target their next hire and to understand candidate behaviour that's fuelling this growing phenomenon.
Find out more and download our Talent Migration Trends Australia and New Zealand Report now.