'As a neurodivergent business leader, I want everyone to feel welcome, and all kinds of brains to feel supported in their onboarding'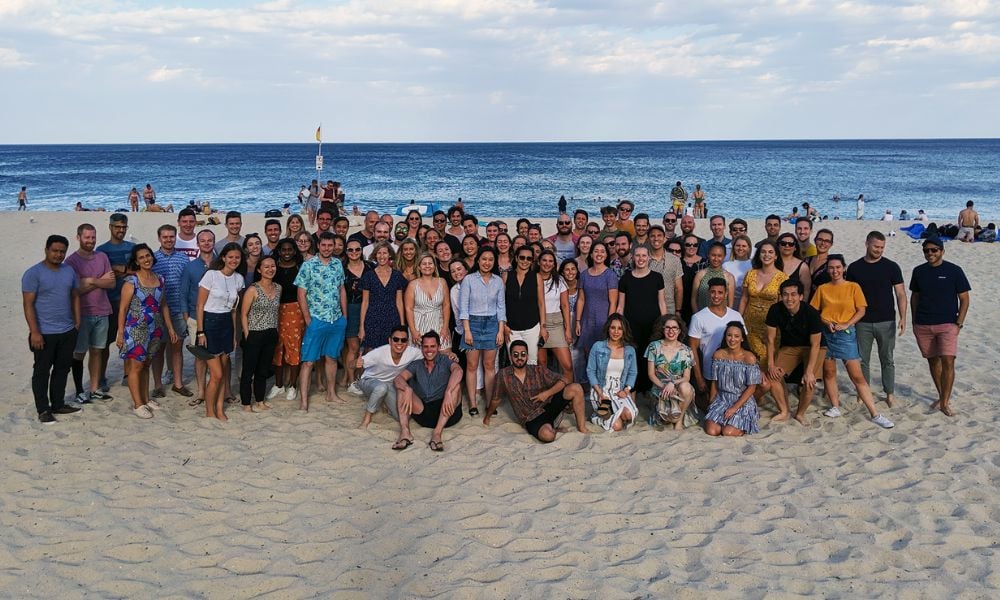 Photo caption: LegalVision team

The global pandemic forced many companies to become creative both with their recruiting processes and onboarding implementation.
Businesses were not able to do the usual two- or three in-person interviews and when they hired someone, often that person wasn't allowed to come into the office due to government restrictions for months at a time.
The saying "Necessity is the mother of all inventions" also comes to mind when companies had to create ways to create novel learning structures and training methods for new employees.
"Onboarding new hires remotely forced us to be more proactive and intentional with our processes," Georgina Gordon, head of people, LegalVision, said.
"For example, we had to be highly organised with preparing and sending onboarding packs and laptops out to new hires at least a week before they were due to start, which is something we hadn't needed to worry about pre-COVID."
The company also couldn't rely on incidental social interactions around the office to help new hires settle in, she said, "so we created opportunities for new hires to virtually connect with their team members in more informal settings, such as through pre-planned coffee catch-ups and virtual team lunches."
For many employers, there were instances where some employees did not set foot in an office for six months. This made the 'unusual' 'usual' in that by the time employee actually met people face-to-face they had been talking to them via online chat forums for long periods of time.
Work culture part of onboarding process
The onboarding process is also important for incorporating the culture of an organisation with new employees, and explaining clear reporting lines and office behaviour.
"We recognise that starting a new job is scary for anyone and actively want to make it a better experience," Sarah Spence, CEO and founder of Content Copywriting, said. "We commit to emailing and chatting frequently between confirming successful recruitment and start date.
"We also commit to emailing, as much in advance as possible, the person's onboarding schedule so they know what the first few weeks involve, and we also commit to creating a 'Work Culture 101' guide to decode our unwritten social norms."
The 'norms' Content Copywriting state include how to dress for internal versus external meetings, a 'no shame policy' if you can't focus that day or are having a 'bad memory day', bring along 'fidget toys' to meetings and the ability to take naps, go for walks, have dedicated meeting-free blocks and flexible hours.
"It's about human-inclusive onboarding practices," Spence said. "As a neurodivergent business leader, I want everyone to feel welcome, and all kinds of brains to feel supported in their onboarding."
Psychological impact of hybrid work
The new hybrid model of working has also had a psychological impact on existing and new employees coming together for the first time.
"Onboarding since the pandemic has had to change, particularly when it comes to the mental health and wellbeing of staff," Sophie Bretag, CEO of Metta Leaders, said.
And the introduction of the new Psychosocial Hazards at Work Code of Practice 2022 means that an employer has more clearly defined expectations when it comes to their legislative responsibilities and taking care of their staff mentally, she said.
"Employees are also now seeking workplaces with flexibility as part of the job, rather than a 'nice to have perk' so setting expectations early and agreeing upon conditions with a very fluid candidate pool helps to attract and then retain these new staff.
"Candidates of today expect to be treated with respect, know that they matter and that their values align with the company values. If new staff are left to 'fend for themselves' from the start, then the likelihood of these new starters leaving - sometimes not turning up for their first week - becomes higher."