The pressure cooker of tight deadlines, off handed rude emails and domineering personalities can lead to disrespect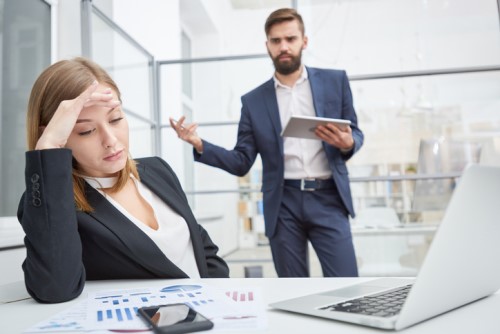 In an ideal world, we'd all like to get along with everybody. Unfortunately, happy as that may be, it's simply not realistic.
Clashing personalities are part and parcel of the workplace. The pressure cooker of tight deadlines, off handed rude emails and domineering personalities can lead to disrespect and dissention amongst teams. As a HR leader, you have to walk that line between being approachable and authoritarian – which can be a tricky role to play.
According to a recent study from The Herman Group, 75% of employees who quit their roles admitted that they weren't leaving for more money – they we're running away from poor leadership. But what happens when you're managing an employee who doesn't respect the leadership – and that pessimism is starting to ebb into your company culture?
Here are a few tips to help you navigate the tricky minefield of developing an employee who seems to passively aggressively resent you.
Remain calm
A recent survey from TalentSmart found that 90% of top performers are highly skilled at keeping their emotions in check and managing stressful situations. When an employee takes to disrespecting you or being overtly condensing, it can be incredibly tempting to lose your temper. Don't. Resist the urge to shout. Instead, maintain a clam and polite exterior, and ask the employee in question if they have an issue they'd like to discuss in private.
Speaking to HRD last year, Signe Whitson, COO of the LSCI Institute and author of 'The Angry Smile: The New Psychological Study of Passive-Aggressive Behaviour', explained how passive aggressive employees may try to lure the manager into an altercation.
"It is not unusual for a leader to lash out at a passive aggressive person; after all, the covertly hostile employee has been consistently acting out anger themselves," she says.
"The key is—the passive aggressive person has been doing it in controlled, hidden, indirect ways that remained below the radar of casual observers whereas when leaders lash out, they tend to do so more impulsively, publicly, and unprofessionally. In the end, the leader appears out of control while the passive aggressive person watches his outburst with calm satisfaction—and perhaps even an angry smile on his face."
Keep notes
As with everything in HR, it's essential to document thoroughly. Every meeting you've had with this employee should have been written down, every action point needs to have been recorded. This gives you a great framework to then craft a plan. You should be able to spot any emerging patterns of behaviour; when do they start becoming aggressive? It is in certain situations? How can you both move forward together to lessen any productivity lull?
A report from Robert Half found that more than half of employees (52%) have lost their temper on the job. Of those who admitted to 'seeing red', 64% said it was directed at a colleague whilst 34% said it was aimed at a manager. Bearing that in mind, it's always advisable to keep notes on any and all incidents that unfold in the office.
Create a positive working environment
For all the talk we give around fostering a valuable culture, how many organizations can say, hand on heart, that their workplace environment is truly positive? A Deloitte report claims that 94% of executives and 88% of employees think a strong culture is integral to business success – yet, despite this, less than one in three leaders said they fully understand their organization's culture.
This disparity between 'claiming' to foster a healthy culture and actually putting in the effort can seriously harm employees' productivity and morale. One negative experience has the potential to derail an otherwise exemplary employee.
Start disciplinary procedures
If you've done all you can do, and the employee is still being rude and passive aggressive, it's time to start their disciplinary meetings. As HR leaders, many of us were drawn to the role to help people realize their full potential – which can be difficult if one bad apple is ruining the bunch. Even in this stage, it's important to err on the side of caution. Don't go into the meeting guns blazing, reading to start firing at will. After all, there may be legal consequences.
Recently, we spoke to Thomas Stefanik, Partner at Torkin Manes, who explained to us if, or when, you can fire an employee for 'having a bad attitude'.